As the Triangle braces itself for its first bout of winter precipitation in 2015, we can't help but think back to just a year ago when the Triangle faced what has now been famously dubbed the "Snowpocalypse" or "Snowmageddon" heard around the world.
Why Your Car is Dirtier in the Winter
While the mini snow storm even caused quite a stir, the bigger issue for folks in the area was having to deal with the aftermath of winter precipitation. Your vehicle is more susceptible to becoming dirty during the winter than any other season simply due to the fact that snow events (like the one mentioned above) bring with it: dirt, grime, road salt, and slush mixtures. Leave any of that on your vehicle for too long, and you will cause damage to your car or truck's exterior paint job. You could also cause premature rusting or corrosion.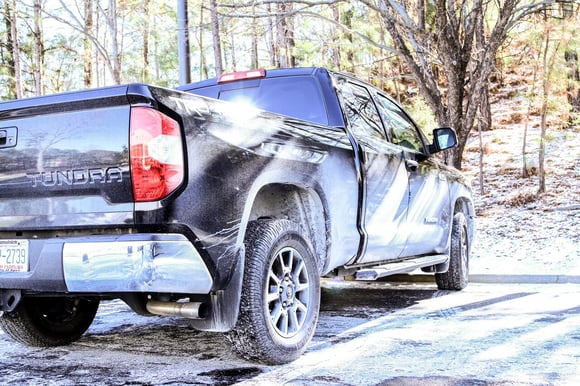 3 Reasons To Take Advantage of Mobile Car Washing in the Winter
#1 - Salted, Treated Roads Cause Damage.
Too often, people underestimate the power that salt has to cause significant damage to their vehicle(s). While treating roads with salt is beneficial for traction and safety, salt is extremely corrosive to a vehicle. If you allow salt to remain on your car, truck, or SUV for a period of time, it can actually eat away at your vehicle, causing rust and other damage.
Well, what if the salt is dried? It's probably safe then, right?
Wrong. Even if the salt has dried, it is still damaging your vehicle.
At Spiffy, our mobile car washing experts work around the clock, driving to wherever you are and taking care of all of your mobile car washing needs so that you never have to worry about washing the winter weather off of your ride.
#2 - Protect Your Investment; Increase Your Vehicle's Resale Value.
Did you know that nearly $24 billion is spent each year battling vehicle corrosion damage? Hiring a professional mobile car washing service, like Spiffy helps you maintain your vehicle by preventing corrosion-related damage. Additionally, we are environmentally conscious and use earth-friendly products and equipment that reduce waste while ensuring that your car comes out sparkling.
#3 - Avoid Washing Your Car in the Cold Weather.
When you hire our team of professional auto detailers and car wash experts, you never have to worry about washing your car in the cold weather. We'll take care of it for you! Live and work in the Triangle? Schedule an appointment for one of our car wash services, and we'll come to you. Hand us the keys as you head into work, and walk out to a car that looks like new. That's the Spiffy difference: Convenience and Quality at your fingertips.
Don't be salty! Make sure to add an Undercarriage Turbo Clean as an upgrade to your next service.
Posted in Education, Spiffy Blog