Autumn lovers can celebrate because fall is just around the corner! With crisp, beautiful weather and tons of things happening, there are plenty of opportunities for family fun in this all-too-short season. Take your chance to get outdoors before the snow flurries begin to swirl. Here are four ways you can enjoy everything this amazing time of year offers even with kids in tow.
Visit a Local Farm
An old standby but one that never gets old. Local farms offer tons of activities such as apple and pumpkin picking, cider tasting, and arts and crafts kids and parents will adore. Looking for a little road trip? This list serves up the best apple picking spots around the country -- many of which are in Spiffy areas! Or, check out this selection of some of the USA's most abundant pumpkin growers to bring home your future Halloween jack-'o-lantern.
Build a Backyard Fire
With the right safety protocols, you don't have to visit a campsite to host the perfect fall campfire. Kids will love roasting marshmallows, hotdogs, or making their own s'mores from the comfort of your backyard. Serve up some hot cider or cocoa for extra coziness, play some chill tunes, and check out NASA's guide to autumn skies to get some world-class stargazing in before winter comes.
Get Crafty
Thanks to the internet, there's no shortage of kid-friendly crafts at your fingertips. For little ones who may be a little young for pumpkin carving, there are is an array of activities you can do to get your house beautiful for harvest season. Check out this adorable apple-stamped paper banner or this nature painting activity that is perfect for groups of friends. And for older kids and pre-teens, have a look at these pumpkin carving ideas for inspiration.
Go for a Sunday Drive
What better cure for the Sunday Scaries than a leisurely drive with your family? With the landscape painted gorgeous, fiery colors by mother nature herself, the country is rife with opportunities to take it all in from behind the wheel of your freshly Spiffy washed and detailed car. Browse through these stunning foliage-gazing routes and find the one closest to you!
Want to get your car ready for fall fun? Book a #4 or #5 detail and you will get an awesome-sauce penguin bag!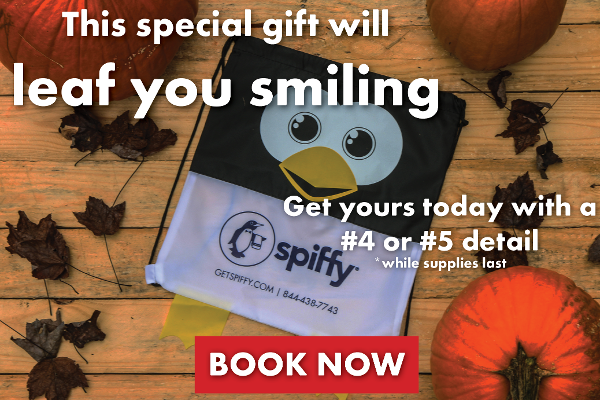 Posted in Lifestyle