Summer may be over, but that doesn't mean road trip season needs to be. And while work obligations may be pressing, you can still take some memorable day or weekend trips. One of the best things about living in any of Spiffy's cities is that many incredible destinations are just a short drive away. To help you plan your perfect fall getaway, we've selected five amazing spots that offer something for everyone.
Los Angeles - La Jolla
If you're seeking fresh air, sunshine, and surf, driving south toward San Diego will get you exactly where you need to go. La Jolla is just two hours south of LA and offers countless boutiques, restaurants, beaches, and art galleries. The stunning coastline features caves and coves worth exploring. Whether you're here for a romantic getaway, a friend-cation, or family time, you're sure to find something great to do
Dallas-Fort Worth - Mineral Wells
Don't less this unassuming town fool you. While it was once a popular tourist destination in the 1920s and 30s, Mineral Wells has a quiet, historic charm that is sure to transport you to a different era. Take in the views from Mineral Wells State Park and enjoy some couple time at the lake. While dining options are a little limited, there are a number of local restaurants to quell your cravings. With Halloween approaching, those who are interested in the supernatural may like checking out the haunted Baker Hotel and take one of the Ghost Walk tours.
Charlotte - Copperhead Island
Perfect for a quick day trip or overnight, Copperhead Island is a nature lover's dream. Amenities include 14 acres, boat launches on scenic Lake Wylie. Enjoy old-school camping on the lake. Paved and wooded hiking trails wind throughout with plenty of platforms and overlooks along the way. There is plenty of fishing and lots of room to let your dog's tag along and join the fun.
Raleigh Durham - Yadkin Valley
Home to dozens of family-owned wineries, the Yadkin Valley is like a little piece of Napa in North Carolina. Drive just a little more than two hours and you'll find yourself surrounded by sprawling vineyards surrounded at the foot of the stunning Blue Ridge Mountains. Thanks to mountain shade and a unique climate along the Yadkin River, this wine region is producing more every year. Since this trip will most likely involve enjoying wine, recommend staying overnight at a hotel or Airbnb to keep your driving safe and allow for maximum relaxation.
Atlanta - Town of Helen
Despite having just 430 residents, the town of Helen is the state of Georgia's most visited city! Even though Oktoberfest is over, you can celebrate German culture all autumn long with surrounded by Bavarian-style buildings, lush vineyards, and gorgeous lakes and campsites. Quaint hotels offer plenty of lodging options and visitors can enjoy an array of shops and restaurants.
Want to get your car ready for autumn adventures? Book a #4 or #5 Spiffy detail and get a totally awesome-sauce penguin bag this month.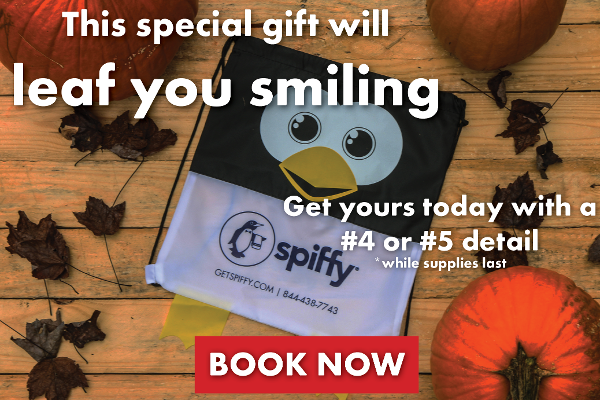 Posted in Lifestyle