With Valentine's Day approaching at warp speed, many of us are left scratching our heads for what to get for the guy or gal who has everything. Even if you're just testing the waters of a new fling, or have been together since what feels like time immemorial, there's no need to let the occasion go unmarked. Whether you choose to share an evening at home with Netflix or a night on the town, a thoughtful gift can help make the occasion even more special.
And even if you choose not to exchange gifts on V-day, you can file these ideas away for just about any occasion.
For Him:
For the guy who likes his skinny jeans, the TGT slim American flag leather wallet blends simplicity, durability, and style for a practical gift he can use for years. Its slim profile means that it will fit comfortably into his pants pocket. It even has room for an extra key.
TG Americana Deluxe Wallet $48.00 Ahalife.com
If your guy is training for his next marathon and needs some motivation on the road, these cord-free earphones by Samsung are great for helping him keep pace while staying tangle-free. He can move to the music while a fitness tracker keeps a log of his progress and delivering fantastic sound quality the entire time.
Gear IconX Cord-Free Fitness Earbuds $159.99 Amazon.com
Does your man love his car almost as he loves you? Help him stay warm and comfortable while he drives with this beautiful leather steering wheel cover that will keep the chill off his hands and help him grip the wheel better on icy roads. You'll not only improve his driving experience; he'll know you're looking out for his safety. Now, that's love!
Vallycomfy Leather Steering Wheel Cover $23.99 Amazon.com
For Her:
Everyone knows that winter is a drag, and in case you didn't know, your girlfriend is probably cold right now. Forget everything you think you know about Uggs and get her these slippers right now. Seriously, just do it. With their shearling lining and beautiful suede in luxe colors like "chestnut," the Ugg Scuffette Slipper is the perfect way to tell her you love her (and avoid feeling her cold feet while you try to binge Black Mirror).
Ugg Scuffette Slipper $84.94 Zappos.com
Help make her downward dogs a little more rewarding with this beautiful banana leaf yoga mat with a vibrant tropical motif. A non-slip backing ensures it's not going anywhere, and plenty of cushion means less pain and more health benefits during her practice. It's also biodegradable and earth-friendly. Namaste.
Banana Leaf Yoga Mat by Yoga Zeal $78.00 Aha.com
Is your lady's car her oasis? Help her make it so with this Diptyque auto diffuser which is unlike any you've seen or smelled. Simply attach it to her ventilation cycle and allow wonderful scents such as roses, orange blossom, and ginger fill the air. The perfect on-the-road companion for long commutes that will make her day a little brighter.
UN AIR DE DIPTYQUE - Car Diffuser $60.00 Diptyque.com
On this same note, Spiffy is a wonderful surprise for any car-lover. Not only will it leave your car smelling better, but it will be shining inside and out. Book a Spiffy this Valentine's season and you can take advantage of our February promotion- $40 off details!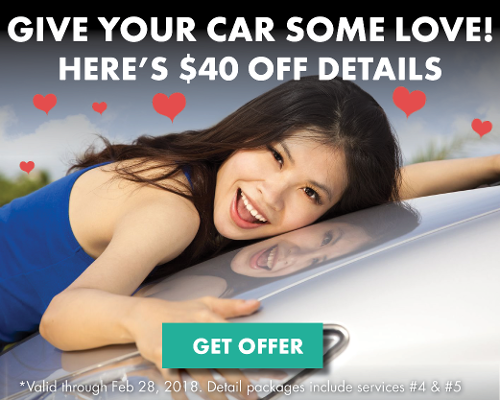 Posted in Lifestyle