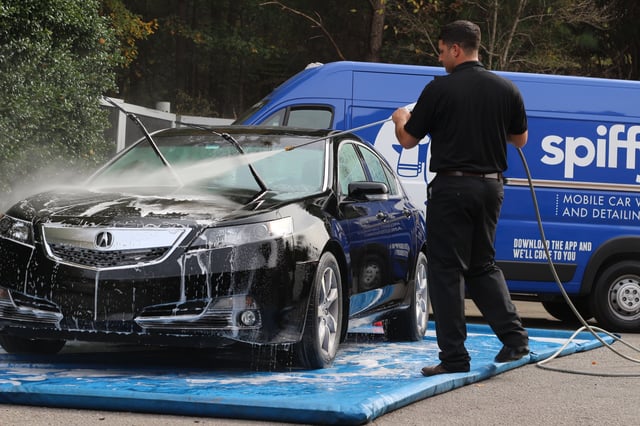 Have you ever wondered who benefits the most from driving a sparkling clean car? Driving a well-groomed car speaks volumes of the person whom you wish to represent! The car and you together join forces to create a mightier image of you! One who is professional, organized, neat, orderly, and in control of their destiny! A vision that spills over in your professional and personal life. Over the past few decades, technology has enabled us to adapt more efficiently to an inordinately hectic lifestyle that spans several time zones and global perspectives. Spiffy was born out of the need for a Car Care Service that had not existed, simply put. Consumer experience is the cornerstone of this business. Spiffy is a collaboration of vision, creativity, learning, exploring, planning, enabling, and logistics for the end user- you!
1. Convenience: Spiffy wants to give you back your time. Convenience is such a big deal these days! For starters, we come to you! Anywhere and everywhere. If you live in the Raleigh-Durham or Charlotte, North Carolina area , or Atlanta, Georgia, or (hold your breath) in Los Angeles, California, we are just an app download away! It was all a part of a master plan when Spiffy founders collaborated to find a convenient solution for customers who waited in long queues watching television reruns of "Who wants to be a millionaire" at the Car wash.The three ways to get all your car care needs taken care of is by a simple phone call, downloading the Spiffy app, or visiting the Spiffy website. All three guarantee an easy service that will leave you to use your precious time for pursuing other interests in that same spectrum of time.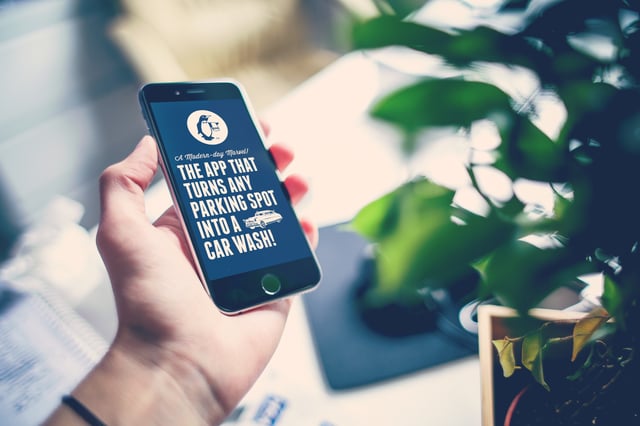 2. Trust and reliability: You know the old adage, trust is the foundation of any business. Trust is also non-verbal. Spiffy believes in complete transparency. Right from the pricing structure for the services or upgrades, they can be verified through the menu on the website. Spiffy employs knowledgeable customer service professionals who will walk you through any question you may have. There are no "hidden fees" or nasty surprises for the customer. Spiffy understands vehicles are any customer's lifeline. When people drop their keys off in a Spiffy provided Keybox, they know they are in good hands. Spiffy technicians have been compared to "magicians" who have transformative powers and are highly skilled/trained to do their job. On the customer trust scale, Spiffy has scored very high! Customers have left glowing reviews of Spiffy on the Spiffy Website.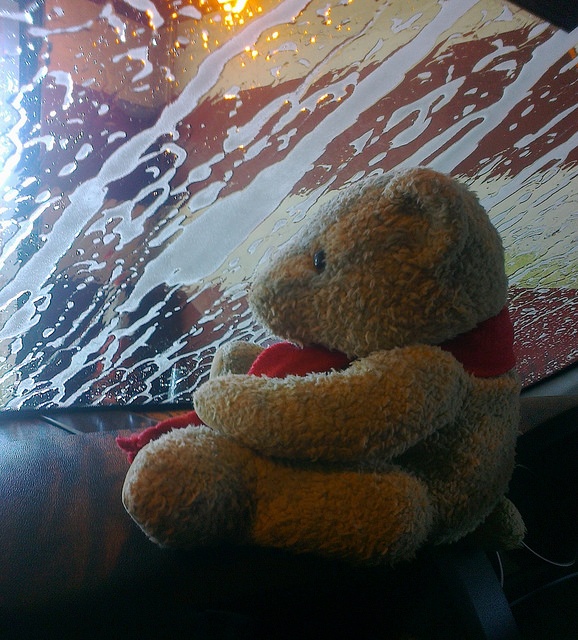 3. Professional: When vehicles have a melt down moment, darkness descends upon us. Customers go through this vulnerable life cycle many times. Spiffy is familiar with these often repeated phrases from customers. Spiffy's goal is to perform at the optimum level for the customer at their convenience. From technicians and customer service who are on the front line to the technology team on the back end, Spiffy follows a precalculated process. The service and the timeline is followed in a precise and timely manner every single time. From the time a customer connects with Spiffy to the finish, operations are carried out in the utmost professional manner. The customer interfacing personnel are friendly, helpful, welcoming, approachable, and efficient. Customers are treated with respect and courteousness.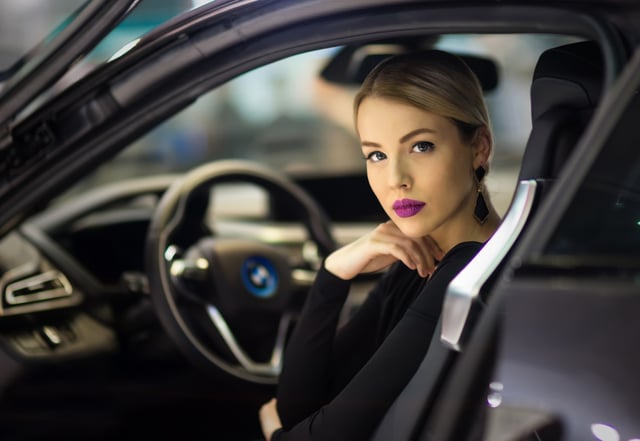 4. Eco-friendly and environmentally conscious: We are all familiar with green practices. For Spiffy, it means a serious commitment to the environment. It is a philosophy that is completely embraced by the founders and affects every decision made by them. It's a clean approach that permeates every aspect of the services right from conserving water to the cleaning products used. It is a matter of great pride to Spiffy that we exceed the environmental benchmark set up by the local, state, and federal government. While washing a vehicle, Spiffy uses only 5 to 10 gallons of water. The water is reclaimed through a special mat used by the technicians to avoid water wastage. The soap and cleaning products used are consciously produced and leave behind no chemical residue.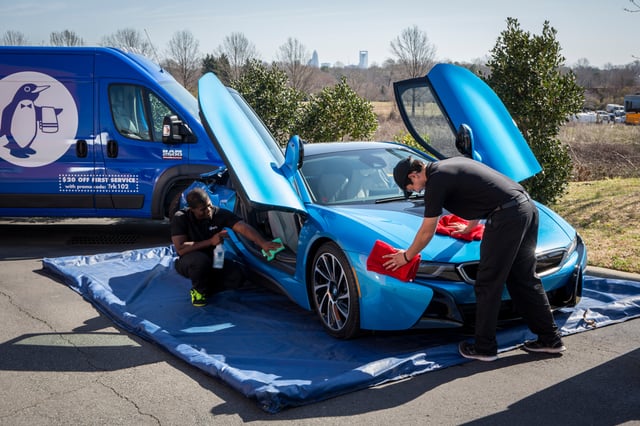 5. Top-Quality Products: Soap, shampoo, and chemicals used by Spiffy go through a robust and rigorous testing criteria before being used on a customer's vehicle. As mentioned before, utmost care is taken to use the most non-abrasive products to deliver high-standard results. Spiffy technicians wax and polish by using their hands so that every nook and corner of the car is attended to and under their strict scrutiny, no part of the car is left untouched. As a visionary business, Spiffy is fully engaged and invested in the user experience and realizes it is the most important factor for customer satisfaction and retention.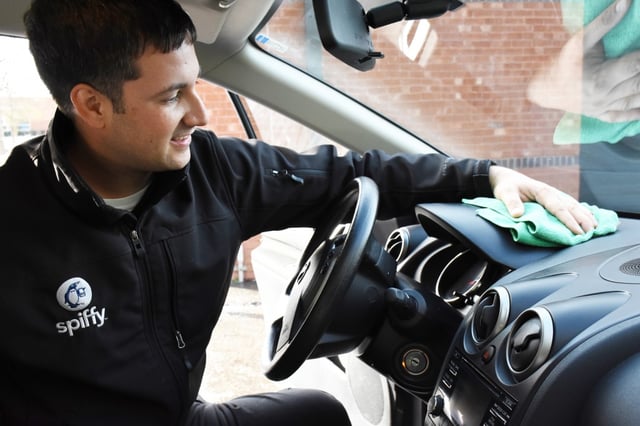 6. Technology enabled: Spiffy is a pioneer in this genre. We are constantly innovating to bring the best possible processes and products to this industry. There are two aspects of the business. One that brings convenience to your doorsteps and the other is the technology and the research and development that goes behind bringing a fast-paced, dynamic, ever-evolving service to the customer. No other Car Care company has used technology the way Spiffy does. At every level of the business, right from data gathering to testing the tools used in the business, technology plays an important role. CEO Scot Wingo wanted to bring the On-Demand Economy model to the business. In his very own words, "ODE users are mobile, social, love convenience, and want zero friction. They don't want to call you three times to schedule an appointment. They don't want 8hr arrival windows. They don't want to DIY. Conversely if you can give them a disruptively low or zero friction option, you will win their hearts and minds."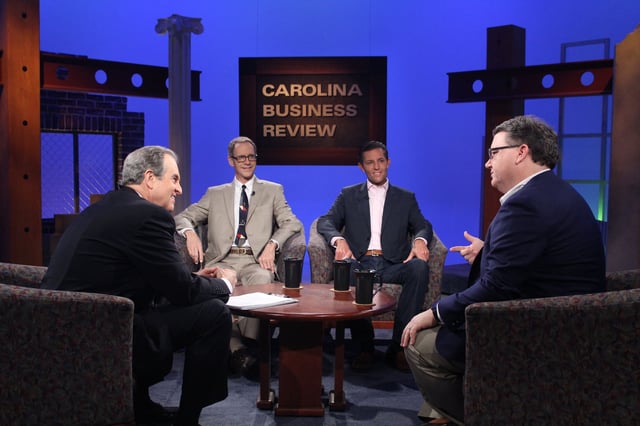 Grayson Leverenz, VP of Marketing, sums it up well when she says, "At Spiffy, we always start with the consumer experience. Our goal is to deliver 5-star convenient, professional, green solutions on every service, every day. You could do-it-yourself, but wouldn't you rather us do it for you?" You can read her blog post on the Spiffy Blog on On-Demand Economy that will empower you with ODE knowledge.
Interested in trying Spiffy? Click here to save $20 on your 1st full wash or detail!
All images are sourced from Creative Commons and Spiffy websites.
Posted in Education, Spiffy Blog