Office amenities, as we know them today, were introduced as recently as the late 1990s. Start-ups in Silicon Valley, such as Google and Amazon, sought out more enticing benefits for their employees, including on-site kitchens and convenience-oriented services. These were designed to promote productivity by optimizing the lives of employees. Now, they are tools to lure potential employees towards growing companies.
As new office facilities, and businesses like WeWork, prioritize the standard established in Silicon Valley, property managers across the country are vying to do the same. Today's traditional amenities include modern building designs, ample parking, and tech-enabled conference rooms. But if you're looking to attract and retain top tenants, you need to invest in an environment that rivals others. One that caters to the needs of your tenants and their employees, specifically in regards to their work-life balance.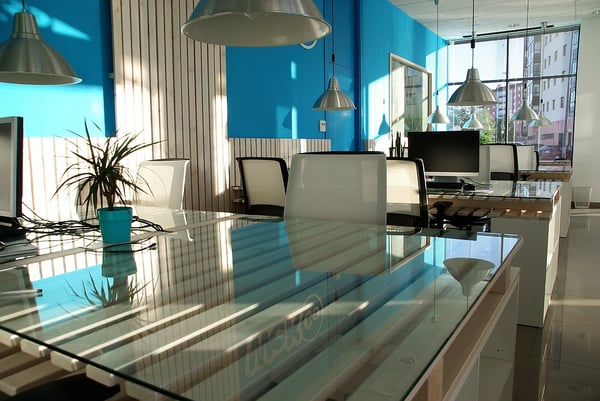 It can be easy to dismiss amenities as a trend, but the underlying numbers reflect a majority of workers who are motivated by the convenience and flexibility they can offer. According to
a recent HqO report
, 72% of tenants are unsatisfied with their current amenities, while 62% want fitness & wellness or food & beverage amenities in their office. Not only do employees seek out better amenities, but a
2018 study from Gartner Research
found that those who are satisfied with their work environments are 16% more productive, 18% more likely to stay, and 30% more attracted to their company over competitors.
You might be wondering, "what kinds of modern amenities should my property prioritize?" Some come with higher cost and planning, but the average office amenity is simpler to implement than you'd think.
Lifestyle Amenities
The easiest way to support your tenants and their employees is with an array of amenities that simplify their lifestyle. A popular option with plenty of variety is to offer access to professional, on-demand services, such as
2U Laundry
or
Spiffy
. These specific businesses can tend to dry cleaning and car care needs, respectively, of employees with minimal effort for property managers. Other on-demand companies may require your permission to operate somewhere on-site regularly. It's up to you to decide which is best for your building as these mobile services alleviate some of the stress for your tenant's employees.
Another option is to offer convenient food options, whether it's on-site or within walking distance. There is a higher cost to add a cafeteria to a pre-existing property, and your property may not be near food or restaurants. An easy solution for these problems is to provide snacks or a break space for employees to eat away from their desks. Either approach supports the employees in your building, which can motivate your tenants to stay at your property.
Concierge Amenities
The next step beyond lifestyle amenities is concierge amenities. Despite its association with the hotel industry, many new properties are bringing this approach to their office environments. Hiring an individual or a small team to manage on-site services is less cost-effective than providing tenants with low-cost on-demand options, but that's off-set by having a management team that's designed to assist tenants and employees faster than you can as a property manager.
Having a concierge staff can coordinate with any lifestyle amenities you offer, particularly on-demand services. They can also organize on-site events for employees to participate in, such as a
Wellness Fair
, family-friendly activities, or luncheons designed to promote mingling between each of your tenants. Another opportunity worth considering is offering transportation solutions for commuters who take the bus, or a discount for car-sharing companies like
Getaround
and
Turo
.
Property-Specific Amenities
If you're looking to add amenities to a future property, then you might be in the best position for success. According to
an article compiled by McPherson Architecture
, some of the top office amenity trends include bicycle storage and repair, fitness center with lockers and showers, rooftop gardens, and multi-use lounge areas. With our understanding of amenities and their benefits for employees, it's easy to understand why these trends are so noticeable:
Bicycle storage supports commuters who prefer alternative transportation
Fitness centers provide an excellent resource for employees who prioritize health and well-being
Rooftop gardens are the perfect blend of quiet outdoor spaces and flexible work environments
Multi-use lounge areas promote collaboration away from the desk
Another growing trend is
LEED certification for your property
, which makes your building more appealing for both potential tenants and their prospective employees. By achieving a Gold or Platinum LEED rating, it's clear that your property is minimizing its environmental impact through more efficient use of electricity and potable water.
To earn LEED certification, you must submit a comprehensive application and have your property's performance measured within these critical areas:
Integrative process
Location and transportation
Sustainable sites
Water efficiency
Energy and atmosphere
Materials and resources
Indoor environmental quality
Innovation
Regional priority
What's important to keep in mind when creating and promoting amenities is that, ideally, your offerings alleviate stress from the work-life balance of employees in your building. Create a space and resources that are focused on optimizing work, rather than escaping it completely. That way, you're not just strategically enticing talent to your tenants, but also actively working to improve their performance once they're hired.
If you're interested in learning more about the benefits of office amenities, then stay tuned for future blogs in the next two months. We'll be breaking down the benefits for HR teams and office managers, before taking a look at how all of these trends impact the present-day job search for employees!