Convenient, digital experiences have become a standard in 2020, trends dramatically accelerated by COVID-19 and demand for zero contact services. The level of innovation has been tremendous and no doubt will benefit consumers and businesses going forward.
Automotive dealership service departments historically receive low customer satisfaction scores, and have seen a boost by listening to their customers and introducing new approaches like valeting. Valeting quickly becomes difficult to scale and very costly, requiring four trips with two employees on the clock. As such, mobile servicing is looking attractive to the industry. Throw in a digital component and you're giving customers excellent service with zero contact, just what they are looking for, plus they never have to leave their homes.
A few friends in the Dealer world came to us for advice because we have over 500,000 mobile digital services under our belts, and
Digital Servicing™
, powered by Spiffy Dealer Solutions, was born. We're ready to guide and equip dealership service departments with the tools they need for mobile services.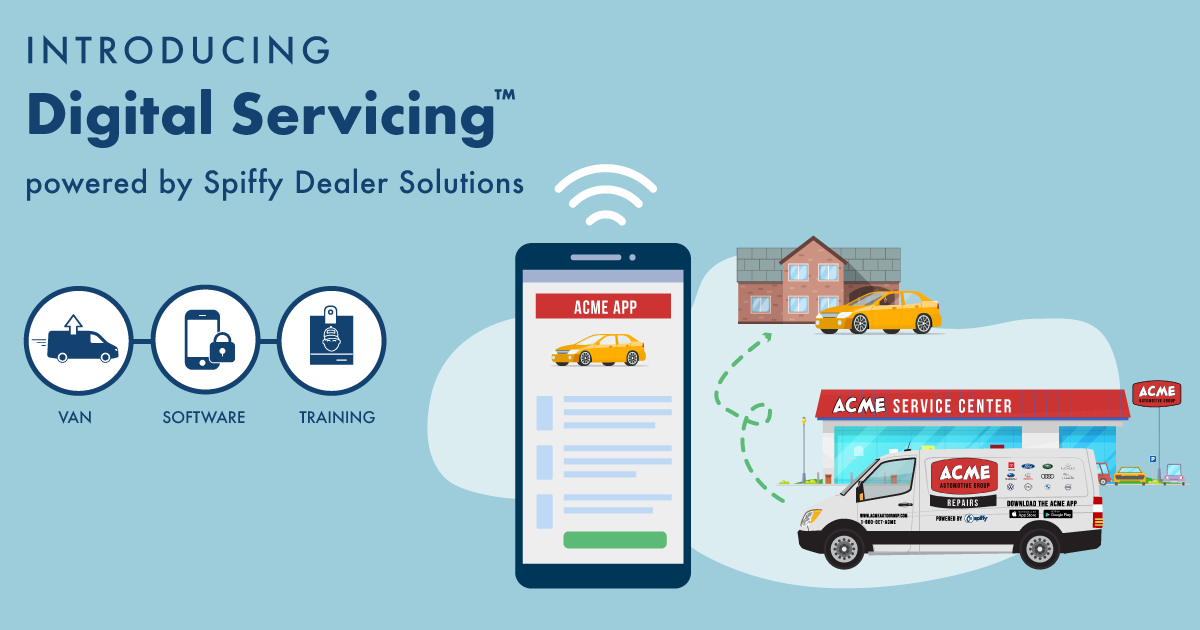 "Digital retailing was trending in the automotive industry with companies like Carvana making waves, and the pandemic rapidly accelerated the same trends for digital services. Now, more automotive service departments are starting to realize how mobile maintenance can expand revenue and create better customer experiences," said Scot Wingo, Spiffy CEO. "Relationship-wise, it's similar to how we view franchises. We provide the dealership with the resources to launch and operate a digital servicing arm of the business, directly at their customers' doors."
The complete Digital Servicing package comes with a customizable dealer-branded van, upfitted with power and eco-conscious equipment. Dealerships have access to our world-class software, which covers scheduling, payment, and a dedicated app suite for consumers and technicians. Every mobile service provider can attend in-person and online training, while department managers can receive consulting to better target convenience-oriented consumers with on-demand maintenance.
Are you interested in learning more about Digital Servicing? Head over to our
Dealers Solution
page and see how it can empower your dealership to expand into mobile maintenance!