Here at
Spiffy
, we wouldn't be where we are without the hard work, dedication, and leadership from the women in office and out in the field, such as our technician Angel Wade (pictured above). In the past few months alone, we have been rolling out comprehensive updates to our websites and apps that have been spearheaded by women across multiple teams.
We're thrilled to shine a spotlight on these talented individuals leading the charge to create an exceptional experience for our customers.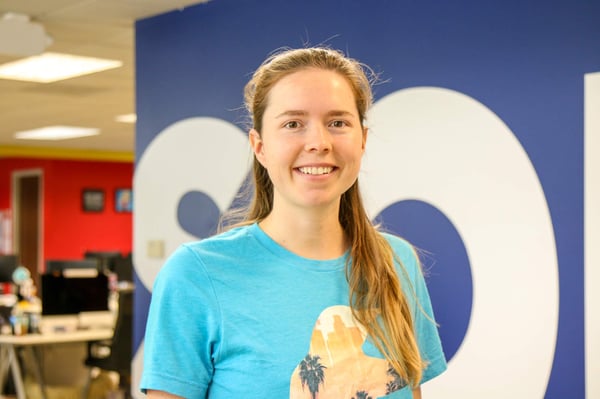 Our Software Engineer, Samantha Davis, didn't start out with a background in tech, but that hasn't stopped her from having a lasting impact on our Spiffy development team.
What is a change you'd like to see for women in the workplace in the next 10 years?
"In the next ten years, I would love to see more women in leadership positions. More women are entering STEM fields but the majority of them are in junior/associate positions. From a management position, you can mentor women and advocate for them when it comes to hiring decisions, raises and promotions. You could have a much bigger impact on growing diversity in the workplace. Having more women in decision-making positions also benefits everyone because diverse teams have been proven to perform better."
What has been your experience in tech as a woman?
"I had a pretty non-traditional entry to the tech world, which is becoming more common now, I have a degree in communications but ended up doing a 3-month coding boot camp (shout out to the Iron Yard, now
Momentum Learning
in downtown Durham) and switching to software development. It was scary to completely change tracks like that, but I don't regret it. I love being on the development team at Spiffy and I think my communications background is an asset to my job, not a weakness.
Over half of my class at the Iron Yard were women, it was a great learning environment. I don't think I faced quite the same barrier to entry as women who majored in computer science or other traditional STEM fields typically do."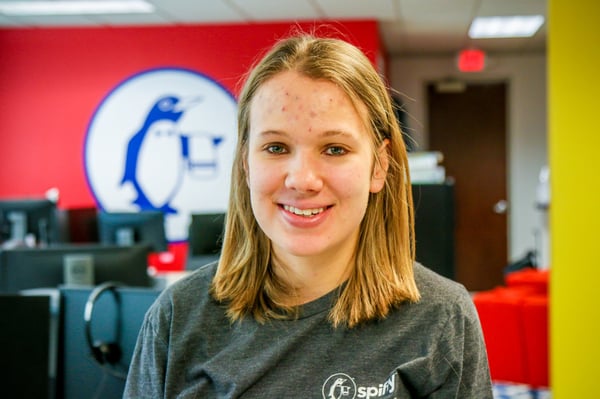 As a Full Stack Developer, Malinda Miller has led a complete overhaul of our Spiffy website for a cleaner and customer-friendly experience. We owe a lot to her hard work and empowering mindset!
What has been your experience in tech as a woman?
"Since college, I have always been a minority in my industry. I have worked on teams where I am the only female. In the past, I have experienced several instances of a superior or a professor directing questions or discussions towards males on my team. Despite this, I have never let myself believe that I am at a disadvantage because I am a woman, I have just learned that I have to speak up and defend myself more. Working at Spiffy has been awesome because I have a small team without an extreme gender disparity. Having co-workers that respect you, regardless of gender, is a huge perk!"
What is something that you're passionate about outside of work?
"I am passionate about training my 11-month-old rescue puppy, Hopper. Our goal is to compete in dog agility when she is old enough. "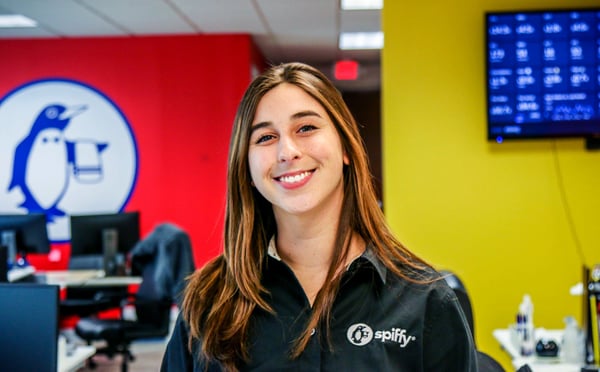 The master of all Spiffy graphic design is our Digital Designer & Website Manager, Kelsey Sullivan. She has played a crucial role in the success of our Marketing team this year, despite only being with us since November.
What's the biggest improvement you've seen for women with careers in tech?
"The biggest improvement I've seen is basic support and recognition. It's important for the people around us to be aware of the hardships tech women face in general. Whether it's getting recognized at work for your actions, a co-worker simply showing you respect, or something as big as getting support for equal pay."
What is something that you're passionate about outside of work?
"I am extremely passionate about my artwork and creativity. Either setting time aside to paint a blank canvas or making a fun graphic for a friend, it's important to me to keep my creative juices flowing."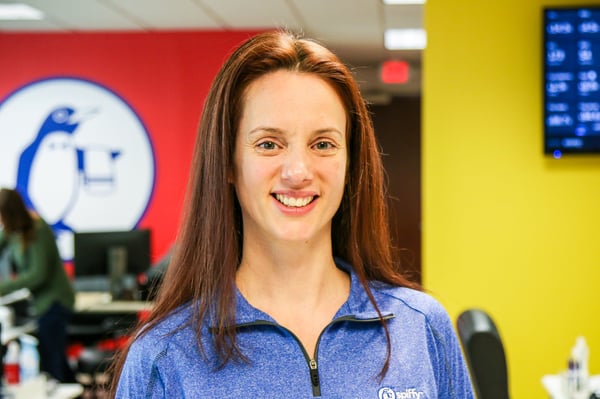 Our VP of Marketing, Grayson Leverenz, continues to go above and beyond for all of her coworkers. Her thoughtful leadership and wealth of experience have made her an invaluable part of our Spiffy team!
What is a piece of advice you would give to women in the workplace?
"
Don't be afraid to be the only woman in the room. It happens a lot in both the Tech and Automotive industries. Women play a leading role in 85% of car buying decisions, making it incredibly important for us to be there.
"
What is something that you're passionate about outside of work?
"My toddler is fascinated by trash cans so we spend a lot of time scouting, counting, & throwing stuff in them. It's amazing how kids help you find beauty in the most unexpected things."
We're going to continue to share the thoughts and stories of the women at Spiffy throughout the month, so be sure to keep up with our social channels. If you're interested in finding your place here at Spiffy, then don't hesitate to
check out our latest career listings
and apply for a position that suits your skill set!
Posted in Spiffy Blog