Since 2014, we've worked towards the goal of disrupting the car care industry for the better. The pitch remains as simple as when we started with car wash and detailing: on-demand convenience combined with trustworthy technicians and an eco-conscious mindset.
Behind the scenes lies a world of ever-improving technology, making our Spiffy services a reality. Multiple pieces work together, from smartphone applications and booking software to a new foray into in-house automotive product manufacturing, ensuring every customer has a five-star experience worth repeating.
Without our world-class Engineering team at Spiffy headquarters - covering software development, hardware engineering, security, and more - we certainly wouldn't be where we are today.
A Complete Software Package
To best serve our customers and fleet clients, we've developed a complete software package that simplifies the user experience for each party. This approach demanded four different components to succeed:
A customer-facing smartphone application that meets modern UI/UX expectations
A Technician-specific application for coordinating appointments and information
Custom-built web browser portals for fleet clients
An in-house scheduling and reporting backbone
Consumer App
The first piece of our software package is our free smartphone app for customers across the country, making booking a car wash, detail, oil change, or preventive maintenance services simple and intuitive. Customers can rate their experience directly in the app after the service is complete, and each payment is digitally encrypted to maximize credit card security.
We've iterated on our iOS and Android apps for years, with our recent 6.0 update offering a completely new user experience. Customers can stay up to date on their car wash/detailing and oil change schedules, with notifications of any outstanding safety recall alerts within the app itself. Multiple vehicles can be added to each account, allowing you to virtually track the car care status of your entire garage.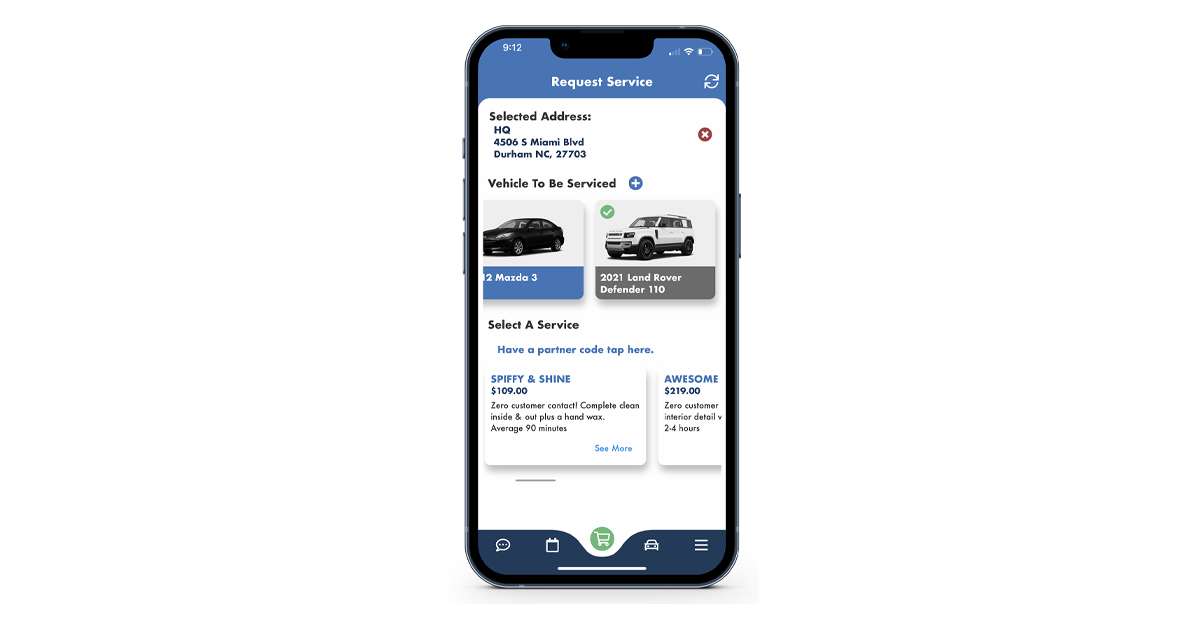 Technician App
Behind every appointment we book is the Technician app, which connects the customer experience to our back-end scheduling, tracking, and reporting software.
Every Technician can access the services they've been assigned, which sends notifications to customers throughout the appointment. The app flows through checklists and documentation and allows them to correspond with customers about service upgrades, such as pet hair removal or leather conditioning, based on their multi-point pre-service inspection.
The Technician app requires visual documentation of each vehicle before and after the service to ensure the best quality for our customers.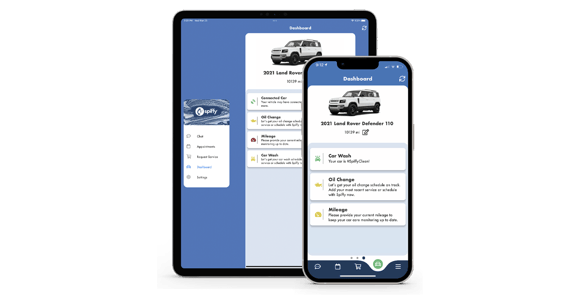 Fleet Portal
Unlike a typical customer, fleet clients have dozens, sometimes thousands, of vehicles to manage, requiring a customized approach for proper maintenance management. To that end, we've designed fleet portal web pages customized to each client's needs. Fleets with multiple branches to manage can view the whole from a high level or dig into specific branches for a focused, ground-level view of the operation.
By custom-building an accessible app for each fleet, we make it simple to keep up with pending and scheduled services, schedule future appointments, and release holds to increase utilization and drive branch scores higher. The portal shows the total price for each vehicle as their services are completed, making it simple to keep up with fleet maintenance costs.
Our Fleet Portals scale to the needs of each client, whether they have ten vehicles or ten thousand, so that each fleet manager can minimize downtime and the stress that comes with it.
Conductor
As its name suggests, Conductor is a harmonizer of sorts between the consumer app, fleet portals, and technician app - allowing us to manage services, schedules, and reporting across the board. It also gets plenty of use from many teams throughout the company, making it a crucial component for most Spiffy employees.
For example, our Customer Care team can schedule services and communicate changes with Technicians by directly accessing each city's schedule. On the flip side, our Operations and Sales teams can analyze appointment statistics and access historical data for internal reporting.
Over the years, Conductor has expanded its use cases beyond our corporate teams. Our growing number of Franchise Owners can use the data to manage their business directly. We're also exploring how other companies can rely on Conductor, such as car dealerships and independent mechanic shops, through our Digital Servicing packages.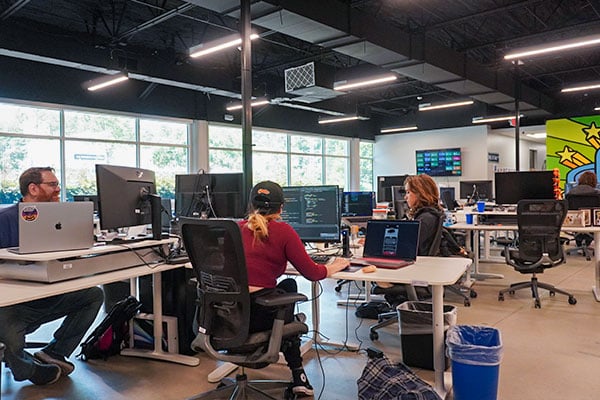 Meet Our Engineering Team
With so many moving parts on the technology side of Spiffy, it's essential that our Engineering team is composed of experienced individuals who can fit into one of four main teams: Apps, Core, DevOps, and Hardware Development.
Apps
"The Apps team is responsible for several core applications vital to our daily operations, specifically the Spiffy Consumer App and the Technician App," says Kevin Craig, Apps Team Manager.
Our Apps team manages our applications, which are all designed and developed in-house to provide a simple and effective user experience. Customers using our application/web portal have the opportunity to request appointments from our growing list of maintenance services. Their work made it possible to track certain metrics of the vehicle, such as mileage or previous oil changes, when Technicians conduct services or whenever customers provide us the info. They also created the Dashboard view, which keeps you up-to-date on your vehicle's needs.
Their work on the Technician App presents our employees in the field with the required worksteps to complete each service. These worksteps cover everything from taking before and after photos to a quick inspection of potential areas of concern, culminating in text and push notifications that let you know when your service is complete.
In addition to these two primary applications, the Apps team manages several other in-house applications and our customer Fleet Portals.
Core
"The Core team is responsible for Conductor, which drives business from customers, fleet clients, and Digital Servicing clients utilizing our technology to grow their own businesses," says Melinda Kelleher, Core Team Manager.
Our Core team has been instrumental in the construction and continued improvements of Conductor. Their efforts manage functionalities beyond creating/assigning appointments, but providing metrics reports and paying our Technicians. In order to keep up with Spiffy's rapidly growing fleet business, the Core team worked to ensure Conductor integrates with multiple accounting and fleet management APIs - creating a seamless process to track and bill appointments for large national clients.
We've also begun to offer Conductor as a part of our Digital Servicing package for dealerships and independent mechanics. Their work on the back-end is crucial to providing consistent up-time and support as more businesses launch their mobile operations.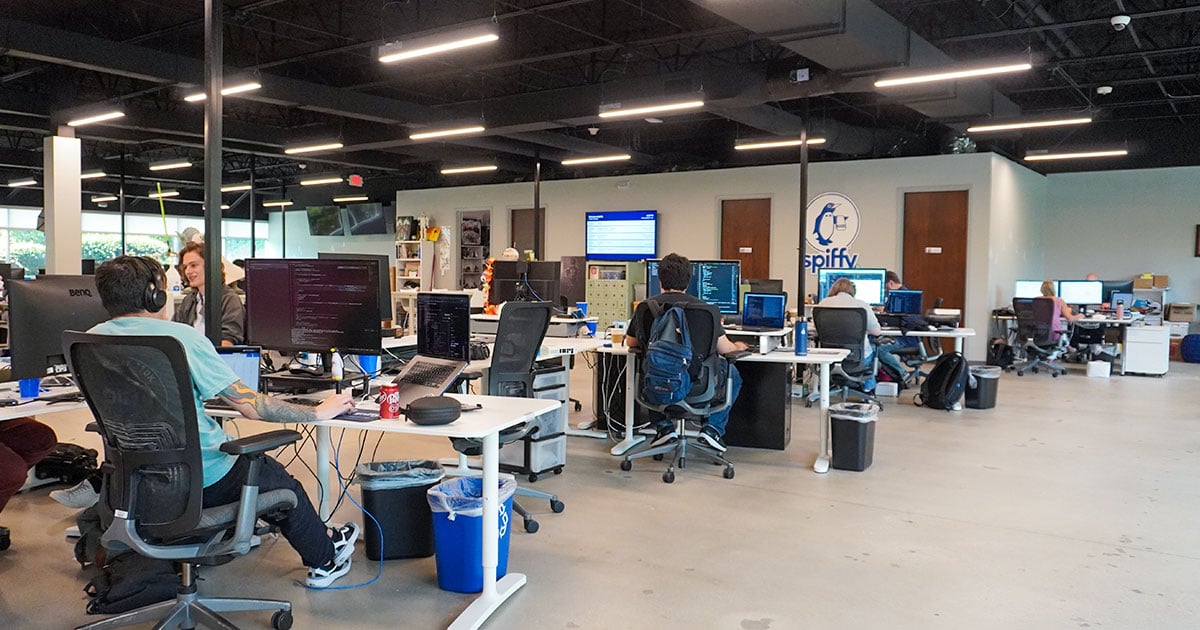 DevOps
"The DevOps team provides a bridge between the software engineering efforts of the Core and App teams and the user experience from a performance and reliability perspective," says Eric Stanfield, DevOps Team Manager.
Our DevOps team monitors the system using automated alerting and dashboards to take quick action if there's ever a notable change in system behavior. For example, they monitor memory and CPU utilization across the servers that power our Conductor back-end system. Changes in behavior are tracked and remediated, if needed, to minimize any impact on customers and Technicians.
Beyond that, the DevOps team improves our security posture at all layers of the technology stack. They perform day-to-day IT activities like deploying Spiffy team members' devices and setting up their accounts. They are also working on expanding software Quality Assurance to minimize bugs and identify opportunities to add automation, saving time and improving quality.
Hardware Development
"Our team handles everything from design to prototyping to manufacturing and deploying these solutions in the field," says Zach Fearnside, Device and Hardware Engineering Manager.
Our Hardware Development team focuses on designing and deploying unique, new tools for our Technicians and fleet clients. The team of six consists of mechanical, electrical, embedded, and specialist software engineers focused on reimagining the standard for automotive care equipment and tools.
From designing new battery management systems to computer-vision-based automation to specialty IoT data acquisition products, the Hardware Development team uses a diverse skill set to tackle the large swath of problems facing vehicle fleet owners and the automotive service industry.
Their expertise led to the launch of our first device, Smart Tumbler, which enables fleet clients to safely and consistently eliminate odors in their vehicles.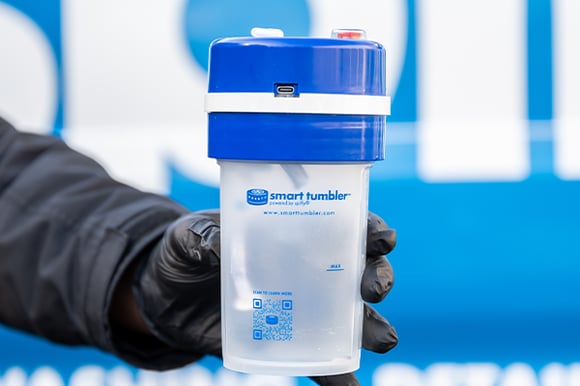 As you can see, multiple skilled teams and valuable parts are working in concert to provide a top-tier user experience as we continue disrupting the car care industry. And yet, with nearly eight years behind us, it feels like we're still scratching the surface of what we can do for customers and fleet clients alike.
Are you curious to see if our Engineering team is the right fit for you? Check out our Careers page and find a position that suits your skill set!
Posted in Business