At Spiffy, we understand that your car is more than just how you get from point A to point B; it's almost like a member of your family. So when it comes to keeping your "baby" her brightest and most beautiful, you'll want to make sure she's thoroughly cleaned, washed, and waxed on a regular basis. Not only will this make your car look better, but it will help protect your auto investment, and give you a more comfortable ride.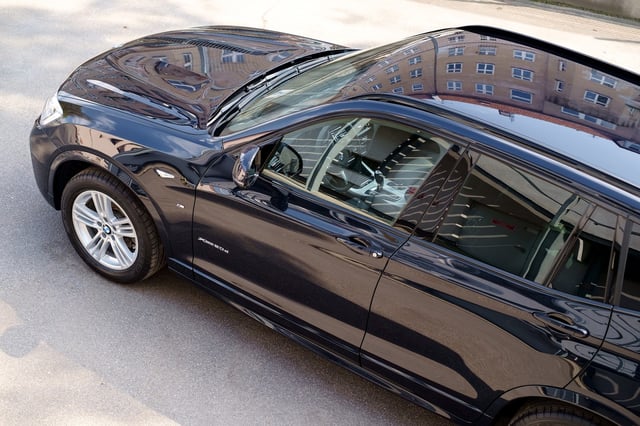 These days, there are several ways to wash and clean your car. So let's dive a little deeper to help you make the best choice for you and your family.
Automated Car Wash
A popular choice for convenience, automated car washes let you get in and out on your lunch break or after dropping the kids off at practice. Some of them use friction cloths and brushes along with strong, abrasive suds to scrub the grime off your car and make it look better fast, but can also scratch your paint. Another alternative is the "touchless" system that uses high-pressure sprayers to apply water and suds to your car with less damage than machines. However, while these can give satisfactory cleaning results, they also tend to miss the nooks and crannies, and you may find yourself going over them again in your driveway later. Automated washes can also cause your car to leave with harsh chemicals still on it, causing damage like this: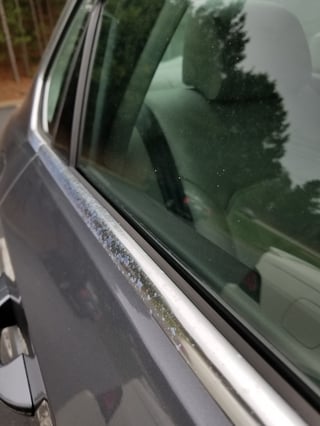 Washing By Hand
This brings us to another old standby: the DIY car wash. This offers affordability and puts you in control since all you have to do is buy cleaning supplies like soap, wax, a few cloths, and grab a hose. Many car owners believe that by taking it on themselves, that they are not only saving money, but also being greener. Not so fast: washing your car at home can use up to 100 gallons of water in 10 minutes. And after you rinse off all that dirt and petroleum-based grime, where does it end up? Your grass, the sidewalk cracks, and maybe even your storm drain -- right back where you don't want it to go. The same goes for those self-service stations. They may offer a convenience, but they still use harsh chemicals and don't always reclaim the water.
Hiring a Professional
Spiffy employees work for us for a reason -- they love cars and the communities they serve. Our trained, fully insured, and background checked professionals show up with everything they need to get the job done and are experienced in car washing, waxing, and detailing. They do it for you, so you can focus on the things that matter and rest assured that you are getting the highest quality, greenest car wash from our convenient app. On average, our washes only use 10-20 gallons for water per vehicle and we use eco-friendly products that won't harm your car or the environment.

If quality, safety, and water conservation are important to you, then Spiffy is the clear choice. Our Spiffy techs really get in there to give your car the personalized service it needs to look and drive its best. We offer an entire menu of quality car cleaning options ranging from a basic wash and wax to a full-service wash and detail. Use the link below to get $20 off your first Spiffy service.
Posted in Car Care