If you live or work in North Carolina's Triangle region, you're undoubtedly aware of Chapel Hill Tire. With 9 locations across the area, this local staple may be your go-to solution for a car inspection, oil change, tire replacement, or one of the other many services they offer.
However, that's about to change as Chapel Hill Tire expands to mobile car wash and detailing services.
The adoption of on-demand services has accelerated across nearly every industry since the first COVID lockdowns in early 2020. While the pandemic's impacts have subsided, the added demand for convenience has stuck around.
While a mobile service complement to a traditional brick-and-mortar shop may have been a luxury before the pandemic, today it's growing into a necessity to stay competitive. Dealerships and mechanics who can't compete on convenience may falter while others focused on improving the customer experience thrive.
For Chapel Hill Tire, the decision to branch out into mobile services was a move that made sense for their business. Not only does it offer an improved customer experience, but going mobile presents an opportunity to pursue additional revenue. The problem was making the pivot without the resources to do it right, made worse by supply chain and labor shortages.
That's where Spiffy came into the picture.
In late 2020, we unveiled our Digital Servicing™ package for automotive dealerships. The goal was simple: equip service departments with the technology they need to provide mobile services for their customers. Since then, we've expanded into over a dozen cities via our Franchise Owners, including Tom Wood Group in Indianapolis, who opted to purchase a Spiffy-branded franchise rather than take the Digital Servicing approach.
While they could have considered launching this offering on their own, Chapel Hill Tire chose our Digital Servicing package to accelerate their speed to launch mobile services and provide that extra convenience to their customers.
Our proprietary software adds value across their business, including:
A branded consumer-facing app
A technician app
Spiffy's mobile service management software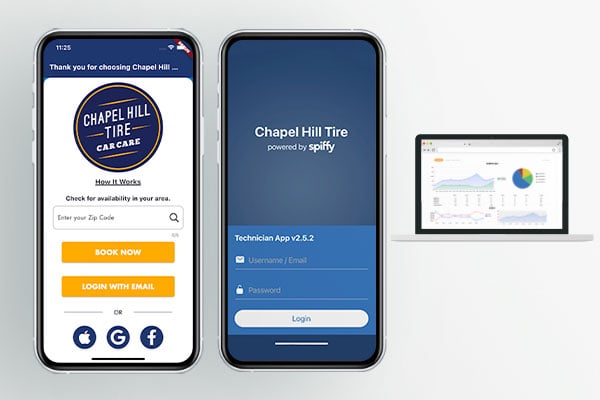 We gained two years of valuable experience and feedback, from dealerships and our growing Franchise Owners, which funneled into making Digital Servicing a top-tier package for forward-thinking businesses. Now, we're thrilled to share the launch of our first Digital Servicing client and see how they grow their operations.
When we first started in 2014, we looked to license software from a third party and quickly found there wasn't a solution specifically designed for mobile car care. As a result, we built out our software and have iterated on it for nearly a decade, applying our learnings from over a million services to improve it over time, now to a point where we can license it out to other companies looking to launch mobile services. We've truly come full circle!
Software isn't all that we offer, though. We've also gone through about a dozen versions of our van upfit model. While a Spiffy van on the street today may look similar on the outside to how it did five years ago, the inside is very different. We constantly work to make our vans more versatile and efficient with each iteration. Now, with our van factory pumping out new vans every day, we can support our corporate and Franchise growth and our Digital Servicing clients as well.
Check out Chapel Hill Tire's first truck!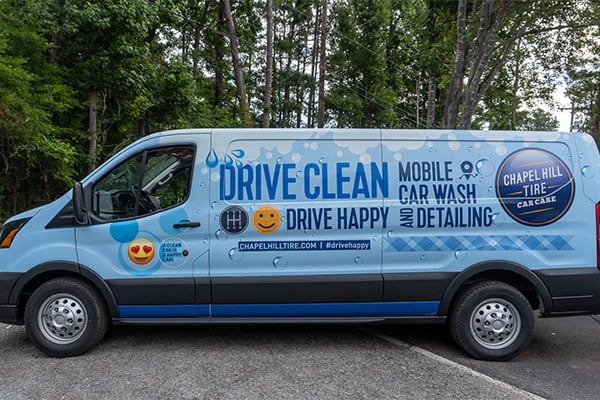 Chapel Hill Tire could have invested in building their software from scratch and bought a van independently, but partnering with Spiffy allowed them to get a head start. They can now bypass the failure cycles we went through to make our mobile car care model the best in the world, from software to van design.
If you're a dealer, a repair shop, or any other brick-and-mortar automotive business interested in rolling out mobile services, don't hesitate to reach out to us. We'd love to partner with you!
Posted in Digital Servicing