Driving on the open road brings freedom, but it can also lead to unexpected scenarios, ranging from a minor inconvenience to an emergency threat. When you step into your car, you need to be prepared for anything, and having some essential items stored in your glove compartment or seat pockets will help.
We're here to answer your questions about what to keep in your car for emergencies and everyday problems alike. You don't need to jam-pack your vehicle with everything you'll ever need, but there are a few essential items to keep in your car that just make sense and could even save you from a terrible situation.
Ready for all the answers about what to keep in your car? Here's a priority list you can use to start packing the essential items to keep stocked in your vehicle at all times.
Maintenance Tools

Jumper Cables
Jumper cables are a top priority when considering what to keep in your car for emergencies. Your car battery may die for many reasons, and giving it a quick jump will solve your problem and get you back on the road. Not only could they help you in a time of need, but they may help a fellow traveler as well.
Whether you need to lend a hand to a neighbor or need some power yourself, jumper cables are the necessary tools to power your vehicle if the battery dies.
Tire Pressure Gauge
When your tire pressure indicator light comes on, a tire pressure gauge is a tool you need. Tire pressure gauges are typically pocket-sized and can fit in any space of your car. Put it in your console, glove compartment, or emergency kit and have a quick way to check on your tires.
Tire Inflator
Sometimes you can go for miles between gas stations. So while a gauge can tell you your tire pressure, you'll need a tire inflator to help when you're far from a place to get air.
Auto Repair Information
When something goes wrong, you might need professional help right away. For those moments, it's best to have all the necessary information available on hand.
This includes:
Manuals and previous repair receipts
Insurance forms
Insurance card with company's contact information
Tire Jack/Tire Iron
If you end up with a flat tire, you'll need a tire jack on hand, as well as a tire iron. Both can be stored away in the trunk near your spare tire.
To use it:
Crank the jack underneath the car
Use the tire iron to twist the nuts and replace the tire
Once you've changed to a spare tire, you can make your way to help rather than sit on the side of the road, which is dangerous.
Emergency Items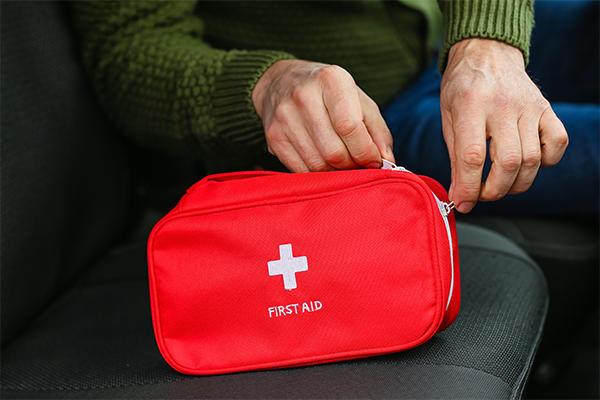 First Aid and Flashlight
When considering what to keep in your car for emergencies, make sure you have a first aid kit with a flashlight and extra batteries. Keeping small safety items like band-aids and gauze in the same place makes it easy to conduct first-aid quickly, even in the dark.
Emergency Cash
Emergency cash stored out of sight from the windows can make a big difference in an emergency. Perhaps you've lost your wallet, a card reader isn't working, or there's a problem with your card. Now you can still get gas or other necessities.
Cell Phone Charger
What good is a cell phone without a charger close by at all times? These are essential items to keep in your car because it means you'll always be ready to place an urgent call or phone in an accident.
Window Breaker
If there is a collision or accident, a window breaker will safely help you and your loved ones out of the vehicle. Most window breakers come equipped with a serrated edge on the inside of the handle to cut seatbelts in challenging situations.
Food and Water
When considering what to keep in your car, you may think of food and water as fun snacks. But when you are stuck somewhere waiting for help, food and water are essential items to keep in your car.
These items should be non-perishable, including:
Protein and granola bars
Trail mix
Peanut butter
Pretzels
Dry soups
Bottled water
Parent Essentials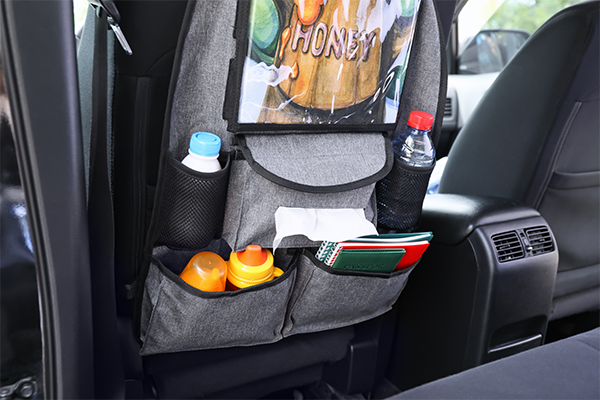 Change of Clothes
Parents know their young kids can have all sorts of accidents in the car. A good tip is to always keep an extra change of clothes in the trunk when these things happen. Just as quickly, you can get stuck in the rain and need a change of clothes anyhow. Either way, it's wise to have a spare set of clothes tucked away in a backseat pocket.
Snacks and Toys
Nonperishable snacks keep kids happy and comfortable on a long trip. Pack your kids' favorite snacks and toys for the long car ride and some blankets so they can sleep soundly.
Some ideas include:
Fruit gummies
Dry cereal
Animal crackers
Portable Toilet
Portable potties are great for kids who are still learning to use the toilet and can't catch a break on long trips. Especially when you're on those long stretches of country roads, you need a portable toilet in your car as a backup.
Seasonal Items
Spring and Summer
Keeping an umbrella in your car can be a lifesaver in the summer. Even if rain isn't in the daily forecast, it pays to have one nearby just in case.
Also, we recommend keeping extra sunblock in your glove compartment. It might get a little runny on humid days, but it's better to have this spare bottle than none at all if you forget a bottle on the way to the beach. The same can be said for bug spray; if you ever need it, you'll be thrilled with your past self for packing it.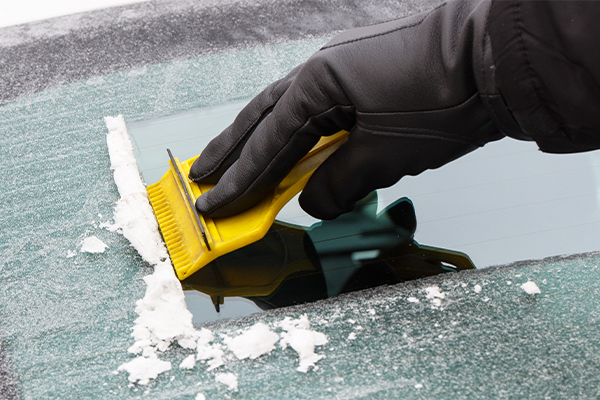 Fall and Winter
Blankets and carpets are essential items to keep in our car during winter. Blankets help to keep you warm in the cold, but carpets can be great tools to use if your vehicle gets stuck in the snow. Carpets create friction underneath your car to ease it out of a tight spot.
For those frosty winter days, an ice scraper is a must-have. There's no use running the car for 30 to 40 minutes at a time, waiting for the ice to thaw when you can take the ice scraper to your windshield and clear the frost in less than five minutes.
Also, we recommend some spare tissues and hand sanitizer in your glove compartment to avoid common seasonal illnesses.
Don't Neglect the Essentials
Driving offers plenty of fun moments, but it never hurts to be prepared for the bad ones too. By stocking up on these maintenance and emergency items, you can avoid spontaneous stressors during your next journey.
One thing that may be unavoidable after a long road trip is a messy car. Fortunately, our team at Spiffy is here to help. Check out how our mobile car care services - wash, detail, oil change, and more - can make your car feel brand new all over again.