Located smack dab between all of the major Atlanta neighborhoods such as The Fourth Ward and Poncey Highland, Ponce City Market is changing the face of downtown ATL like nothing before. Those who have visited Chelsea Market (a former Nabisco factory) in NYC may see some similarities. Much like its neighbor in the north, this ambitious commercial and mixed-use development has made what was old new again by repurposing the old Sears Roebuck Building. Offerings include an artisanal food hall, popular retailers, specialty shops, and a wide array of local events for the community.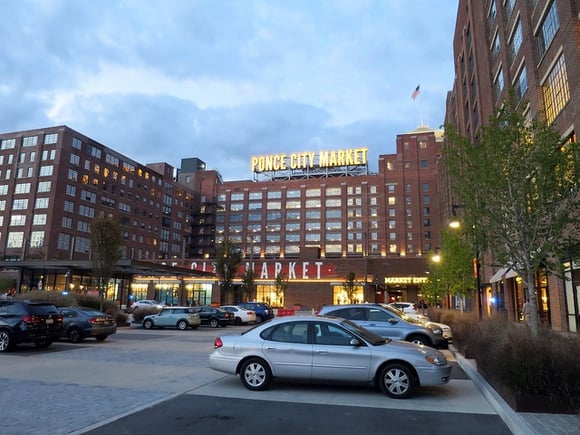 With its beautiful reclaimed wood floors, high, exposed brick walls, and iron fixtures that would make Restoration Hardware proud; Ponce City Market has brought a multipurpose shopping, dining, and office experience to Atlanta residents. And for those who want to live the high life right on the beltline, there are even luxury loft apartments available for rent.
Recently, PCM has been welcoming even more office tenants to enjoy the beauty and convenience of working in a luxury mixed-use development. Besides NYC-based coworking space provider, Industrious, many tech and on-demand companies like Spotify and Instacart are moving in. Employees of Ponce City Market's office tenants are loving the on-site amenities such as fresh bagels and coffee, career-building events, and social mixers and happy hours.
And did you know that Spiffy Atlanta also operates out of Ponce City Market? We are delighted to provide quality, on-demand car cleaning and detailing to PCM tenants, visitors, and others in the Downtown Atlanta area. Our commitment to the environment and the community beautifully aligns with what Ponce City Market is all about!
Work or live near PCM? Book your first Spiffy service below and enjoy $20.00.