In my last post, I talked about how I designed the Spiffy Blue sensor + app package to suit someone just like me -- Two cars, three kids, five organized sports, 200,000+ combined miles, zero free time.
If something goes wrong with one of our vehicles, I'm out of warranty and I'm out of luck. I need that vehicle working and safe before the next school day or next practice or next recital. And with all the technology under the hood these days, even my modicum of automotive and computer experience can't really help me. I, like you, am totally at the mercy of those guys with the chip readers and the bad coffee in the waiting area.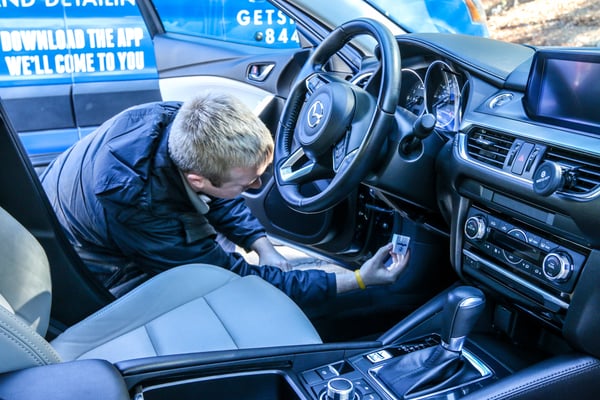 So while we were building and testing Spiffy Blue, I had sensors in both our vehicles and the app on all our phones. We were only about 50% feature compete, but I could have never predicted or even created a better test case than the night my wife's 2008 Toyota Sequoia started making scary noises.
She pulled up in our driveway with a loud rattle coming from under the hood. With just over 120K miles on it, I knew it was time for something to go wrong. But like I said, I had Spiffy Blue installed in her SUV, so I grabbed my phone, opened the app, and ran an engine diagnostic. That gave me my first clue.
The Diagnostic Trouble Code (DTC) Spiffy Blue gave me was P0012, related to the timing of intake cam shaft. Now I had information. When you see a P0012, it's usually related to a lack of oil or dirty oil. I didn't even need to know this though, I just needed that code.
Now, my wife had just had her oil changed the day before, so the next morning I drove the Sequoia back to the original shop to have them diagnose the issue. They hadn't heard anything like that when it left their shop, they told me, but after some initial diagnosis they believed it was an issue with the timing chain, an expensive problem to fix. But wait, I thought, I already have a lead on what's wrong, and that lead said nothing about a timing chain issue. I'm getting a second opinion.
After a couple phone calls, I got a connection to Matt, a Toyota specialist mechanic close to me. I handed off the Sequoia, told Matt the story, clued him in about the P0012 Spiffy Blue had given me, and let him hear the noise.
"P0012?" Matt confirmed. "I think I know what the problem is."
An hour later, he sent me this.
That's an oil filter stuffed into the cup, which was then incorrectly replaced. I mean, you don't have to be a master mechanic to know that's not right. Matt told me the dirty oil/lack of oil likely took out the solenoids, which he could replace for around $600 (including of course, another oil change).
All credit to the original shop, when I presented them with the code, the diagnosis, and the photo, they immediately offered to reimburse me for the $600-plus, along with a truly sincere apology.
I think about what could have happened had I not had the information I had. Likely, I would have had the original shop tear apart the Sequoia's engine and ultimately replace a chain that didn't need to be replaced. I asked Matt about that and he said that would likely have been upwards of $2,000. And I still could have had defective solenoids afterwards.
My total cost? 30 seconds for an engine scan, 15 minutes to find a mechanic, and a couple hours I would have spent in a dingy waiting room anyway while my vehicle was being repaired for an issue it didn't have.
Matt had better coffee too.
By the way, while Matt had the SUV, I had him do the recommended 120K-mile maintenance, and sent him the screenshot from Spiffy Blue of what Toyota recommended for my exact make and model at 120K. Probably saved about 40-50% on that too, having it done with Matt instead of at the dealer.
I'm not saying Spiffy Blue can do this for you, but it gave me the knowledge which gave me the power to get the fix I needed and not pay more than I should. We should all have that knowledge and that power. And now we all can because Spiffy Blue is available on Amazon. Click here to purchase!
Posted in Business