Did the family Christmas tree get some sap on your car's paint? Don't let expensive paint damage get in the way of your Christmas spirit.
While sap is not immediately dangerous to your vehicle's paint, it can eat through your paint's clear coat in as little as a few weeks, leaving permanent dull spots on your car.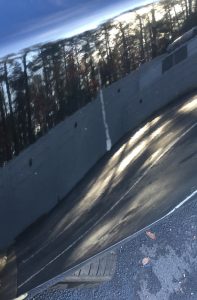 Pictured above: Regrettable sap damage on my car

This can be prevented by taking action quickly to remove the sap.
First, you will want to wash your car so you have a clean surface to work on. Next, use a good quality bug, tar & sap remover (can be found at any auto store.) Next use a soft cloth to rub the chemical on the sap until it is gone.
Depending on how long the sap has been on your car, you may need to let the chemical sit on the sap for a minute and reapply & put a little muscle into it until the sap is gone. Lightly using your fingernail to peel up the sap could be a good option too if the sap is already hardened.
If the sap is on you car window, typically a razor blade is all you'll need. Make sure you don't ever use a razor blade on your car's paint!
It is important to have patience during the sap removal process because it may take awhile to remove, especially if the sap has been sitting on your car's paint for a long time. If you don't feel like putting in the time, feel free to give Spiffy a call & mention the specific areas with wax, we would be happy to take care of it for you!
Happy Holidays from Spiffy!
Give the gift of Spiffy this holiday season, share a Spiffy gift card with your friends and loved ones!
Posted in Lifestyle