With the darkest depths of winter upon us, snow, sleet, and road salt can present challenges for any vehicle. If you're looking to keep your car clean and corrosion-free all winter long, it's important that you follow some essential steps. Here are some tips for giving your vehicle the TLC it needs to keep going long after Punxsutawney Phil has seen his shadow.
Use a Paint Coating
In weather like this, an old-school wax just won't cut it. Road salt is a killer for a nice finish so make sure you're protecting your auto investment with a reliable paint coating. For best results, try a paint sealant or use a ceramic coating. It creates a covalent bond to protect your paint from the elements. Not only is this option stronger than wax, but it lasts much longer too. Spiffy offers a paint sealant that offers up to a full year of protection.
Go Easy on the Brushing
Removing ice and snow from your car can be a risky job, especially if you're in a hurry. Unfortunately, rushed or overzealous ice brushing is one of the most common types of paint damage our Spiffy techs see. Be sure to go slow (even if it means getting up a little earlier) and to use a soft-bristled or foam brush. You will thank yourself come springtime.
Get a Pressure Wash
The best practice for winter car washing is clean water and a high-pressure hose to get all the salt, grit, ice, and exhaust of your paint and out of your wheel wells. When you book a car wash with Spiffy, you can rest assured that we will bring our professional equipment as well as our A-game to get your car sparkling clean in any weather. Best of all, you can avoid standing out in the cold in sub-zero temps. Just hand us your keys, and come back to a car that looks new all year-round.
Don't be salty! Book your first car wash with Spiffy this winter and enjoy $20 off.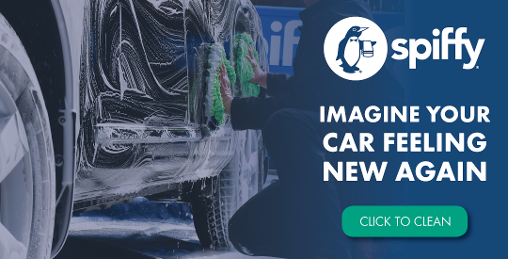 Posted in Lifestyle