As we pull out our winter jackets here at Spiffy, we are also winterizing our cars. Here are the top three recommendations from Spiffy car care experts:
STAY SAFE
Visibility is a safety concern in snow, sleet, and freezing rain. Replace your wiper blades before the weather turns cold if you haven't done it in the last six months, and treat your windshield with rain repellent.
Spiffy Aquapel rain repellent dramatically improves windshield visibility by forcing water to 'bead' and roll off the car. It also reduces glare, making it easier to see when you're driving at night. A University of Michigan study showed windshields treated with Aquapel resulted in an average increase in response time of "greater than one second." That second can make all the difference when you are braking in snow.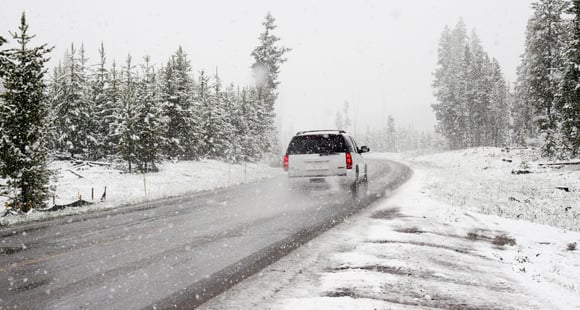 Low tire tread depth can be very unsafe, especially in winter. Spiffy technicians will measure your tire tread depth and can refer you to our partner, Michelin On-Site, for on-demand discounted tires if you need them.
A good quality Safety Kit could literally be a life saver if you're stranded in a blizzard. Order one online, or create a DIY kit with a blanket, flashlight, small shovel, and car charger for your phone.
STAY SERVICED
It's important to have your battery, fluids, and hoses checked in anticipation of cold weather.
Likewise, keeping your car at least half-full of gas greatly reduces the likelihood you'll be stuck on the side of the road this winter.
Oil actually thickens in cold weather and makes it harder to start the engine. Some manufacturers even recommend different grades of oil depending on the weather. Check your owner's manual or ask your mechanic the next time you get an oil change.
STAY SPIFFY
Snow and salt can do a lot of damage to your car's paint job. Washing your car and protecting your paint helps maintain resale value and keeps it looking good.
Spiffy offers two levels of paint protection. First, our carnauba wax provides high gloss protection for your paint's finish. We apply wax with an orbital polisher to ensure smooth, even coverage and remove it by hand for a perfect polish. Waxing typically lasts about three months.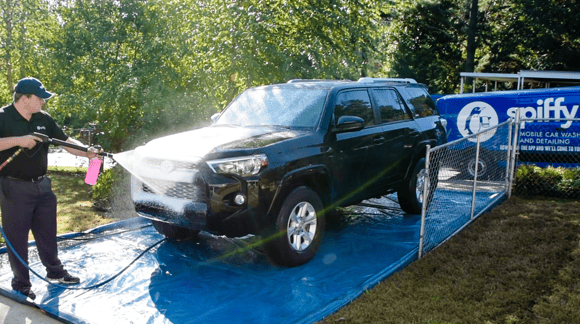 Our highest level of winter protection, Spiffy synthetic polymer-based paint sealant, provides the ultimate paint protection. It's specifically designed to resist not only salt, snow, and sleet, but also insects, UV rays, and environmental contaminants. Spiffy paint sealant lasts up to one year.
Our Spiffy Winter Protection Package includes Spiffy Rain Repellent, Tire Safety Check, and Spiffy Paint Sealant. Book today and save 50% on this upgrade service! Offer valid through November 30, 2016.
Winterize your vehicle with Spiffy, and we're even giving you $20 off your first full wash or detail.
Posted in Education