The automotive industry has seen an explosion of technology over the last decade. According to the Institute of Physics, there is more computing power in the average automobile than it took to send Apollo astronauts to the moon. Very soon, the chips in our cars will be driving us. But along the way, this auto tech boom hasn't really been friendly to the consumer.
We're changing that.
I'm the Chief Product Officer at Spiffy, and I designed Spiffy Blue for people like me. I know a good deal about technology, and I know a good deal about cars, but when you put the two together, I'm at an absolute disadvantage. Not only do I have no idea what all those chips do, I don't even know how to get started. Where do I interface with all of this technology? Where's my keyboard? Where's my touchscreen? Where the heck is the oxygen sensor?
Spiffy Blue gives the average driver access to those chips that light up the dreaded Check Engine light and send you to the dealer for whatever expensive fix awaits you. It's the bridge between you and your mechanic, giving you the knowledge and the confidence to talk the talk when something goes awry with all that tech. I've already saved myself over $600 on a repair thanks to Blue, just by having knowledge on my side.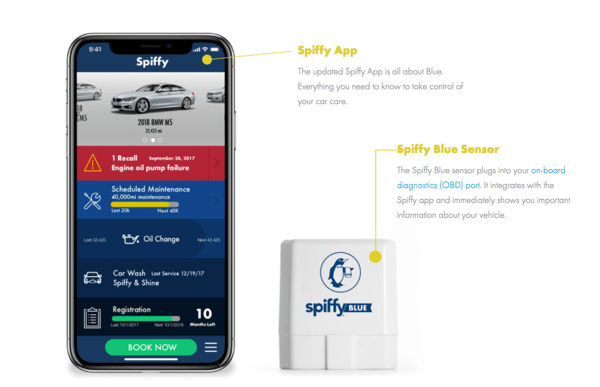 When you get early access to Blue, one of our Spiffy technicians will install the Blue sensor in your OBD-II port, where it can sit quietly until needed. Using the Spiffy Blue app, you can scan your engine diagnostics whether the Check Engine light is on or not. If the app finds what's known as a Diagnostic Trouble Code (DTC), you'll get a readout of what the problem is and we'll tell you what it means.
But Spiffy Blue is so much more than that. As a member of Blue, every time you have Spiffy wash your car or change your oil, we'll do a quick 16-point inspection, everything from your tire tread and pressure to your battery and lamps, making sure your vehicle is safe, maintained, and in top driving condition. And if anything is troublesome or approaching troublesome, you'll get a notification.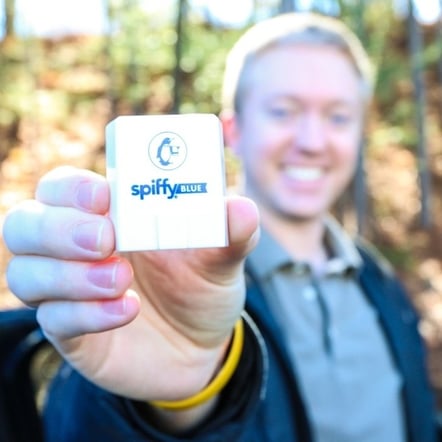 We'll keep you up to date on washes and oil changes, of course, as well as any other service or spend for your vehicle, via our Logbook feature. Blue also lets you know when it's time for recommended manufacturer maintenance and what that covers for each mileage period. Finally, we'll let you know about any recalls for your vehicle and exactly what the problem is.
And this is only the beginning. We here at Spiffy believe that you should be in control of car care, not your Check Engine light. No longer will you be filled with dread when one of those computer chips lights up your dash.
I'm pretty proud of Blue and what it means for the average driver. And I want everyone to use it.
Spiffy Blue is a revolution in auto maintenance and care. We hope you'll join the revolution. Spiffy Blue is now available on Amazon, follow the link below to purchase.
Posted in Car Care