If you've resolved to be more eco-conscious in 2018 but feel you may be falling short, it's still not too late to start the year off on the right foot. Living a greener life is surprisingly easy with just a few changes, and requires fewer sacrifices than you may think. Here are three painless tips from Spiffy to help you live a more earth-friendly lifestyle, while still enjoying many creature comforts.
Ditch the Plastic Bags
You've heard it a million times, but it still holds true. Bringing your own shopping bags is one of the easiest ways to live greener. Whether you opt for a canvas tote you got at a convention or purchase your own; there are numerous options for reusable shopping bags that are both green and chic. For fruits and veggies, you can also use reusable produce bags instead of the plastic ones available at the store.
Just Say No to Fast Fashion
Today's fashion industries defined by a quick rise and fall of certain styles, making those wedge boots you bought last season "over" before you can even enjoy them. If you're a style maven who likes to stay on-trend, this can be frustrating and tempt you to go out and purchase the latest off-the-rack style from H&M. But before you do that, consider the impact that fast fashion has on the environment and on the workers who produce it. Instead, opt for classic, timeless styles that you can cherish for years to come, invest in quality clothes that will stand the test of time, shop at eco-friendly stores, and consider second-hand and consignment shops to give lightly worn and vintage pieces a second life before they hit the landfill.
Watch Your Water Use
Water is our most precious resource, but still, many people take it for granted. Besides taking shorter showers, adopting energy-efficient appliances, and skipping the lawn-watering, there are many ways to conserve H2O and still enjoy a clean and healthy life. Saving water doesn't mean you have to drive a dirty car. When you book a Spiffy wash, we only to use 5-10 gallons of water per wash and reclaim every drop of it with our water reclamation mat. We use only eco-friendly products so you can trust that your lawn, well water, and the environment will be safe when we're on the job.
Book your first Spiffy service below and save $20 today.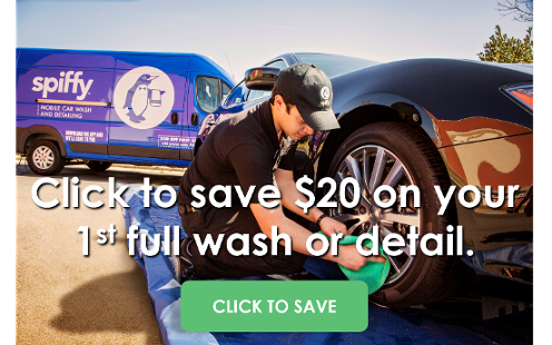 Posted in Lifestyle