Karl Murphy wanted to mobilize his car-wash business.
The Raleigh-based entrepreneur had two car washes in Raleigh and Cary before the economy crashed. The plan was to add a new location every few years, but Murphy started to think outside the box once loans were hard to come by during the recession.
"We hunkered down and then in 2010 we started to look for ways to grow our business," Murphy told me in a recent interview.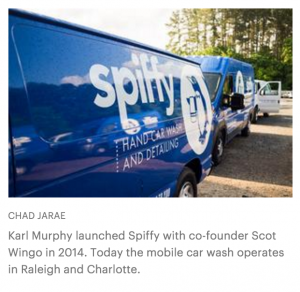 Karl Murphy launched Spiffy with co-founder Scot Wingo in 2014. Today the mobile car wash operates in Raleigh and Charlotte.
Mobile was one of the first things to come to mind.
"We said, 'What would Starbucks do if they were opening a mobile business?'" Murphy said.
So in 2011, Murphy bought a couple trucks and started going to the customers from Carolina Auto Spa — his original car wash business with locations in Cary and Raleigh — to wash cars at their home or workplace. The mobile business took off and Murphy realized there was a need in the marketplace for on-demand car wash and detailing services.
Murphy's friend, Scot Wingo, liked the idea and joined Murphy to launch Spiffy as chairman in 2014. Wingo, the co-founder and former CEO of ChannelAdvisor (NYSE:ECOM), is also Spiffy's only investor to date.
Today Spiffy has 40 employees, over 12,400 clients and 20 vans in North Carolina. Customers can book car washes over the phone, in person or through the company's app. Spiffy then sends one of its van to the customer's house or place of work. Services range from $19 for a basic car wash to $299 for the "totally awesome detail."
The startup is based in Raleigh and expanded to the Queen City last summer. There are currently 10 vans in each market.
"It just grew," Murphy said. "We have consistently grown over 100% a year since we started washing cars. We don't really have a demand problem. We have a fulfillment problem."
In 2014, Murphy and his team created the brand (complete with penguin logo) and set out to build the technology side the business. The first version of Spiffy's app came with three capabilities: scheduling, tracking and pay. Today, they are on version 3.5, with version 4 being released later this year.
"We would grow our business then automate some things," Murphy said. "We are going to the customer, testing it, building it and saying, 'Hey, it works. Ok, now we need to hard code it into the system.'"
Murphy told me he leases the Spiffy vans and then paints the exterior and revamps the interior. All in, each van costs $50,000 to $60,000, and then each van is profitable within a few months, he says. The blue vehicles are adorned with large Spiffy penguins. The trucks also come fully equipped with water, vacuums, power and mats that soak up all the water used when cleaning a car.
"So all the water we put on the car we suck up and take away with us. There is no residue and it's completely environmentally compliant, which is really important for property managers," Murphy said. "They don't want to stain their blacktop."
That also enables Spiffy to wash cars on parking decks, which don't have good drainage, Murphy explained.
When I asked why Spiffy expanded to Charlotte, Murphy pointed to potential investors. Murphy saw Carolina Auto Spa as an advantage to validate the new mobile business, but interested investors saw it as a disadvantage.
"As we spoke to investors they (said), 'You haven't left the city. Logistically can you sell outside the city?'" Murphy said.
So Spiffy's team picked Charlotte as a major market close enough to home. He said the biggest challenge while expanding here has been "uptown's parking problem." Murphy says his team worked around the limited parking options and recently announced they are now servicing cars in Ballantyne. Murphy says the plan is to expand to another Southern city this year. More details to come on that later, he said.
"We have large global ambitions, like any small startup," Murphy laughed. "We have pictures of the globe and we talk about our worldwide headquarters in Raleigh."
For now, Spiffy is hiring in both Charlotte and Raleigh. The business isn't profitable yet, but Murphy says they are where they expected to be given the amount they are investing in technology. He's also looking forward to securing outside funding in the near future.
Spiffy has three lines of business: at work, at home and business. Murphy explained a Spiffy van will set up shop in an office building's parking lot to service cars all day with the property manager's permission. Or Spiffy vans will go to a customer's home. Spiffy also services business fleets.
"In Charlotte, we clean the Boar's Head meat trucks," Murphy said. "In Raleigh, we clean FedEx trucks."
He says the largest business challenge to date is assuring people that Spiffy is as simple as it seems.
"You tell people, it will sink in and then they'll come back," Murphy said. "We tell them we can wash their car at home or at work from $19 to $299. That's the pitch and they'll come back and say, 'So you'll wash my car at my house?' Yes."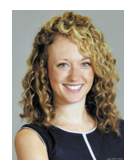 Hilary Burns
Staff Writer
Charlotte Business Journal
Live in Charlotte? Heard of Spiffy Care? The world's first on demand subscription car care program is available in the Queen City, check out the link below to sign up!