With 2019 drawing to a close, now is the time to prepare for what's to come in 2020. However, there's more uncertainty than ever as the digital-first movement continues throughout the automotive industry. If you're looking to keep your fleet profitable while staying ahead of the latest disruptions, then you've come to the right place to plan.
Let's head into a new year and decade on the right foot with a better awareness of the growing trends that may affect your fleet.
Measuring the Impact of Ride-Sharing
The growth of on-demand mobility, or mobility-as-a-service, has presented both a unique problem and opportunity for rental fleet managers. A report from Epsilon-Conversant found that ride-sharing has been cutting deep into the
rental car market share, particularly among younger customers
. While companies like Uber and Lyft have expanded rapidly in the last decade, they now manage the largest "fleets" of individual drivers.
In spite of this shift, Uber and Lyft have needed to rely on the big players in the rental car space to keep their growth afloat. As long as more consumers turn to ride-sharing, Uber and Lyft will need to grow their fleets to meet the demand. This is where Hertz, Avis, and Enterprise come in to supply new drivers with vehicles,
in partnership with Uber
. As a result, they can fight the growing daily rental losses by using the growth of ride-hailing to their advantage in their sales channels.
Aside from the seemingly never-ending demand for new drivers and vehicles, these ride-sharing fleets aren't subject to the same standard for preventative maintenance. John Possumato of Automotive Fleet
reported earlier this year
that, while most individual consumers use their vehicles around 4% of the time, "ride-sharing drivers use their vehicle over 26% of the time, which mimics the criteria that define the need for a fleet vehicle at many large organizations." This creates another opportunity for rental companies and their fleet managers to wear a new hat, specifically as "mobility managers."
What does this mean for your fleet specifically? If you manage a rental fleet, then it's worth considering the benefits that ride-sharing companies can offer before writing them off as just a competitor. While on-demand mobility has caused more than a fair share of headaches for rental fleet managers over this decade, there's a lot of potential to flip the script in 2020 and beyond.
The Future of Auctions is Digital
One of the more prominent trends from this past decade was the shift to digital retailing, for dealerships and auctions alike. As buyer demand stays on par with the supply of used vehicles in the US, it's become crucial for both consumers and dealers to do their research and know where to find their perfect cars. Traditional names in the auction space, including Manheim and ADESA, have invested heavily in mobile trading platforms, which each strive to make it simpler to trade and acquire new vehicles.
The demand to go digital has made it easier for new names to break out, such as
ACV Auctions
in Buffalo, NY. Beyond being the region's first "unicorn" startup with a $1.5 billion valuation, the company has created a wholesale digital market for dealers to purchase and sell used cars in 20-minute auctions. An intense focus on technology allows them to offer third-party inspections, title and payment process, account management, and arbitration, all within their mobile app. Their next big step is in the form of their
Virtual Lift™ technology
, which the company describes as "the industry's first mobile vehicle undercarriage imaging tool."
As you look to phase out older vehicles and replace them with newer models, it's essential to be aware of the vast array of tools available to simplify the process for you. While solutions like ACV's Virtual Lift™ leads the industry in innovation, it won't be long before something newer comes in to take its place. Staying on top of the current trends will make it easier to jump on the next "big thing" before it's old news.
Expanding Efficiency with Telematics and Fleet Data
If you manage a fleet focused on delivery, then telematics may be on your mind. As McKinsey
noted last year
, "around 15 percent of vehicles now come with telematics installed as standard, and there are estimated to be 100 million telematics units in operation around the world." There's still room to grow, with the global market for fleet telematics expected to blossom into a $75 billion industry in the next five years.
The most significant contributor to that growth is regulations, which are designed to require the recording of driving hours and rest periods among vehicle operators. Outside of the benefits to driver safety, your fleet's telematics data presents an excellent opportunity to optimize efficiency in 2020. You can easily track vehicle or asset location, as well as vehicle speed and seat belt use. Any data you gather can inform how you train new drivers and how you manage their productivity amid traffic or poor weather conditions.
One of the largest impacts of telematics is measuring your fleet's maintenance needs. With the ability to track hours-of-use and maintenance schedules, you can avoid costly services just by staying up to date on each vehicle's current condition. When the time comes to address any urgent maintenance issues, you won't be caught off-guard or have to jeopardize your bottom line to do so.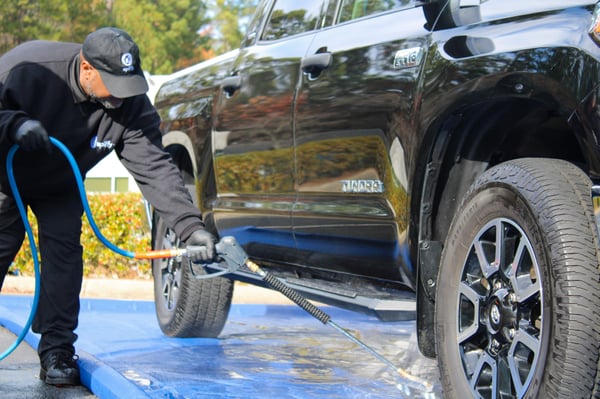 Preparing for Slow Growth with Mindful Maintenance
There's been plenty of talk about an impending recession, which causes most people to shift into a budget-oriented mindset. If you're currently concerned about the impacts of a potential economic downturn on your fleet, then you're in a better place than those who aren't. Understanding which parts of your business can transform into a liability - whether that's the cost of fuel, operations, or maintenance - can be what prevents a stressful meltdown in the future.
As we mentioned in the previous section, telematics data can make it easier to keep up with your fleet's fuel costs and preventative maintenance. Both can compound and put a dent into your revenues, which is why it's critical to keep them controlled. Even without a potential recession, there's nothing wrong with doing what you can to better optimize your business for the future. It's easier to be prepared than to be in the throes of economic uncertainty without a plan in place.
If you're looking to take a weight off of your shoulders in 2020, then let it be your fleet's preventative maintenance. With Spiffy's
Fleet Management as a Service™ model
, you can have confidence in a one-vendor solution that comes straight to you for in-fleeting, preventative maintenance, and de-fleeting. Our Spiffy Fleet app allows you to schedule Spiffy services, track, and report on the process and provides immediate digital billing so you can get back to business, all at zero cost to you.
If you're interested in learning more about how Spiffy can get to work for your fleet, then be sure to reach out to our Fleet Account Management team today. We're eager to make 2020 your easiest year for preventative maintenance yet!
Posted in Fleet