As we continue to grow our team at Spiffy, we aim to bring in passionate individuals eager to jump on new opportunities and expand their skill sets. Few match that description right out of the gate like Aaron Summerville. He joined our Training team in Raleigh in May 2022 after two years of owning his mobile car detailing business: Pristine Car Washes & Detailing.
On paper, his decision to exit Pristine and join Spiffy makes sense as someone with ample detailing experience. But from the first moment you start to hear his story, it becomes clear that he brings a unique perspective and blend of experiences to our company, which will resonate with our future classes of Spiffy Technicians, Supervisors, and Managers.
I was eager to chat with Summerville and hear his story, from his decision to start Pristine through two years of lessons learned to his new role as Operations Trainer at Spiffy.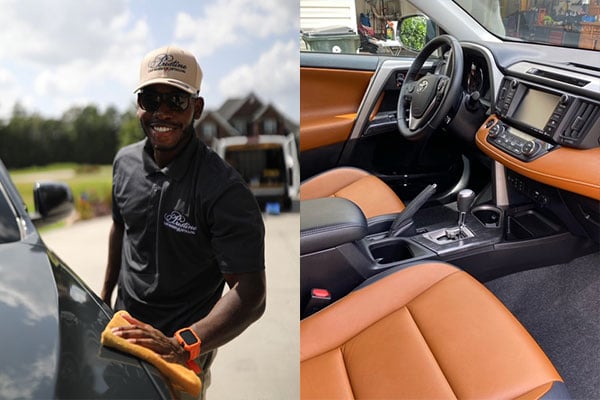 The unexpected start of Pristine

Summerville decided to start his car detailing business in March 2020, though he didn't precisely envision the direction it would take. Before COVID led to lockdowns worldwide, he worked as a fitness trainer specializing in group training. As his work shifted to online sessions, he found himself with more time on his hands to figure out what to do next.
"My Mom randomly asked me to detail her car one day, and I said sure. I took her car out, vacuumed it and gave it a good wipe down, cleaned the outside, everything," said Summerville. "I took it back to her, and she was just really thrilled and ended up giving me $70. That was like the start of Pristine, or at least when the light bulb went off, and I knew it was something that I was good at."
His labor wasn't just rewarded with some cash for the effort; it also came with a reminder of what made his fitness work so rewarding. "[My mom's] response to the service reminded me of what I was doing before COVID, like how people would come up and thank me for a great workout. It made me see how much I love giving good customer service and providing services for people they can be happy with or make them feel good," he says.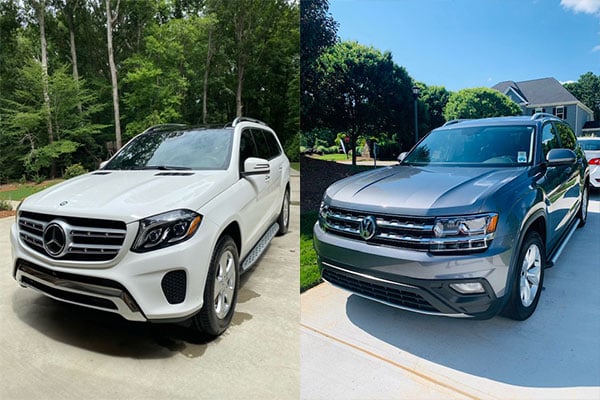 That first service was quickly followed by some other family members in need of a clean car, resulting in similarly happy feedback. Summerville decided to pursue car detailing in full from then on, starting with promotions on Facebook and Instagram. His social followers, grown mainly from his fitness work, were supportive and started filling his schedule with sporadic requests. But once he began sharing the fruits of his labor, there was a seismic shift.
"Once I started posting my work, I got a lot of requests from people to come to do their cars. Before I knew it, I had a schedule fully booked for a month, then another month and another, and it kept going from there," he says. "Word of mouth spread outside of my following and all over the Raleigh area, into Cary, Wake Forest, and all over."
Two years of growth, learning, and clean cars

With months already booked up with appointments, Summerville got right to work. His first speed bump came as a mild March and April gave way to the heat and humidity of the Raleigh summer. "The seasons were an adjustment. When I started in March, it was pretty cool outside. A couple of warm days, but nothing unbearable," he says. "I made it through that summer and felt what it was like to work outside in elements that I wasn't used to, but I felt like I could get through anything once I got through that."
With the summer season behind him and a steady flow of customers to serve, he began thinking about how to make the work easier. "At first, it was just trial and error, trying to figure out how to make this bearable," he says. After about six months, he decided to invest in a van for a fully mobile setup. "Instead of having to put everything in and out of my car, I was able to keep it in one place with my own water and electricity. That was the game-changer in terms of making things smoother and more efficient."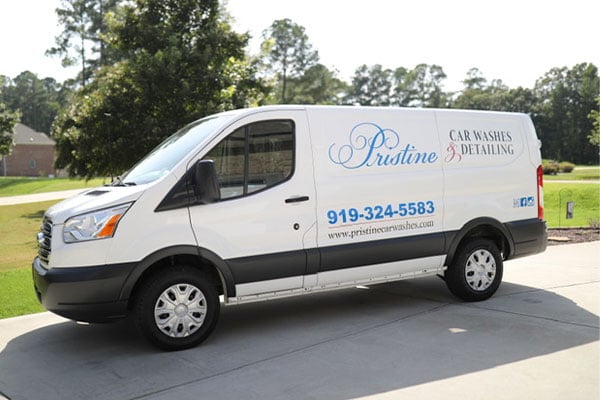 He continued to provide a five-star quality service for his growing list of customers, even as autumn months gave way to a cold winter. "I thought business would slow down with the cold weather, but my schedule was still busy. So I was like, 'Okay, people still want their cars detailed, so I'm gonna get out there and do it.'" he adds.
Before he knew it, the first year of running Pristine was behind him. And as he sat back and reflected on the successes and room for improvement, he looked forward to a new year, which would expand his business even further. One particular area was through hiring employees to divide the workload.
"Once the summer rolled around, I was able to bring on three guys who were in high school. They were only able to work for the summer before going back to school, but that went well," he says. "They were receptive to learning and were motivated to work since that was one of the first jobs they had. I felt a responsibility to give them a good experience and the opportunity to learn something."
After the valuable experience gained from managing his first employees, Summerville made two more hires to maintain the bandwidth he expanded during the second summer. In this case, it didn't work out as well as he hoped. "They both did great work but needed more hours than I was able to offer. It was still a good learning experience and gave me the help I needed at the time," he says.
Getting connected with Spiffy

As a local car detailer, Summerville had become familiar with Spiffy - from his early competitor research and throughout his two years of running Pristine.
"After deciding to make Pristine a real business, I did my research on other detailers in the area to see who the biggest and best competitors were. Spiffy quickly popped up on my radar as the apex of what a mobile detailing business looked like," he says. "I would always see the vans, sometimes when I was out and about and sometimes in the same neighborhood that I was working in."
"I never really saw them as competition because they have hundreds of vans, compared to my one van. But still, I had the ambition to get to the point where I'd pop up on their radar," he adds.
As Summerville looked towards his third year of Pristine, he began to contemplate what he wanted to do next. The work had started to feel monotonous, and he had aspirations to keep expanding his skill set and gain new experiences.
"Near the end of my second year, I took a trip to Miami to get away, recharge, and refresh. I had a detail on the first day I came back, and on my way there, it started raining, so I came back home and sat in the van for a while, just contemplating what I wanted to do next," he says.
His first move? To give Spiffy a call and shoot his shot. And instead of not hearing back and just continuing with Pristine, he got a call back and ended the chat with a meeting on the books to talk more.
"We talked about it, and [Spiffy] seemed receptive. Then they mentioned they were looking for some people to join their training staff. That ended up aligning with what I was doing before I started detailing, plus what I'd learned in the past two years of running my own business," he says. "It just seemed like the skills and experience that I had gained came to this point where I could help a larger company grow to the next level. I could see how my expertise would bring value to this company."
And just like that, Summerville exited Pristine Car Washes & Detailing. The company that he started at the onset of the pandemic and built through hard work and word of mouth was done. But if his past experiences were any indication, this wasn't an end as much as it was a new chapter.
"What gets me most excited is being able to inspire and motivate anyone I get a chance to coach or train. I want to channel excellence to the people I train and impact them in a positive way," he says. "Being in front of people and having the opportunity to offer positive experiences is what led me to fitness and group instruction. That's never really changed; it's always been my passion to give people skills and experiences that they can take with them to make their lives better, or at least improve their quality of life."
"Hopefully, I can do that at Spiffy and give the people I work with the chance to feel motivated to do great work," he adds.
Now, Summerville is quickly making himself known in his role as Operations Trainer for Spiffy. His passion is palpable, as it has been throughout his past experiences. "I'm just excited to be getting started and bring all my experience together in this role," he says. "I feel like the team at Spiffy was interested in having someone who could relate to technicians and be someone they can speak their mind or be open with, just to connect on a deeper level."
Not only is Summerville a perfect fit for his role at Spiffy, but he's setting his sights on high goals that make a difference throughout the entire company. "I want our Raleigh location to be the model for all the other cities. I'm excited to speak highly about the team we have here in Raleigh and motivate them to be the best this company has to offer," he says.
After such a passionate look at the personal history that shapes him, I'm confident that his goals today will become a reality tomorrow.
---
Are you a former Pristine customer excited about Aaron's new path? Click here to learn more about Spiffy and get $20 off your 1st service!
Posted in Business