Last week, we announced the closing of our Series B funding round, and the response has been a thrill for our team.
After a chaotic 2020, we're excited to kick off a new chapter of our Spiffy story with the financial backing of new and long-time investors alike. When we look ahead to 2022 and beyond, we're excited to bring tire and repair services to our customers nationwide.
In case you missed the news, here's a handy collection of coverage from local and national press outlets - curated for your convenience!
News & Observer: Spiffy poised to expand on-demand car-servicing business after raising $22M
"Founded in 2014 by former ChannelAdvisor CEO Scot Wingo, Spiffy initially focused on providing mobile car washes to customers in the Triangle, mainly at the region's numerous office parks.
"But the Durham-based company has since expanded into dozens of markets and added services like oil and tire changes and some maintenance work. Previously, the company had only done tire changes and rotations in the Raleigh area, but it will expand that service to all of its markets following the latest injection of capital."
WRAL TechWire: Spiffy aims to expand empire, provide more vehicle services with $22M in new funding
"Seven years into its existence, the shine is only getting brighter for Spiffy, the vehicle services and maintenance venture that today is announcing closing on another $22 million in venture capital.
"'We started Spiffy on a path towards becoming a complete car care solution for individual customers and fleet clients. Today serves as both a humbling reminder of the progress we've made in the last seven years and a thrilling look ahead at what we're going to achieve next,' said Scot Wingo, Spiffy's CEO and a serial entrepreneur, in announcing the funding.
"And Wingo sees an "interesting phase" for the fast-growing company – from more geographical expansion to securing more franchises and adding services such as tires."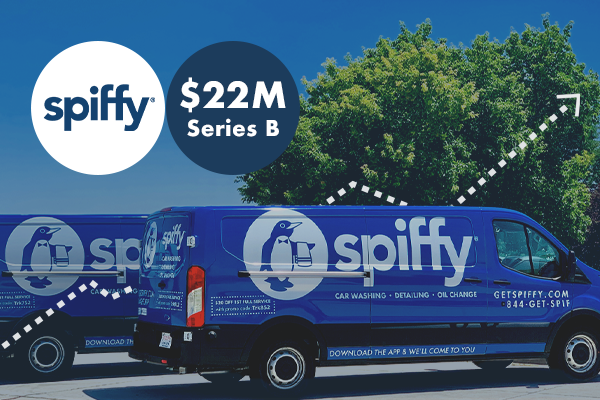 Triangle Business Journal: Durham's Get Spiffy raises $22M to expand national reach as consumer trends shift
"'I'm kind of an old school people person, so it's been harder to raise capital over Zoom, but that's how everyone is doing it right now," he said in an interview. "Our insiders supported us through the pandemic, so a piece of this was sort of a bridge round."
"Then, when demand started to surge in the first quarter of this year, Wingo said, "We felt like, okay, we're seeing the green shoots coming out of this thing, let's start raising capital."
"Wingo said trends have been working in Spiffy's favor. Amid the pandemic, people are outsourcing more of their lives, he said. They're focusing more on convenience – and that's what Spiffy is trying to deliver, he said, by bringing car services, such as car washes, directly to the driver."
Triangle Inno: Advice for zombie apocalypses and startups: Just survive, Wingo says
"Fresh off of a fundraise, Get Spiffy CEO Scot Wingo has advice – useful for both a zombie apocalypse and a pandemic: Be scrappy and survive.
"Wingo, speaking after the Durham on-demand car care startup disclosed a $22 million fundraise led by Tribeca Venture Partners, said the view on the other side of that apocalypse can be pretty great – you just have to get through the hordes.
"Wingo, an admitted sci-fi fanatic, saw the fallout from the pandemic coming – at least a little.
"'I watch a lot of zombie apocalypse movies," he said. "In February of last year when they stopped the flights from China, the virus, it always makes it out in these movies, so I was like, that's not going to work.'"
Auto Remarketing: Spiffy secures $22M Series B funding led by Tribeca Venture Partners
"One of the new offerings Spiffy has planned is to launch tire rotation and replacement services nationally. These have been piloted in Spiffy's home market of Raleigh, N.C.
"Spiffy recently acquired Tennessee-based Pit Crew and intends on expanding its presence in the repair service space for parts such as brakes and batteries."
---
A big thank you goes out to Raleigh News & Observer, WRAL TechWire, Triangle Business Journal, and Auto Remarketing for sharing our latest milestone with the masses.
2021 is starting to wrap up, and it's been another wild year for our team at Spiffy. Be sure to stay tuned to our blog and social channels for the latest Spiffy news!
Posted in News