As we've continued to focus on vehicle disinfection, specifically with the
Spiffy Disinfection Store
, we've been reminded of the widespread impacts of the COVID-19 pandemic. Our goal is to help all drivers to feel comfortable and safe in their vehicles, from families to fleet managers.
However, one area that has been neglected is the network of roadside assistance providers. These individuals are more essential than ever for travelers, but so are their health and their vehicles' cleanliness. That's why we're excited to partner with
HONK
to provide their professional network with a consistent supply of hospital-grade disinfectants EPA-approved to destroy COVID-19 and other pathogens.
For the uninitiated, HONK is ushering in the next generation of roadside assistance with over 75,000 service vehicles nationwide. Their website and mobile app allow drivers to find local service providers for all sorts of towing and roadside needs. The seamless approach to real-time ETAs, GPS locations, and driver/customer communication make it simple to get help and get back on the road.
Best of all, their professional partners are appropriately verified, with an average of 20 years of experience in the field.
"As a result of the current pandemic, our insurance carrier clients are continually asking us about standards for vehicle cleanliness," said Rochelle Thielen, EVP Partnerships, HONK. "We're proud to respond with this vital partnership, which makes HONK the first to enable not only our service providers - but any insurer - continuous access to the highest quality professional chemicals that destroy COVID-19 and other pathogens."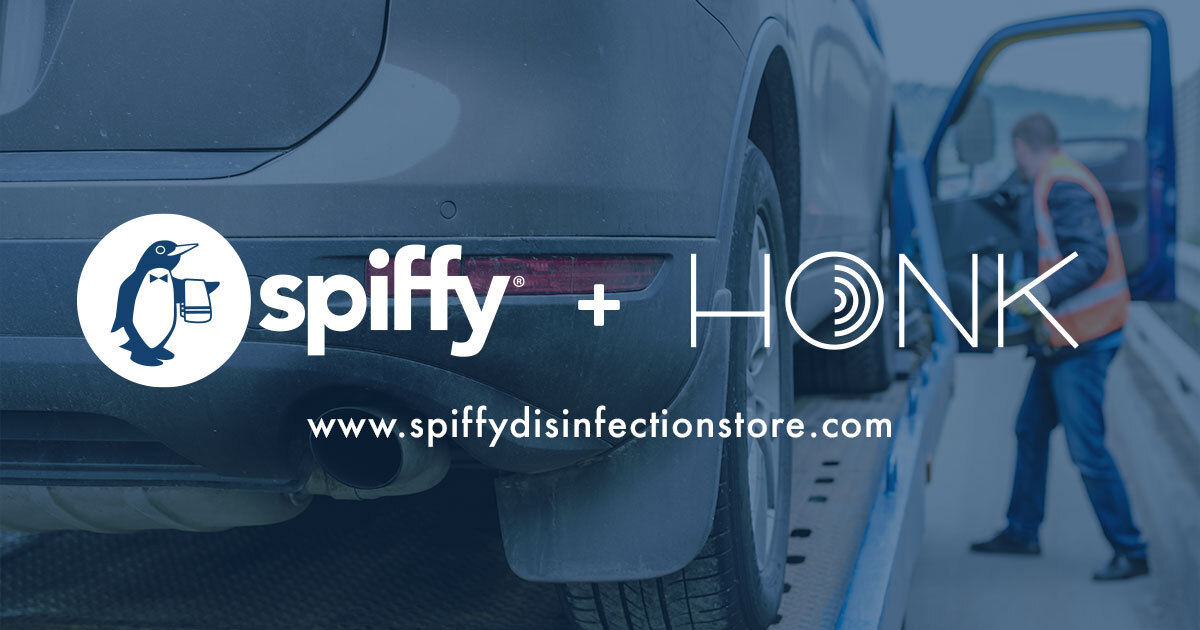 With such a vast network of providers to support, HONK turned to Spiffy and our Disinfection Store for a reliable solution. This partnership offers direct e-commerce access and exclusive discounts on our products, including
Spiffy Complete
and
Spiffy SHIELD
.
"We have always maintained a clean fleet of tow trucks but now during the pandemic, it requires an entirely different standard," said Tyler Mortvedt, Central Iowa Towing and Recovery. "Having consistent access to safe, American-made, hospital-grade disinfectant gives us comfort and security, knowing we're keeping our tow operators and customers protected."
Read the rest of the press release here!

We believe it's our responsibility to help protect drivers, whether they're commuting, delivering, or operating a tow truck. By providing access to proven disinfection products and DIY tutorials, we're putting in the effort required to minimize the spread of COVID-19 and other pathogens.

By partnering with the Spiffy Disinfection Store, you can prioritize your business's health needs with ease. Our products emphasize the "Clean, Disinfect, and Protect" protocol, which guarantees that bacteria and viruses living on various surfaces are destroyed and deterred from growing for up to 3 months. We also feature personal protective equipment (PPE) packs, infrared thermometers, and Spiffy Blue, an on-board diagnostics (OBD) device that is like a health monitor for your car.

Are you interested in learning more about a partnership with Spiffy? Reach out to us to disinfect and protect your vehicles today!
Posted in News, Disinfection