This past month, Spiffy was one of several featured exhibitors at the Downtown Raleigh Home Show.
About the Downtown Raleigh Home Show
The show took place at the Raleigh Convention Center, located in downtown Raleigh from February 13 - February 15th. Hosted by Marketplace Events, the Downtown Raleigh Home Show is one of 27 consumer home shows that the company hosts throughout the United States each year.
At this year's home show, there were more than 20 categories of exhibits, ranging from appliances, water systems, and household products to natural disasters and media. The purpose of the Downtown Raleigh Home Show (and all of the home shows that Marketplace Events puts on) is to create vibrant expositions that connect home enthusiasts with experts, products, and services in a dynamic, face-to-face environment.
Connecting with Consumers
Spiffy was honored to participate as an exhibitor at the Downtown Raleigh Home Show this year. Not only do we value our relationship with current customers, we love meeting new people within the Triangle community to explain how our mobile car wash and mobile car detailing services work.
The Downtown Raleigh was a huge success; it allowed us to connect to Triangle residents and visitors on a more personal level as well as demonstrate how easy it is to download and use our mobile app to schedule a an appointment for mobile car detailing/car washing services.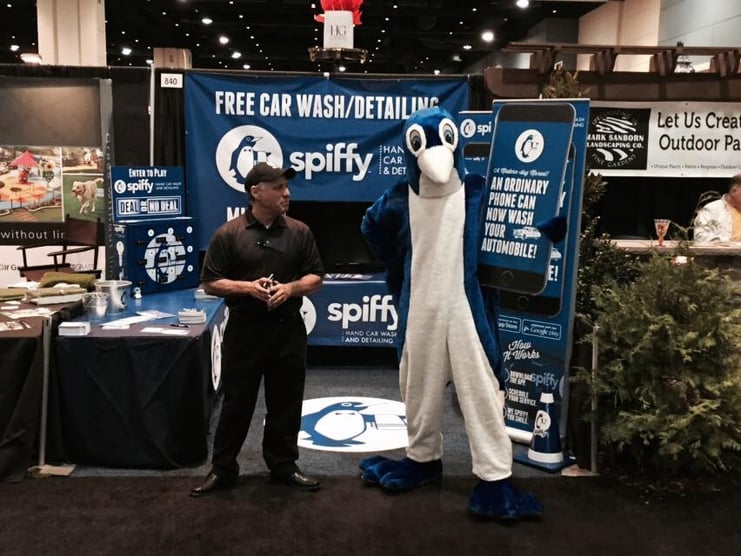 The Value of Mobile Car Washing & Mobile Car Detailing in the Triangle
As the Triangle continues to grow by leaps and bounds, more professionals are realizing the value that a mobile car wash service can provide. Between business meetings, phone calls and busy after-work schedules with kids, family, or other personal events, it's hard to find the time to make the time to bring in you car for a thorough washing or detailing.
At Spiffy, we make it easier than ever to get your vehicle looking like brand new. Our mobile car washing and mobile car detailing service allows us to come directly to you, wherever you are - at work, at home, at the soccer field. Never break pace to worry about washing and detailing your car ever again; we take care of it for you!
Besides this, when you hire Spiffy, you are hiring trained car wash professionals who will leave you wondering why you didn't hire us sooner! Use our mobile app, and schedule your next mobile car detailing service today. Then, toss us the keys, and we'll take care of the rest.
We were incredibly grateful for the opportunity to exhibit at this year's Downtown Raleigh Home Show. If you didn't get a chance to visit us at the show, make sure you stop by our website or download our mobile app today! Spring is right around the corner; let us help your car shine!
Give Spiffy a try and we'll give you $20 off your first full wash or detail! Follow the link below for more information.