Brake services are something that most people only think about when there's already a problem. When it comes to taking care of your car, there's no such thing as too much preventive maintenance. That's why Spiffy is excited to announce the addition of mobile brake services to our automotive maintenance offerings!
"Our goal is to make car care as convenient as possible for our customers across the entire vehicle lifecycle," said CEO Scot Wingo. "As vehicles age, brake services become essential to ensure longevity and safety. When people experience issues like squealing or grinding noises, or even a shaking steering wheel, it's probably time to replace the brakes. We are excited to be able to perform this service when our customers need it."
Brake maintenance is essential to your vehicle's operational safety, and this new service makes it easier than ever to keep your vehicle in top condition. Plus, our upfront pricing quotes and pre-service inspections are designed to give you a clear idea of the costs before any work is done so that you can skip the shop!
Spiffy Mobile Brake Services, Explained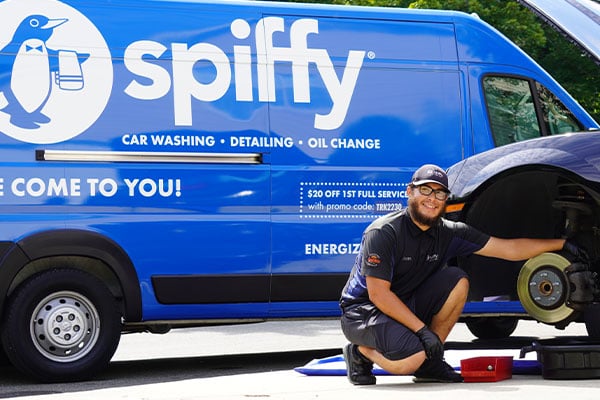 Our mobile brake services cover both
brake pads and rotors
, ensuring a consistent brake performance for your vehicle. This service starts at $350 per axle, front, rear, or both.
Understandably, there are plenty of questions surrounding a new service. Here are some of the popular queries we've seen so far:
How long does it take to change my brakes?
Brake services can vary based on the vehicle, so we offer a 2-hour estimate per axle to cover models with longer service times.
How do I know when to change my brakes?
You should consider a brakes replacement service if you experience the following when you hit the brakes:
Squealing or grinding noises
Moving or shaking steering wheel
Pulsation in the brake pedal
Do I have to replace all my brakes at once?
No, but you should replace them as a set. Brakes are usually replaced per axle, either the front or back.
You can find the answers to these questions and more at our
Brakes FAQ
page.
Pre-Service Brake Inspections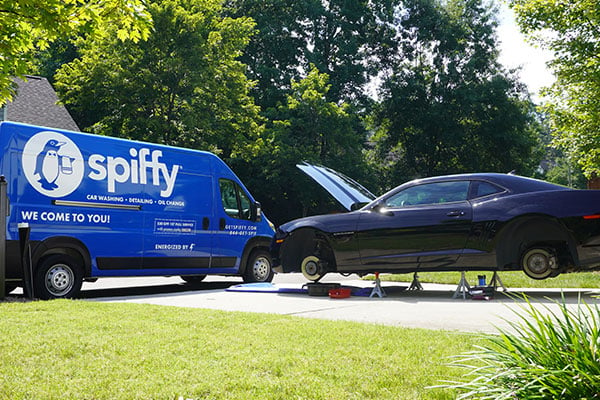 When we arrive to service your vehicle, our first step is to perform a a test drive inspection consisting of four right turns. We follow that up with a visual inspection of the brakes. Our goal is to provide our customers with peace of mind, and we believe that our pre-service inspection process is an important part of that. We take the time to carefully inspect your brakes so you can be confident in the work we recommend to service your vehicle safely and effectively.
Complete Car Care Vision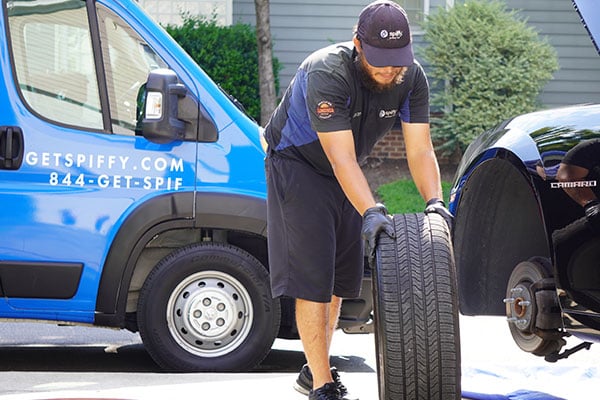 If you've followed Spiffy over the last few years, then you may be familiar with our
Complete Car Care
vision. In short, our goal is to transform the automotive services industry from a traditional brick and mortar model to one that's genuinely convenient, trusted, and eco-friendly.
With this new addition to our lineup of services, you can have your brakes replaced without ever having to leave your driveway. We know how busy life can be, so we want to make it as convenient as possible for you to handle your vehicle's maintenance and repairs.
Are you curious to see if we can replace your brake pads and rotors?
Contact us today to learn more about our mobile brake services and schedule an appointment. We'll take care of everything so you can get back on the road worry free. We'll see you soon!