Did you know that Spiffy is the most eco-friendly way to wash your car?
When Spiffy began in 2014, we had one purpose: To redefine the car washing experience. Since then we have been continually innovating our business to improve our technology, convenience, customer experience, and most notably; being green.
Our serious commitment to the environment allows us to wash anywhere. We meet any and all of the local, state, and federal environmental standards. We not only meet these standards, but exceed them by going above and beyond to make Spiffy as eco-friendly as possible.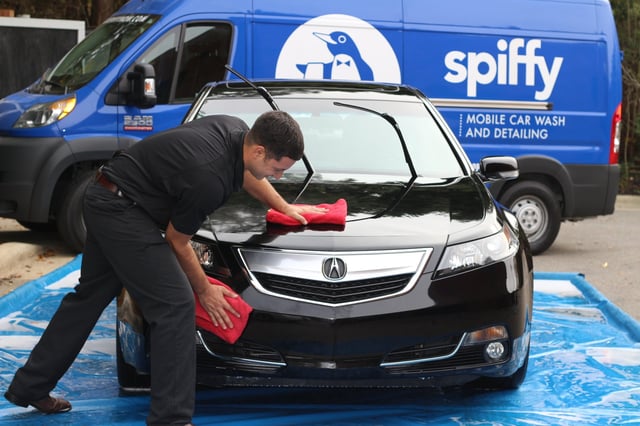 The three main ways Spiffy is the most eco-friendly option:
Water conservation
Spiffy uses at least 50% less water than other car wash options. Spiffy only uses around 5 to 10 gallons when washing a single vehicle, and we reclaim 100% of it.
Zero run-off
Spiffy performs every service on a special mat which uses proprietary technology in order to reclaim all of the water and soap used during a service.
Eco-friendly soaps & chemicals
Spiffy continues to research and make improvements so that only the most eco-friendly and efficient soaps and chemicals are used.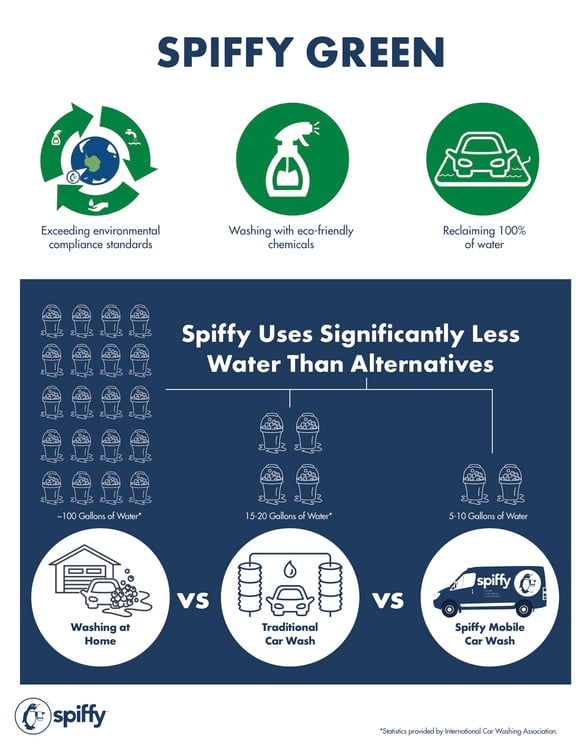 With innovation being Spiffy's main purpose, we can promise that our environmental efforts will continue to improve, and that Spiffy will continue to be the best the car wash industry has to offer.
Want to experience Spiffy Green? Book a service today! We'll even give you $20 off your first full wash or detail.
Posted in News, Spiffy Green