"Finally! Not only does the car wash come to me, but I now have the convenience of getting an oil change as needed as well. Great job listening to your customers, Spiffy. I will use this new service again!"- Carolyn, reviewed Spiffy in 2017
No prizes for guessing Oil Change is the most important element of engine maintenance for your car. You can safely say if the engine of a car is the heart, oil is the blood that keeps it healthy and functioning! This is why Spiffy is now offering mobile oil change in the greater Raleigh-Durham area. Discovery of Motor Oil: Motor Oil's origin is traced to the late 19th century. Credit of this crucial discovery goes to American physician Dr. John Ellis who developed a petroleum based high viscosity lubricant in 1866. It was initially intended for steam engines (there were no automobiles then) and later on it was the very same modified version of petroleum oil used for pumping life into automobiles. The pivotal breakthrough came when he developed an oil that worked effectively in high temperatures. This led to a complete departure of the existing issues - no more gummed valves, corroded cylinders, or leaking seals. [Motor Oil definition sourced from Wikipedia]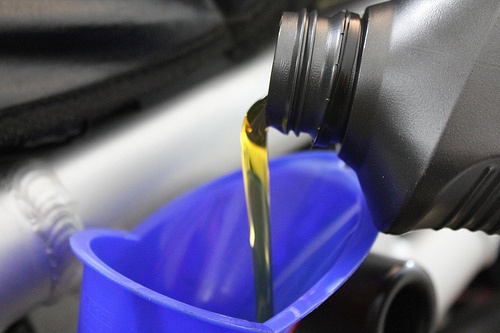 Oil Changes are vital to the smooth running of your car. The dilemma for every car owner is to find the right place for the best possible fit in price and reliability. Finding the right service station that solves all your problems is rare. Everyone has a large menu to offer with too many options that don't make sense unless you have in-depth knowledge of various types of motor oil and their compatibility to your vehicle. Car verbiage is often confusing to the end user. Often times there are hidden fees associated with a service package that can take a customer completely off guard. To most drivers, all this engine talk can become tiresome and tedious not to mention time-consuming.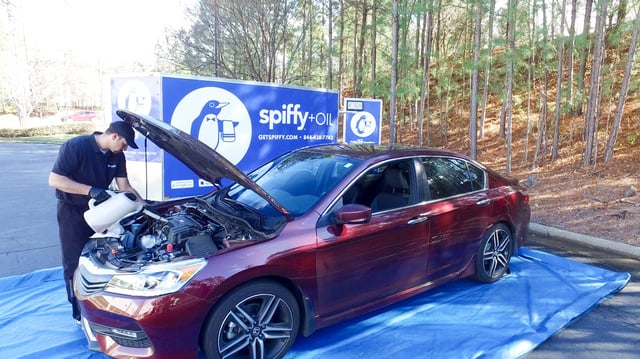 At Spiffy, we are passionate about our work and our clients. Our thoughts are primarily focused on the customer. Customer convenience is our mantra and transparency is something we always offer! We like to provide end to end service to our clients from the comfort of their home or office.
If you are an existing client with Spiffy for our Car Wash and Detailing Services, the process to schedule an oil change is under a minute. Once you select the type of service, you are swiftly brought to that screen where you schedule an Oil Change Service without any hassle whatsoever. Our mission is to simplify things for you. We have a flat fee structure and use synthetic (premium) oil for all the vehicles. Unlike other service providers, we do not use conventional oil (cheaper and blended) oil for any of the cars. In the long run, you are better off using Spiffy's Synthetic Oil for every service per every 8,000 miles versus using Conventional Oil for every service per every 3000 to 5,000 miles. Our trained technicians come to your home or office to provide the service and if you have any worries regarding residual oil mess, this is what John Kitto, a member of our Research and Development Team, had to say, "In terms of removing the oil from the vehicle, our service vans carry equipment to extract the oil directly through the vehicle's dipstick tubing." This makes the process much more seamless and clean than typical oil change stations.
This goes a long way in keeping your car healthy and you in a good mood. Good mood equals to happy and safe driving! The fact of the matter is you end up saving money and the inconvenience of you going back to the service station at frequent intervals with Spiffy's premium oil. And the creme de la creme of scheduling for a Spiffy service is our "coming to you" which adds to your convenience quotient big time! And finally we are proud to mention we conscientiously recycle the old oil. This ensures the oil is being re-used in an environmentally responsible way and aligns to our Spiffy green clean philosophy.
"One service, one price, & no complicated decisions" is the tagline we swear by.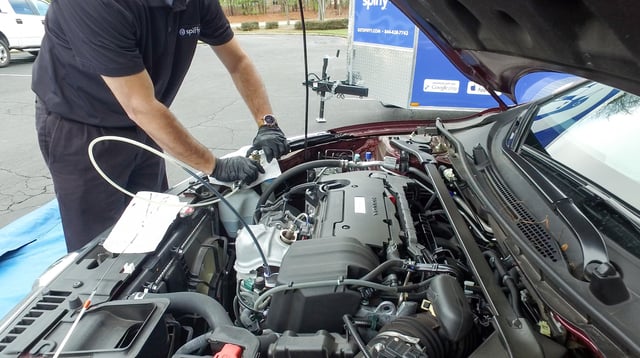 Spiffy knowledge sharing: We are a technology company which focuses primarily on the customer experience. We love interacting with you and your feedback is important to us. Did you know each vehicle needs a different level of oil viscosity, depending on its make and type? We scan the VIN (Vehicle Identification Number) barcode on each vehicle, using Spiffy's on-board software, to confirm the exact type of oil and filter that each vehicle needs. This method ensures that the customer doesn't have to know what the vehicle needs and the service is done perfectly every time. Voila, how cool is that! For those of you who are already a Spiffy customer, don't worry, you'll get a penguin keychain with an oil change service too. If you want to learn more about our love of penguins, hop aboard the Spiffy Blog!
Need a mobile oil change service in the Raleigh-Durham area? Check out our menu, or call 844-438-7743 to learn more about oil change.
All images are sourced from Creative Commons and Spiffy
Posted in Spiffy Blog