Here at
Spiffy
, our success is determined by the hard work of our talented technicians. We take pride in the community that we're able to cultivate throughout 11 cities across the country. This makes it easy for our whole team to rally behind
DeJon Wilkinson
, a Raleigh-based technician who'll be competing at the
Toyota USA Track & Field Outdoor Championships
in Des Moines next week!
Born in Summerville, SC, DeJon's drive for athletics came from having John McKissick and AJ Green as high school role models. Prior to joining Spiffy, DeJon established himself with a decorated history as a track and field athlete at St. Augustine's University; specifically as a long and triple jumper. His collegiate honors include 21 first-place finishes across both events, being named an 8-time NCAA All-American, and Division II NCAA Indoor National Championship MVP in 2014.
After graduating with a Bachelor's Degree in Film, DeJon continued to participate in track and field events while detailing cars on the side. In 2017, he joined Spiffy as a means of expanding his car detailing experience and maintaining his training schedule. Now, with his eyes set on Olympic qualification, we're honored to support him achieve his dream by officially sponsoring his trip to Iowa.
The sponsorship process built up to an official check hand-off at our Raleigh depot, where team members throughout Spiffy (mascot included!) were on hand to celebrate this exciting occasion.
We wish the best of luck to DeJon as he heads to Des Moines next week! Be sure to stay tuned to our blog for a follow-up interview with him in the weeks ahead.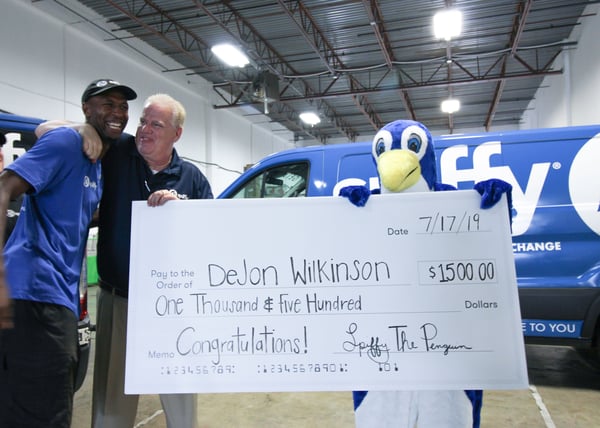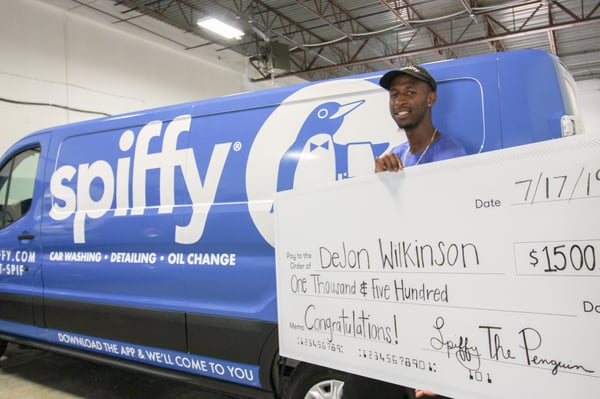 Posted in Technician