Two years ago, we were thrilled to symbolically adopt a penguin, which (of course) we named
Spiffy
! In recent months, Spiffy has been off the coast of Brazil, enjoying the sun and waves and taking some much needed time to relax. However, Spiffy will soon start her return home to mate and have
chicks
once again.
If you love penguins as much as we do, then this blog is for you!
After a very peaceful vacation off the coast, the colony of penguins is heading back home. There they will be greeted with longer spring days; instead of the sun setting around 5pm, it will not set until 7pm, and will not set until 11pm by mid-summer! During these winter months, the colony is basically deserted and is only populated by sea lions and seagulls.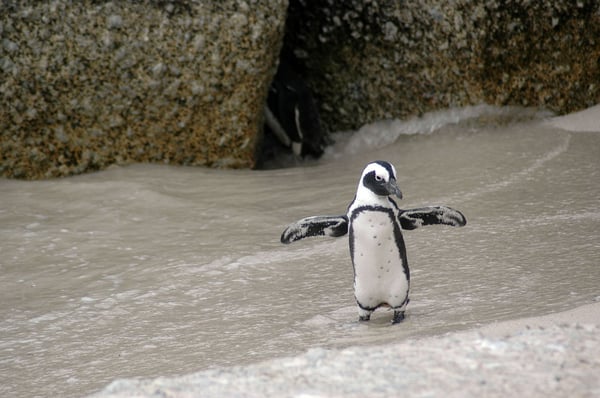 The penguins love to escape these winter days with a trip to the coast of Brazil. Life was a breeze for Spiffy off the coast, with an abundance of food all around. However, once Spiffy returns back to the colony she will have to fish within a safe distance of her nest, making it more difficult to collect food.
Spiffy's journey back to her colony takes several weeks to complete due to the fact that she will be traveling 5,000 kilometers. That would be like traveling from New York to London, a long distance for a small penguin!
Once Spiffy returns home she will find that most of her nest from the previous year has been destroyed due to erosion, rain, and wind. So before she is able to settle in, she will have to rebuild a nest for the eggs that she will lay. Small penguins like Spiffy will never lay more than two eggs, once the first one is laid, the next one will follow about four days after.
Larger penguins, such as King Penguins, will only lay one egg. Due to the size that the chicks grow to be, it would be difficult to feed more than one baby.
Spiffy will return home about ten days after the male penguins do. Penguins often separate during this migration because it is very difficult for a small penguin to see over waves, which make it almost impossible to stick together during the entire journey.
Magellanic penguins
stay together for life, so Spiffy will meet up with her mate once she reaches land. Together they will work on rebuilding their damaged nest by using parts of the old nest along with new materials to welcome their new chicks!
After preparing her new nest, Spiffy won't be seeing any chicks for about 7 weeks. The penguin pair will take turns incubating the eggs, ensuring that they stay warm. Luckily, Spiffy's colony is along the Straits of Magellan, an area where commercial fishing is banned, and she can easily find food for her family.
Although the area surrounding the colony is full of fish, Spiffy will have no access to food while she is incubating her eggs because she is unable to leave them. That's why penguins breed in pairs; while Spiffy is with the eggs, her mate will be out fishing and they will switch once he returns.
Stay tuned for the next Spiffy the penguin update!
Sign up
below to receive Spiffy blog updates right to your inbox.