Launching Spiffy's new vehicle and facility disinfection services and expanding into more markets across the country has always been a part of our plan. We just did it much sooner than we anticipated.
Here at Spiffy,
our focus remains
on the safety, health, and well-being of our customers and our technicians. With this commitment as our guiding principle, Spiffy recently launched zero-contact vehicle and facility disinfection services and expanded our at-home availability to 17 cities, including New York, San Francisco, Orlando, Las Vegas, and more.
With these new services and new markets, the Spiffy team accelerated our 24-month growth plan--and got it done in two weeks.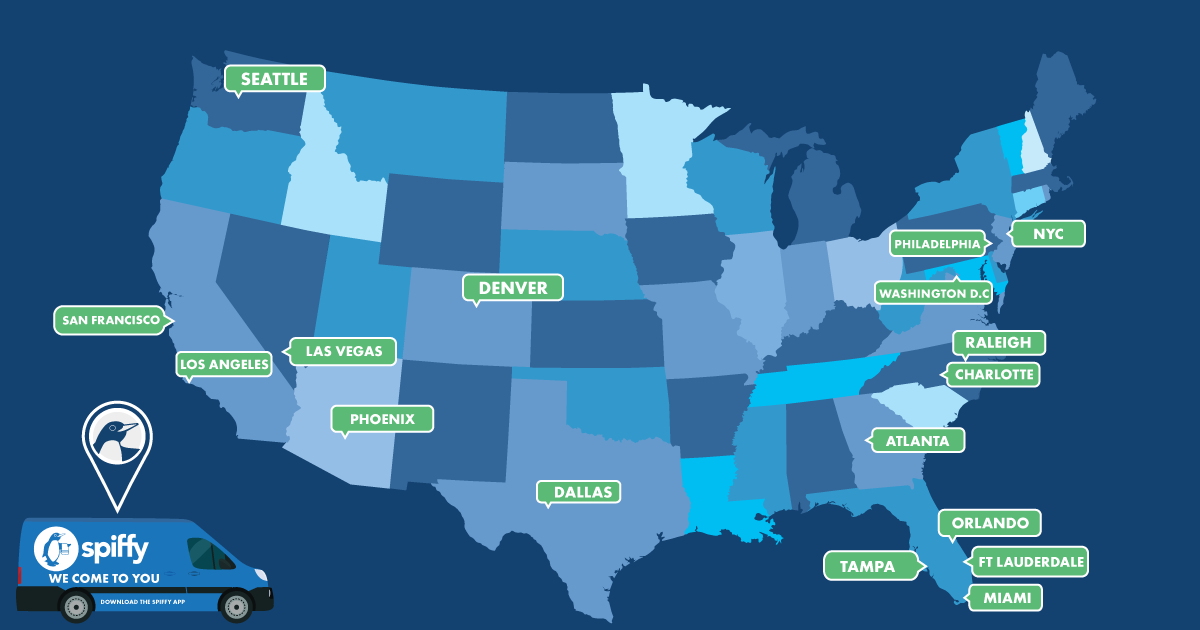 Now, more customers can get more cleaning, maintenance, and disinfection services in more places--all right to their door via a mobile app and zero-contact.
Spiffy is classified as an essential service
Because automobile cleaning and maintenance is considered an essential service, Spiffy can continue operating in every city we're located. These services include:
Washing, detailing, and disinfecting vehicles
Oil changes
Fleet disinfection and decontamination
Facilities disinfection and decontamination
All of these services are performed with zero contact between our technicians and our customers. We even disinfect your keys when we're done. For more on our zero-contact and disinfection options, see our
COVID-19 Response page
.
We're constantly expanding our abilities to reach more customers across the country. Even if you're not in one of our current cities,
download the app or hit the website
and make an appointment. We'll try to find a way to serve you.
Spiffy is much more than clean
Spiffy has always been more than a clean vehicle.
We bring everything we need and leave nothing behind.
We've always been low-contact, so going to zero contact was a snap.
We've always used EPA and CDC approved detergents and disinfection chemicals.
We change oil with zero waste, and we recycle your old oil.
Now more than ever, the Spiffy Way is important to make sure your vehicle is spot-free AND germ-free when we're done. So we've expanded our approach to other areas:
Our

Fleet Maintenance

includes disinfection and protection services to give drivers additional peace of mind.

We're even making our EPA and CDC-approved chemicals available in places where we aren't.
Spiffy is positioned to weather the storm and grow
This puts Spiffy in a unique position to pivot and meet the new needs of our existing customers as well as serve millions of new customers. It was a growth plan we put in place a long time ago, we're just rolling it out now because it's necessary.
Posted in News