As new technologies and innovations continue to evolve within the automotive industry, the road to achieving 100% fleet utilization is becoming increasingly realistic. While we've discussed fleet utilization a few times on our
Vehicle 2.0 Podcast
in recent weeks, it's important to break down how fleet managers can get the most use out of every model in their vehicle inventory.
For starters, it's crucial to understand what your current utilization percentage is. The two easiest methods are time and dollar utilization, both of which can offer a quick look at the total usage for every vehicle in your fleet. Let's take car rental fleets as an example. To calculate time utilization, divide the number of days each vehicle is rented by the total days it is available. Dollar utilization, on the other hand, divides the annual revenue by the cost to acquire and maintain.
For example, if a car is rented for 17 days a month, then it's being used just under 56% of the time. If you're earning $20,000 a year from the same car, but it costs
$36,000 to purchase
and an additional $10,000 a year to maintain, then its dollar utilization would be around 43%.
Once you know what the time and dollar utilization are for each vehicle in your fleet, then you can figure out how to best optimize performance. Typically, time utilization is the more difficult one to manage, since it requires informed reactions to how and when your fleet is being used. Beyond looking at data to track
vehicle maintenance
, it's also a go-to resource for creating benchmarks for your fleet. By measuring the impact of variables, such as weather, local events, and traffic, you can plan ahead to satisfy demand on a day-to-day basis while using past data to dictate fleet downtime for maintenance.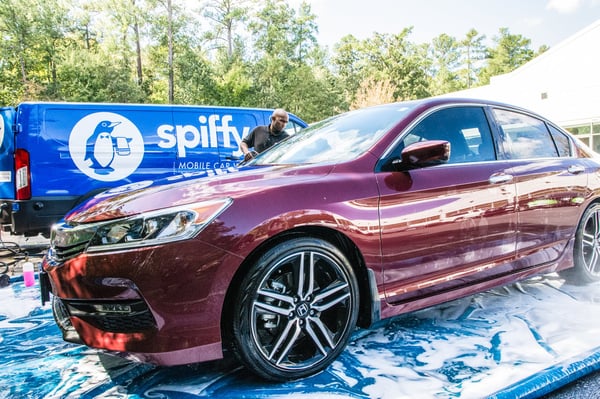 As we continue to march towards a future where only
20% of Americans own their own vehicle
, car and ridesharing are growing into realistic transportation options for those who opt out of vehicle ownership. If your fleet seems to be underperforming, or you're just looking to reach closer to 100%, then these more flexible opportunities can round out your total utilization by bringing in a demographic that doesn't intersect with your current customer base.
By considering the time and dollar utilization of your fleet, in addition to the required downtime for maintenance and other independent variables, you can effectively plan to increase your total utilization with both traditional car rentals and new methods of vehicle usage.
Whenever you're in need of the right resource for keeping your fleet on the roads and out of the lot, remember Spiffy comes to you for every service and nights and weekends are always an option. Whatever is most convenient for you works for us.
Learn more
about how Spiffy can help you achieve higher fleet utilization today!
Ready to Spiffy your fleet?
Posted in Fleet