Until now, Tesla has dominated the electric car market and has been the industry leader in EV tech and production. With a valuation exceeding the likes of Ford, GM, and Stellantis (formerly FCA) combined, challenging the EV automaker at their own game is a daunting prospect. Nevertheless, the mainstream auto manufacturers are proving time and time again that they're not only up to the task but are right on the cusp of stealing the limelight.
Enter the 2021 Ford Mustang Mach-E. Despite the controversy over the nomenclature, the Mach-E is winning critical acclaim, and I understand why. I had the privilege of taking a production 2021 Ford Mustang Mach-E Premium Standard Range RWD for a short drive, courtesy of
Capital Ford in Raleigh, NC
.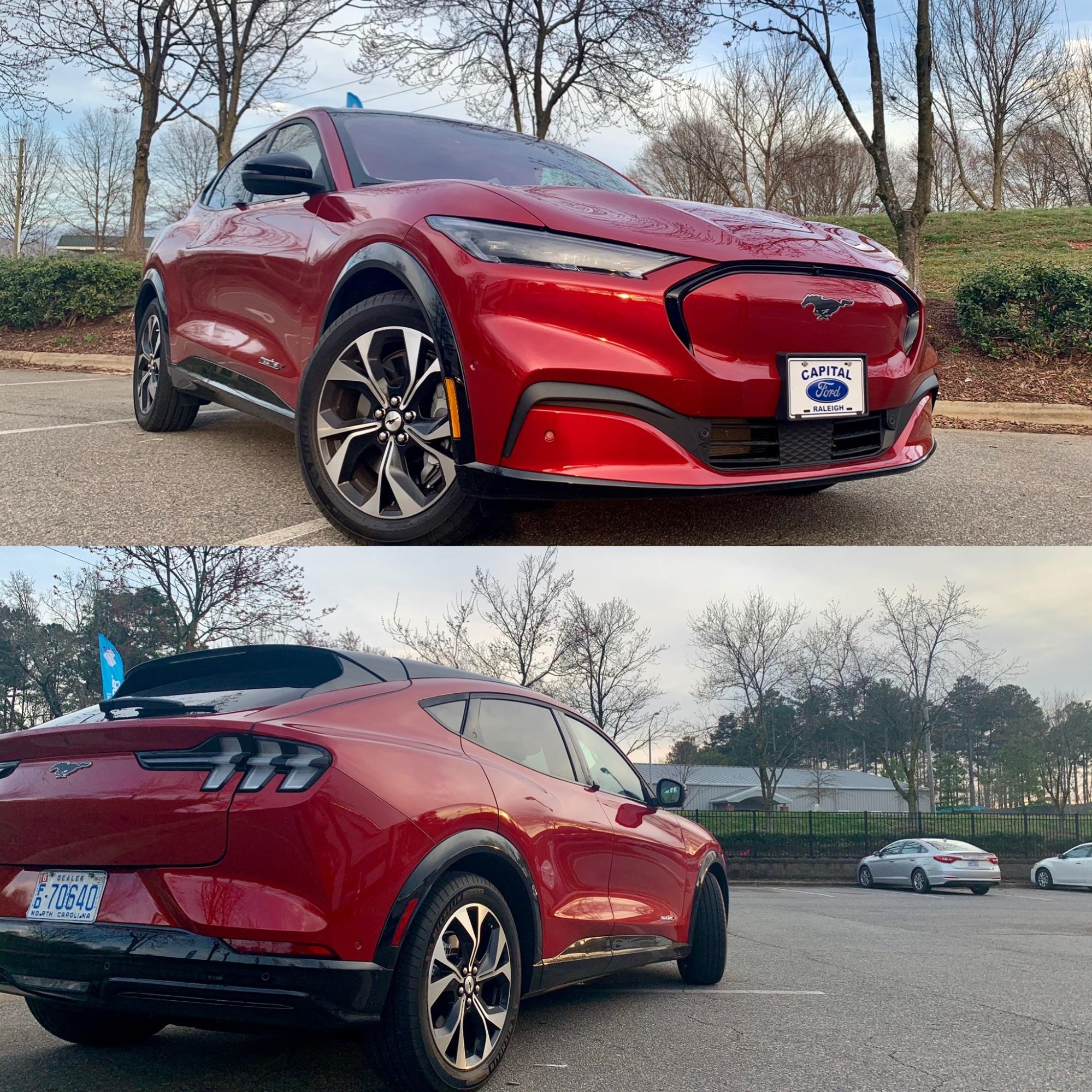 Visually, it looks tremendously better in person than it does in photos. It's a great-looking compact SUV that offers sport-wagon exterior styling with a mid-size crossover's convenience and practicality. The Mustang design cues are apparent and abundant, with headlights and tail lights straight from the pony car, a sloping roofline, and subtle design elements that add a bit of flair in the attention to detail. From pony badges abound to the inconspicuous "Ground Speed" indication on the speedometer, I was constantly reminded of Ford's commitment to its Mustang heritage in the new Mach-E.
Then there's the interior; as soon as I sat in the cabin, I was sold. First, I noticed how comfortable the 8-way power-adjustable, heated, Black Onyx Perforated ActiveX™ memory seats were, especially in a non-luxury segment. I've been rarely impressed by seat design as of late. Still, these slim buckets offer support where you want it, cushion where you need it, and avoid being plagued with infinitely complicated adjustments.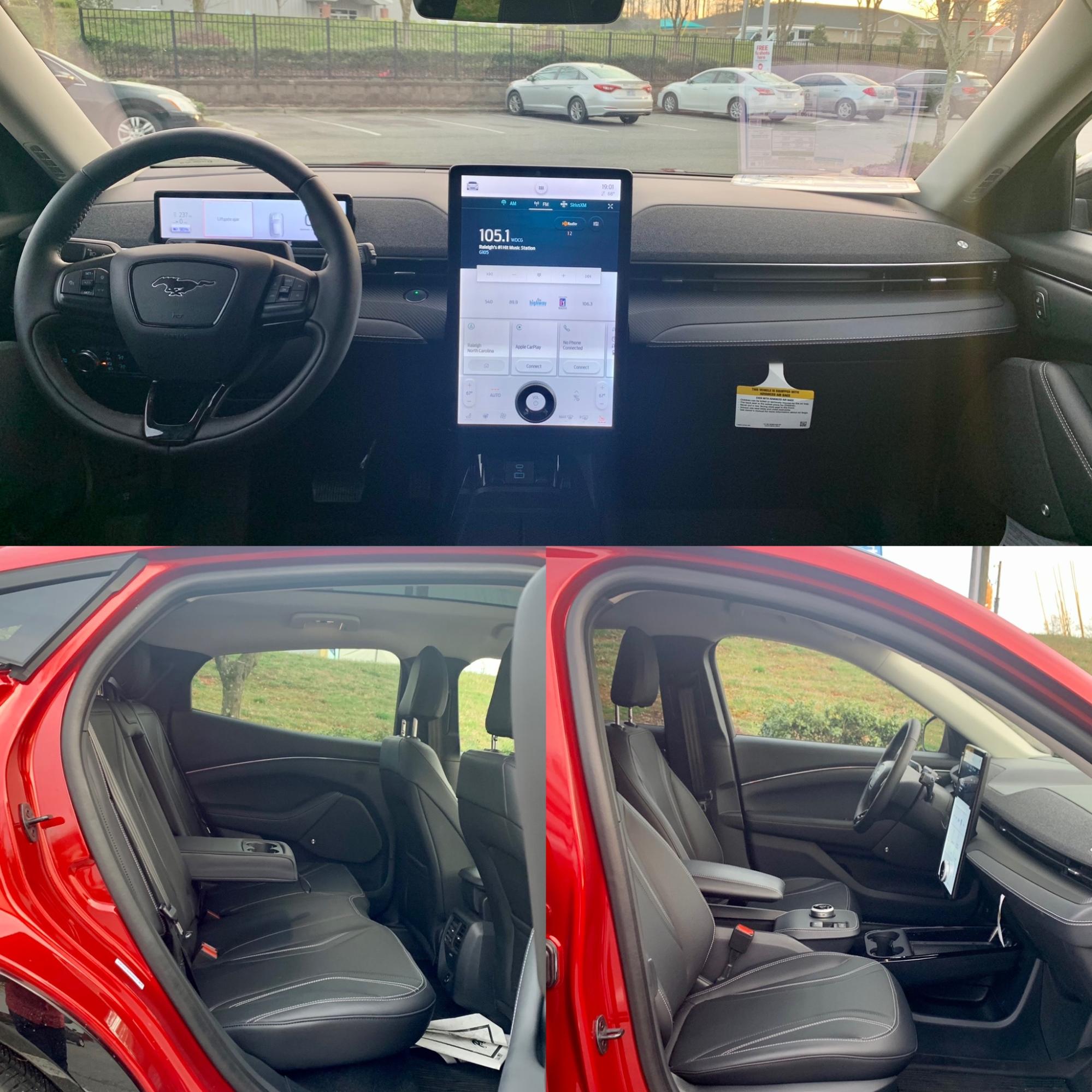 There's an air of familiarity in the Mach-E's interior, something most EVs lack, and I speculate that it's a prominent reason many consumers aren't considering EVs. If you've experienced a newer Ford product recently, you'll feel right at home. The wiper and indicator stalks, gear selector, steering wheel controls, window switches, and other hardware features are straight from Ford's parts bin, and that's a good thing. Unlike the Model Y we recently drove, there was no learning curve. The Mach-E offers everyday consumers the opportunity to simply get in their car and drive, no tutorials required.
The Sync 4 infotainment system is featured in full tablet form in the center of the dash and is reminiscent of the previous Sync 3 and 3.4 systems that are still being offered in countless models. It's intuitive, fast, and features a climate control interface that's permanently on-screen for quick adjustments. Like many others, my favorite feat is the volume knob that seems to float at the bottom of the screen. I like the idea of button minimalism, but some hard buttons and knobs are necessary to keep around.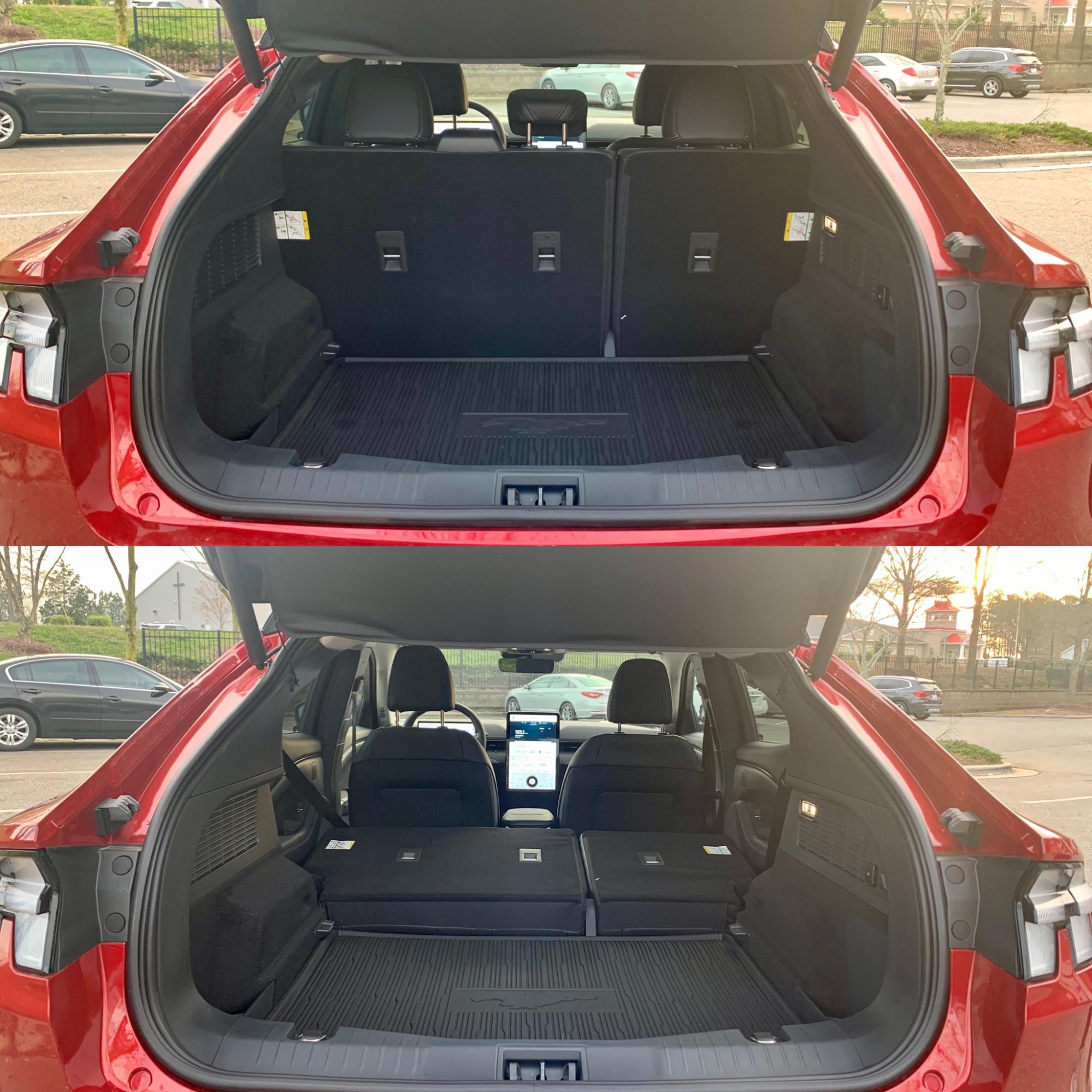 Cargo space was abundant, from the multi-tier level rear cargo mat to the completely flat folding 60/40 rear seats, there's no shortage of storage space in the Mach-E. Plenty of room for your phone, including wireless charging, is offered upfront, with deep door pockets and center console storage. The "
frunk
" offers configurable storage options, is weatherproof, and has built-in water drainage if you need an impromptu cooler.
Driving the Mach-E was a blast. Our tester was the second slowest of the Mach-E powertrain offerings and lacked the shock-and-awe of other EVs' acceleration from a complete stop. We're skeptical of Ford's 5.8 second 0-60 mph claim, but it does have ample passing power and favors its instant torque above 30 mph. We didn't get much of an opportunity to experience any curves or twisty roads, but I'm always sure to put a car through its paces on a test drive. It felt planted and confident around tight entry ramps, offered plenty of stopping power, and even surprised us with mild but manageable oversteer courtesy of the rear-wheel-drive setup. While it felt vastly different from its muscle car counterparts, it's still a plenty enjoyable ride.
My tester's suspension felt comfortable on the highway in terms of ride performance but was a bit stiffer than we expected on Raleigh's suburban streets. I certainly felt the bumps and dips, but it manages it pretty well. Nothing was jarring or unsettling, but I can tell Ford is leaning hard into the "sports car" elements with a more aggressive setup. Thankfully, the soft seats, tons of leg and headroom, and open, airy cabin more than made up for the ride quality.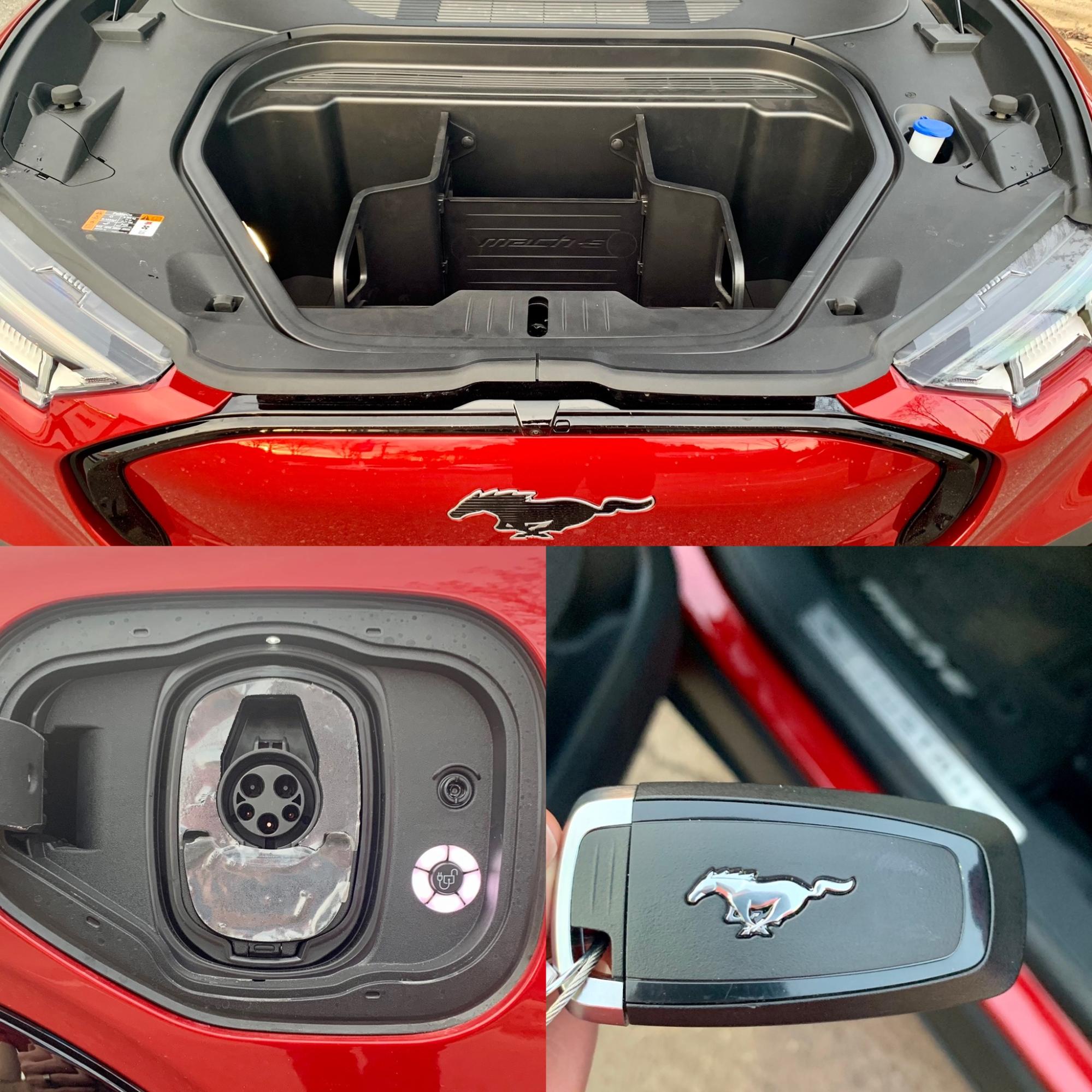 No EV review would be complete without talking about range and charging. While I wasn't able to test Ford's claim that the Mach-E would charge from 10%-80% in 45 minutes, I did get a sneak peek at its realistic range. Ford claims 230 miles as their target range for this setup, but we were thrilled to see a 247-mile range on the clock at 96% charge. My 25-mile test drive saw that end at 223 miles, almost spot-on in calculations. I tried to make this as realistic as possible, running the heat, heated seats, and steering wheel, and didn't baby this car by any means. After several test launches and brief visits to triple-digit speeds, there were no qualms with the anticipated range.
In short, I feel the Mustang Mach-E, like several other recent additions to the segment, is ready to take on Tesla in terms of mass-marketability. Credit to Tesla for offering incredible performance, range, and battery technology for the last several years. But the Mach-E is a more affordable option ($53,740 as tested), offers way more in standard features, and we felt right at home behind the wheel.
Are you still having range anxiety about your new Mach-E? Spiffy's got you and your vehicle covered.
Should you ever need an emergency roadside charge,
Spiffy's partnership with SparkCharge
ensures you'll never be stranded. With
SparkCharge's
proprietary, mobile battery charging technology, Spiffy can dispatch a van to your location to juice your EV up with enough charge in under 30 minutes to make it those last, critical miles to the charging station.
Posted in Lifestyle, Vehicle 2.0