Worn-out tires can sneak up on you when you're not paying attention. After enough time, the best set of tires can be stripped of its tread, leaving you and your passengers at risk for an accident.
But even if you're aware your tires need to be replaced, it doesn't change the fact that tire change services are expensive and time-consuming. Why can't there be an easier way?
You may wonder, "How can I simplify my car's next tire change?" The answer may surprise you, but mobile tire changes have quickly become the go-to solution for savvy car owners. Are you curious to see how a fully mobile tire repair or replacement can help your schedule? Let's dig in and break it down.
How Does a Mobile Tire Repair Service Work?
The difference between traditional and mobile tire services is obvious at face value. Rather than going into your dealership or an independent mechanic shop, you can book an appointment that brings the service directly to you.
Drivers save more than the time it takes to drive to a mechanic and wait. For example, if you have a flat tire or one of your tires has a puncture smaller than a quarter-inch in length, then you can save the hassle of swapping it with a spare to bring it in for repairs.
Mobile tire changes can be crucial for folks in colder climates to provide convenient swaps from all-season tires to winter tires. Rather than having to be flexible to waste time in a waiting room, you can avoid the frustration of scheduling and bring the tire experts directly to you instead.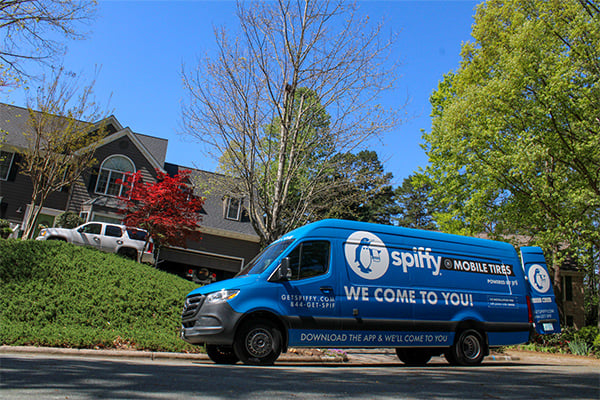 Tire Shop Quality, On the Go
Just because you're used to getting new tires at a dealership or tire shop doesn't mean it has to stay that way forever. Unlike the traditional "bring your car in and wait" method of tire maintenance, you can wait comfortably at home or work. It doesn't matter if you need your tires replaced, a tire rotation, or a flat tire repair.
An entirely mobile service doesn't need more space than your driveway or parking lot can provide. Technicians bring the equipment required to remove and swap your existing tires, such as a car jack, torque wrench, wheel wedges, and air compressor.
Technician training and expertise are additional keys to successful tire services. While purchasing new tires or ensuring the right tire type can be complicated processes, the process is made easier by readily available training programs. Specifically, the Tire Industry Association has offered a certified training program for years, allowing mechanics to be fully educated before jumping into mobile service work.
So, if you've written off mobile services altogether, it might be worth changing your mind and seeing the positive impacts you'd otherwise be missing.
Tire Replacements at Home or Work
As you may have guessed, the biggest draw to at-home tire replacements is the sheer convenience offered. No more sitting around in a waiting room for a prolonged period time. Instead, you can rest easy in knowing that the work is getting done right outside your home or office.
The appeal of mobile tire installation has grown dramatically after the pandemic. Lockdowns and health-cautious individuals led to a seismic shift in consumer behavior, resulting in more people wanting experiences that resemble the simplicity of e-commerce and other digital solutions.
"The convenience-oriented consumer is not going to tolerate the current experience of either dropping the car off for a long period of time or coming in and waiting in a room. They're super-busy and they will pay extra for a competing service that goes to them," said Scot Wingo, Spiffy CEO, in a recent article from Modern Tire Dealer.
As more demand is generated by vehicle owners who crave truly convenient services, mobile tire repair and replacement will become more commonplace. While you may live in an area without a mobile solution to rely on, that may not last for too long.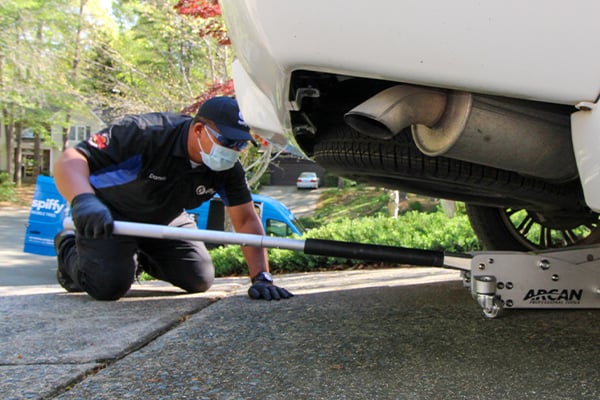 Trust Spiffy for Your Next (or First) Mobile Tire Service
If you're looking to book a mobile tire change appointment online, you can't go wrong with Spiffy. We first introduced tire services to our Raleigh, NC customers in early 2020 and have continued to expand our coverage for interested customers nationwide.
Anyone booking their Spiffy Tires service starts with free estimated pricing for their specific order. Our Spiffy Customer Care team will reach out via email with the no-obligation estimate based on a few crucial pieces of information, including:
How many tires need to be replaced?
Which tire brands and models do you prefer?
What tire size do you currently have?
Do you need any specialized tires, such as winter or run-flat tires?
With that information, we're able to find the right tires you may be looking for, plus some additional options for those who prefer a price and quality comparison. We'll send the full estimate your way via email and wait for confirmation to proceed.
Once you've confirmed your mobile tire service with Spiffy, we will order the new tires online and schedule an appointment for your preferred date and time. We can also install pre-purchased tires if they aren't used and TPMS sensors if yours aren't faulty. And, of course, we recycle every tire we replace as a part of our Spiffy Green pledge.
Are you interested in learning more about our mobile tire replacement services? Check out our Tires page, see if we're serving your local area, and schedule an appointment today!