As a parent, what car seat you purchase for your new baby will be one of the most important choices you make. Safety is always front-of-mind, but so is the comfort of your child – nobody wants an unhappy, fussy baby. The other important thing to look out for is that the seat is easy to install and will fit your child as they grow.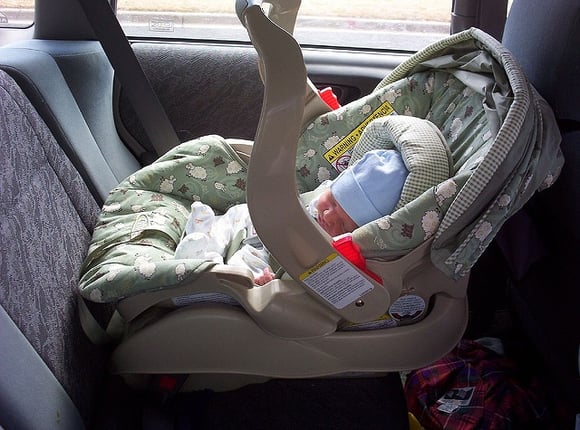 Here are Spiffy's top three picks for function, comfort, and safety.
Britax Advocate ClickTight Convertible Car Seat

At $352.00, this car seat tops in terms of price range, but is a great buy considering the safety and value it will provide long-term. With its sturdy steel frame and several adjustable settings to accommodate your little one's growth, this an investment piece made to go the long-haul that is good enough to keep for a hand-me-down for a future child as well. It also features a ClickTight installation system for ease and peace of mind that your child is properly secured at all times. A car seat of this quality is highly recommended if you plan on doing a lot of driving with your kiddo in tow.
Graco 4ever All-in-One Convertible Car Seat

Graco is a trusted brand beloved by parents for the quality and durability their products provide. This convertible car seat is no exception and clocks in at a relatively affordable $208.00 on Amazon, ensuring a maximum bang for your buck. Despite its lower price, this model doesn't skimp on reliability or comfort, offering features like 4-in-1 convertibility for children from infancy up to 120 lbs. and plenty of padding for a snug and cozy ride that will keep your growing tot safe and secure. This is an ideal option for parents who do a moderate amount of driving with children and are looking for a mid-priced model.
Evenflo Stratos 65 Convertible Car Seat

This model by Evenflo can be rear or front-facing as your baby grows. At $119.00, it's priced reasonably for budget-conscious parents who perhaps don't do a lot of driving, while providing enough safety features and breathable material to make it comfortable in all-seasons. It also provides moderate longevity, as it can be used as a rear-facing seat up to 40lbs and front-facing up to 60 lbs.
When considering any kind of car seat, it's good to remember that all car seats on the market must adhere to the same safety requirements. So while a less expensive model may not have some of the bells and whistles or comfort features for long-haul trips, your child will be safe nevertheless, provided that you carefully follow the instructions just like with any car seat.
Expecting a bundle of joy and want your child's car seat Spiffy-clean to welcome them? Spiffy offers a car seat cleaning upgrade available with any service. New parents, book your first service with us below and save $20.
Posted in Lifestyle