Another year, another moment to celebrate the inspiration behind our beloved mascot for Penguin Awareness Day! After a 2020 to forget, we're here to add some cheer and cuteness to your timeline with our five of favorite Penguin Quarantine Activities.
Without any further ado, let's get to it!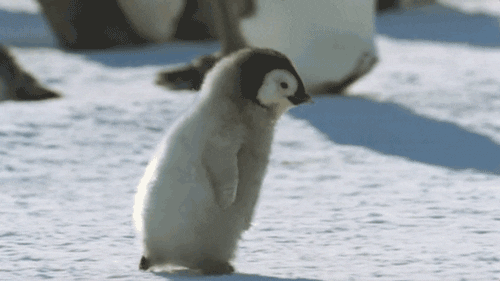 Chilling at the Art Museum
Who's to say that humans are the only creatures capable of appreciating the arts? While people were away and at home, these penguins from the Kansas City Zoo were able to visit the Nelson-Atkins Museum of Art. Apparently, they're Baroque fans. I wonder what their opinions are on abstract expressionism.
Snuggling while Seeing the Sights
In addition to being art connoisseurs, penguins are more than capable of consoling one another in times of grief. These two were seen in Melbourne, Australia, captured in an image that speaks volumes in the wake of COVID-19.
couldn't stop thinking about these penguins enjoying the Melbourne skyline together so i found the original photographer and apparently they're BOTH WIDOWED i can't handle it pic.twitter.com/gGgPVcOn9G

— matt (@dogfather) April 19, 2020
Visiting Friends in the Aquarium
Next up is a penguin that you may have seen go viral last spring. His name is Wellington, and he's been seeing the sights around his home at Shedd Aquarium and the greater Chicago area. The most heart melting moment, by far, was when he visited some friendly beluga whales - who were very interested in the rockhopper.
Wellington, meet the belugas! 🐳 🐧 This weekend, Wellington visited Kayavak, Mauyak and baby Annik, who were very curious about this little rockhopper. Belugas are northern hemisphere animals, so they would likely never see a penguin! pic.twitter.com/XrpF3BlKnu

— Shedd Aquarium (@shedd_aquarium) March 30, 2020
Waddling Down the Field
Real talk: the penguins at Shedd Aquarium may be some of the most engaged ones around. Not only have they been able to wander around their home, but a group of Megellanic penguins (like our adopted mascot,
Spiffy
!) was able to run free on Soldier Field - home of the Chicago Bears and Chicago Fire.
Playing with Humans
Okay, this one may just be us really missing the pre-quarantine life. Hopefully we can start to return to moments like this later in the year!
Hopefully this was a nice break from the usual social media feed! If you're looking to bring one of our Spiffy penguins to your door, then why not take $20 off your first service while you're at it?
Posted in Lifestyle