With mounting student loans, low-paying jobs, and a short credit history, buying an affordable and reliable car can be a stressful decision for any high school or college grad. While more millennials are forgoing cars altogether in favor of public transit and on-demand cabs such as Uber and Lyft; some may need their own vehicles to get to and from classes and work.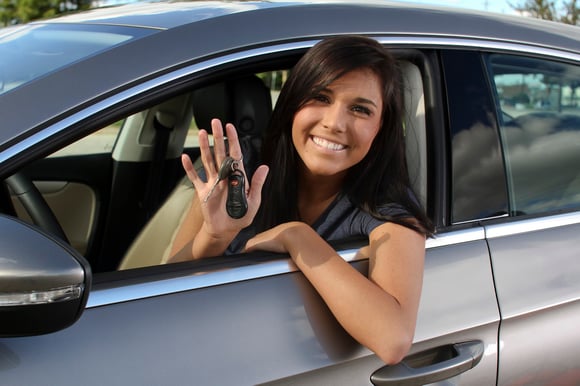 Today's busy college student can simplify their lives and lower their cost of living by driving sensible vehicles and selecting models that are easy to maintain and have good gas economy. Here are Spiffy's top picks as well as some advice on how to teach young drivers to care for their auto investment.
Top Three Affordable Cars
The following cars can be found for $15,000 or less (sometimes new, sometimes used), offer great fuel economy, and have superior safety ratings.
Toyota Prius
A longtime favorite of both new and experienced car owners, the Toyota Prius is the world's best selling hybrid vehicle and averages 50 mpg combined city or highway driving. Even though it's compact in size, it clocks in at 134 horsepower and offers reliable safety features. While current 2017 models retail ~$23,000 - ~$25,000, pre-owned, low mileage models from 2014 can be found for substantially less than $15,000.
Hyundai Accent
With an MSRP starting at $14,745 brand new, the Hyundai Accent is a true economy car to reliably get young drivers from point A to point B in safety and comfort. Known for a smooth, quiet ride, owners love its highly efficient gas mileage of 37 mpg highway. Hyundai also gives the added benefit of its five year/60,000 mile guarantee, making it a trustworthy car for a great price. Last year's models can often be found pre-owned with low mileage for less than $10,000!
Chevy Equinox
If a larger vehicle is necessary for your grad, a certified pre-owned SUV like the Chevy Equinox is an ideal choice for comfort, safety, and spaciousness. With models from 2012 going for less than $15,000. With extra traction for snow and mud, it's abundant safety features and roomy, comfortable cabin make it especially ideal for recent grads who are going cross-country for school and may be moving more items.
Caring For Their Auto Investment
Properly caring for a car is important to preserving its beauty and value over time. As parents, it's our job to lead by example and encourage young drivers to look after their auto investment from day one. Regular cleaning and servicing cannot be overlooked. Not only is this good for their vehicle, it but it also teaches responsibility and self-reliance for when you're not around.
Regular car cleaning services with Spiffy are an ideal gift for a teen driver or new college student. By booking a car wash and detail at least once a month, your teen will appreciate the long term beauty and value of their vehicle for many happy miles ahead. We also offer other essential car services such as engine cleaning and oil changes for even more value.
Book their first Spiffy service below and receive $20 off.
Posted in Lifestyle