As we mentioned in the first episode of the
Vehicle 2.0 Podcast
, the state of California has an interesting requirement for companies operating autonomous vehicles (AVs). In order to get a license to conduct AV testing, it's required to submit your mileage data with the state, which then gets published onto the
California DMV website
.
We've been tracking this data pretty closely and wanted to share what we've found after digging into the numbers from as far back as 2015: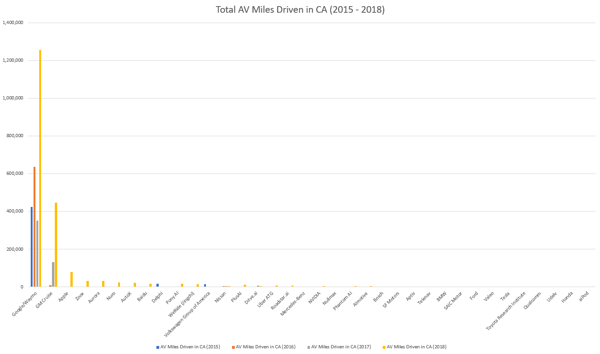 As you can see, Google's
Waymo
has maintained an insurmountable lead in total autonomous vehicle miles driven since the data was made publicly available in 2015. GM Cruise comes in second with under 600,000 total miles in the last three years, which is less than Waymo's reported miles from 2016 alone. Even as more competitors enter the space, Waymo shows
no sign of slowing down
, which is an important indicator for their interest in the wave of innovation moving forward.
You might also be wondering, "Where is Tesla?" Tesla is not included because they did not test or operate autonomous vehicles on public roads in CA. In 2018, they shared the following in their
disengagement reporting
, "Tesla conducts testing to develop autonomous vehicles via simulation, in laboratories, on test tracks,
and on public roads in various locations around the world." They also reported over
1B miles driven to date using Autopilot
from their customer fleet.
For curiosity's sake, let's take a look at the field without its top two competitors: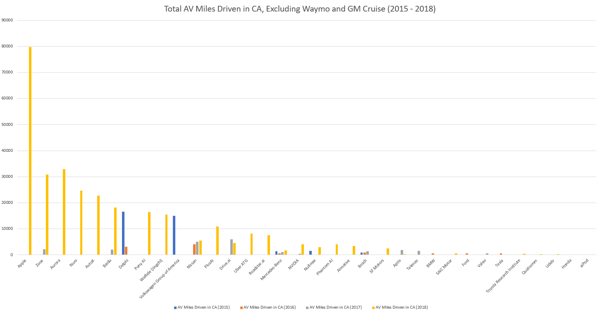 With this perspective, it's easier to see just how many new companies entered the autonomous vehicle space this past year. While the hype behind fully autonomous driving has
settled down in recent months
, it'll be interesting to witness how many more names get tossed into this ring of innovation.
The data gained from all of the physical autonomous miles driven by these various companies can then be uploaded up into the cloud, where they can run simulated miles. In most cases, the autonomous vehicles can only go up to 35 miles per hour on a testing road, so the simulated miles can be used to increase the speed to as much as 100 miles per hour. In Waymo's case, they've claimed to have completed
nearly 7 billion simulated miles
, which will play a key role in their continued development of truly autonomous vehicles.
We'll continue to monitor the latest news and innovations regarding autonomous vehicles throughout future episodes of the
Spiffy
Vehicle 2.0 podcast, as well as with our guests, so be sure to subscribe and stay tuned for new releases every other week!
Posted in Vehicle 2.0