For most of the country, hot summer temperatures coincide with plenty of rainfall. North Carolina and Georgia average at least 4.75 inches per month, which can force your wipers to work overtime just to keep your windshield clear. That's where rain repellent can come into play, capable of making every drive through a downpour safer for drivers and passengers alike.
Even if you live in a more arid state, there are plenty of advantages to treating your windshield with rain repellent.
Increased Wet Weather Driving Visibility

It shouldn't be a surprise that the top benefit of rain repellent is that it significantly improves visibility while driving. By forming a chemical bond with your windshield and exterior glass, you can enjoy a level of hydrophobic protection that eases the workload for your windshield wipers. Water beads and flies away with ease, but your driving isn't improved by clearer vision alone.

According to a University of Michigan study, rain repellent is capable of "decreasing the minimum visual angle resolved by almost 34% and reducing the response time by more than one second." As a result, you can expect clearer, glare-free driving in the rain, especially at night. Whether you're cruising through rural back roads or driving at highway speeds, rain repellent is capable of making it easier to see and react to what's going on in front of you.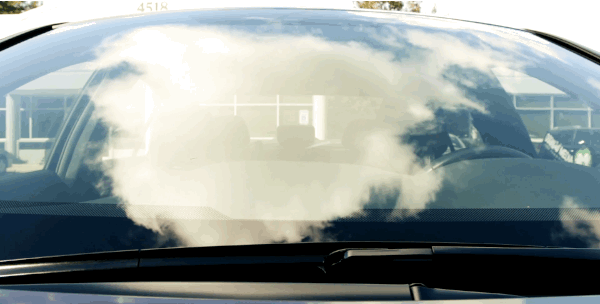 Simpler Exterior Glass Cleaning

An often understated benefit for car owners is the impact during windshield cleaning, especially during winter. Rain repellent makes clearing rain, sleet, and snow much easier by actively preventing both from building up on your windshield. The same can be said about dirt, which gets caught by water and carried away as it glides down your windows.
The hydrophobic coating from rain repellent acts almost like a self-cleaning agent, which can keep your vehicle's glass looking extra shiny for months and help to reduce watermarks.
Drive with Clarity and Watch Raindrops Fly

There are plenty of alternatives and imitators to hydrophobic protection that our Rain Repellent upgrade can provide, some of which can wash away as soon as a few days. Our expert certified products are specially formulated to ensure that every service lasts up to six times longer than the average silicone-based product. By treating your vehicle with the same level of attention and care as airplanes and professional racers alike, you and your wiper blades can rest easy.
Whether you're looking to fight back against unexpected summer rain or ensure your windshield stays clear, our team at Spiffy is here to help. Look no further than our Rain Repellent upgrade to best suit your needs and keep your exterior glass properly treated for the months ahead!
Book your first Spiffy service with us today and get $20 instantly, just for giving us a try!
Posted in Car Care