How many times have you found yourself wishing for a couple more hours during any given day? Maybe you had a long day at work that made it difficult to cook dinner or a weekend that was crammed with chores. If the answer is along the lines of "too many," then you're not alone.
According to the
2018 American Time Use Survey
, conducted by the Bureau of Labor Statistics, the average men and women spend
5.7 and 4.9 hours
respectively on leisure activities each day. This includes entertainment, relaxation, and sporting activities, as well as household chores, attending classes outside of work, and eating meals.
However, those averages lower for individuals between the ages of 25 and 54, who tend to work more than those older and younger than them.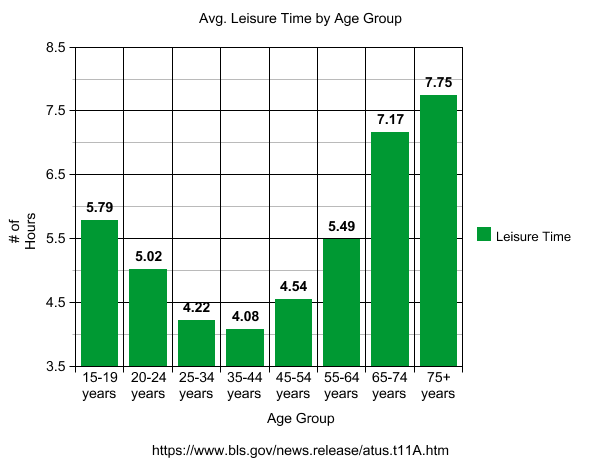 Needless to say, everyone could benefit from a few extra hours on any given day to focus more on leisure and/or relaxation.
This made us curious to hear from folks in the Spiffy office about what they would do with some extra time. Here are some of their responses:
"I would volunteer more time with local social and racial justice organizations before cuddling with my dog and cat."
"ALL THE CLEANING. Laundry, vacuum, Scrubbin' bubbles, etc. That way, while y'all put a shine on my car, I put a shine on my life. Boo ya."
"I'd plan an outdoor adventure with my dog!"
"I could drive to Charlottesville to see my grandparents."
"I would play ball with my son."
"Go to more yoga classes!"
"Watch more Netflix."
"SLEEP!"
Still looking for some ideas on what you could do with some extra time? The data visualizers at
Domo
made a great infographic to help you with the brainstorming process!
If you're looking to give yourself the gift of 5 extra hours, then trust the convenience of a Spiffy car wash and detail to do so! Rather than bringing your car somewhere for an oil change or cleaning, we can come directly to you. That way, you can be focused on the leisure activities that mean the most to you, instead of wasting time in a waiting room.
Posted in Lifestyle