Have you ever had a crack or chip in your windshield? Flying rocks or debris on the highway are the most common causes for this nuisance, which can be easy to ignore as you carry on with your day. Unfortunately, ignoring this problem doesn't just make it worse over time, but can also put the safety of you and your passengers at risk.
What are windshields made of?
To prevent passengers from being ejected after an accident, windshields transitioned to using
laminated glass
for added protection. This is made by adding a layer of polyvinyl butyral (PVB) between two sheets of glass. After combining PVB with the glass, the laminated glass windshields can absorb energy during an impact. This allows for "greater laceration reduction as well as ejection reduction qualities," according to the
Association for the Advancement of Automotive Medicine
.
What are the dangers of a cracked windshield?
According to the
National Highway Traffic Safety Administration
, your windshield can play a crucial role in the event of a collision or rollover. It works to strengthen the structural integrity of your vehicle, specifically the roof. If weakened, then the chance of being ejected from your car or suffering from a caved-in roof is much higher than addressing the issue immediately.
Even if a chip or crack is smaller than a quarter, it can still expand across your windshield with
shifting day and night temperatures
. By growing with heat and retracting with cold temperatures, any crack can slowly expand until it inevitably reaches the edge of your windshield. This is why it's crucial to repair any crack or chip before they grow to a point where your entire windshield needs to be replaced.
Is it possible to repair a crack myself?
Let's say you're driving home, and a small rock collides with your windshield, leaving a small impact crack. Is it possible to save money by repairing it?
More often than not, any cracks that are 6 inches or less in size can be repaired without having to replace the windshield. There are DIY repair kits on the market that can be used to address the damage right away, so long as you do so before the crack gets a chance to expand. Anything beyond 6 inches, as well as cracks in multiple locations, will require a complete replacement.
The differences between repairing a crack yourself and trusting a professional can be substantial. You may not have the necessary tools or experience to repair your windshield entirely. The worst-case scenario is that the problem is made worse by not being properly corrected, which can increase the costs to replace it. Smaller side windows are simpler to repair on your own, and many do-it-yourself products can simplify the process for you.
With the rise of advanced driver safety systems (ADAS), the importance of properly installed windshields has rapidly increased. Features like lane-keeping assistance or automatic emergency braking rely on sensors to operate. Some of them are housed in the windshield or rear window, depending on the features that you have installed. While older vehicles don't have to worry about this, it's inescapable for newer models. The U.S. and European Union have mandated that "all vehicles be equipped with autonomous emergency braking systems and forward-collision warning systems by 2020," according to
McKinsey & Company
.
While these ADAS features make driving safer, they also make windshield replacement more challenging. This means it's even more important to have a trained professional address any damages.
How much does a repair or replacement cost?
The costs to have a professional repair or replace your windshield do not have to be astronomical. Some states, such as our home state of
North Carolina
, have laws that require insurance companies to waive deductibles for drivers with comprehensive coverage. Others, like
California
, that have laws in place to issue citations for windshield or rear window defects.
In most cases, chip repairs or complete replacements are more affordable when you address them immediately. Depending on your insurance coverage, it's likely that the service would be covered entirely. Some drivers may be responsible for a small amount while their insurance handles the rest. If you don't have insurance, then a windshield replacement can cost anywhere "between $100 and $400, with the average driver reporting that they paid $214," according to
CostHelper
.
What makes Spiffy a reliable expert with cracked windshields?
By this point, you're probably wondering what a mobile car wash and detail company knows about windshields. Since our technicians are on the frontlines for car care across the country, with customers and fleets alike, we've gained a lot of experience with cracked or chipped windshields.
As a result, Spiffy technicians avoid washing cracked windshields to prevent increased damage. We use comprehensive photos to inform customers of how the cracks or chips impact our wash and detail process to help them see the importance of pursuing repairs.
Introducing Spiffy x Safelite®
Now, we're excited to take the next step by partnering with
Safelite AutoGlass®
to simplify windshield repairs and replacements for Spiffy customers. By combining the expertise of Safelite with the accessibility of our Spiffy app and website, you can schedule, track, and pay for Safelite services exactly as you do with us.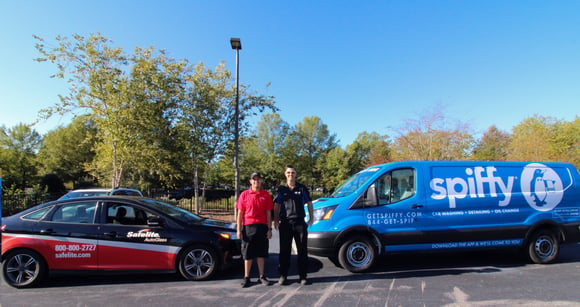 The goal of this partnership is to provide quick and painless repairs for every customer. All you have to do is request a quote in our app or website, and we work with Safelite to make it happen.
Safelite's commitment to quality
makes them easy to work with, as they only use the highest-quality materials and employ well-trained professionals to complete every service.
Each Safelite repair is backed by a nationwide lifetime warranty and guaranteed to pass lease turn-back and state vehicle inspections. Similar to how we insure each of our services, Safelite is determined to protect its customers from any unfortunate results from a windshield repair. Both companies strive for convenient and professional services with proven results.
Do you have a crack in your windshield that needs to be repaired or replaced? We're happy to work with Safelite to ensure your safety and minimize the repair costs. Contact us today to
get your free quote
, and you'll get a discount when you book your repair or replacement through Spiffy!