Nothing screams, "winter is coming" like cooler temperatures beginning to bear down across the country. While it's essential to protect your car's paint every season, the transition to winter can make it more challenging to do so. As a result, one question that always comes up this time of year is, "Should I get my car waxed before winter?"
If you live somewhere prone to snowfall or sub-freezing temperatures, then the answer is yes.
What Does Wax Do for My Car?
The wax that our Spiffy technicians use comes from carnauba wax mixed with natural oils for a cream-like consistency. As opposed to
spray-on wax
, we apply carnauba wax with our random orbital buffers. This allows our technicians to easily spread a consistent layer of wax across your car's clear coat. Since this comes towards the end of our mobile car wash services, any troublesome dirt or grime is off of your car, leaving a clean surface for the wax to protect.
The lasting impacts of carnauba wax vary by the seasons. As we mentioned, the spring and summer show off the added shine, but also protecting against UV rays,
tree sap, water spots, and bugs
. But what many drivers don't know is how damaging slush or dirty snow can be for their paint.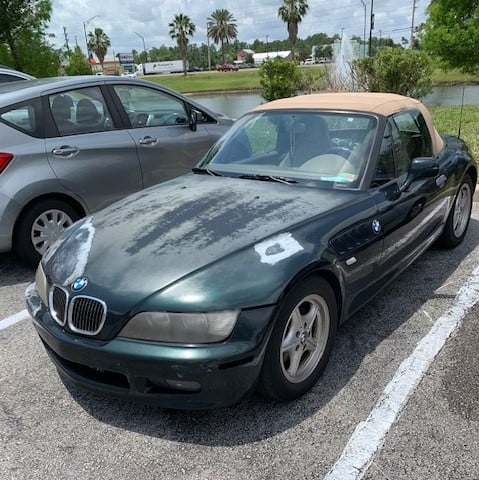 Have you ever seen a car with paint like this? This is what happens when you think you don't need your car waxed. Once this damage occurs, there's nothing that can be done to fix it.
Beyond protecting from fading paint and rust, a pre-winter wax can go a long way in defending your car from unexpected scratches. Cars driving in front of you can spray small bits of ice or rocks onto your vehicle, which immediately poses a risk to the quality of your paint.
Wax On and Keep Winter Off

If you've had your car waxed in spring or summer, then you're likely familiar with the extra glossy shine in the sunlight. By conditioning your car's paint, it's able to look spotless with ease. However, the winter months pose a unique risk to different areas of your vehicle - from the paint to
its undercarriage
.
As snow builds and melts, it turns to slush and combines with road salts and grime. Driving over these puddles covers your car's paint with damaging elements, leaving it prone to rust if ignored for too long. It's imperative to have your car waxed before the first snowfall for added protection.
What Services Are Best to Prepare My Car for Winter?
Here at Spiffy, we start offering an exterior wax with our aforementioned #3 Spiffy & Shine package. It includes the services of our Spiffy Car Wash service, before we apply hand polished wax. This package has a hit with customers who want regular protection for their clear coat of paint. If you're eager to take charge of your car's paint and maintenance before the start of winter, then this is the best way to so and freshen up your interior at the same time.
Are you interested to get your car prepared for the winter? Take
$20 off
your first Spiffy appointment, just for giving us a try!