Every January, the United States celebrates the life and legacy of Dr. Martin Luther King Jr. It's the only federal holiday marked as a national day of service in the U.S., with the stated intention to encourage all to volunteer and do their part to improve the communities in which we live.
At Spiffy, we honor Dr. King's legacy by embodying his core values of diversity, equity, and inclusion in our company culture, the quality of our services, operations, and how we engage with customers. We strive to bring his lessons of justice, equality, service, and nonviolence into our business practices, customer service, and community initiatives. By recognizing the importance of these values, we aim to promote a better experience for our customers and a more positive environment in our workplace.
A Stone Of Hope
Why is this important? Martin Luther King Jr.'s life work was rooted in justice and equality for all people regardless of race or gender identity, a concept that still resonates strongly today. Known for his unwavering optimism in the face of adversity, he believed that anything was possible with enough hard work and dedication. He endeavored to teach us that positivity can be contagious and that focusing on solutions rather than problems is beneficial.
We strive to model this attitude in everything we do. We want our customers to feel empowered by their interactions with us and inspired by our commitment to excellence.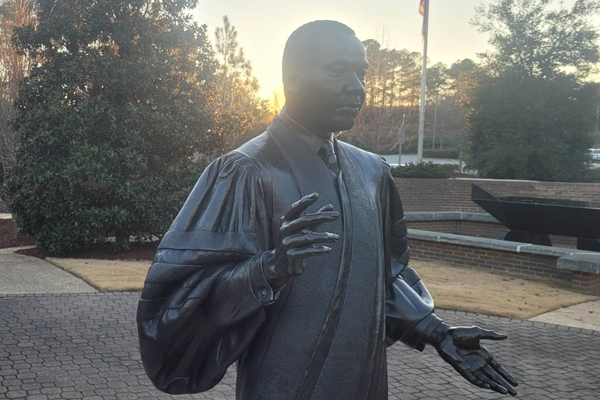 Photo of Martin Luther King Jr. statue taken by Justin Mitchiner at 1215 Martin Luther King Jr Blvd in Raleigh, NC 27610
By aligning with these fundamental principles, we demonstrate our commitment to ethical and responsible behavior as a company which helps to build trust and credibility with our customers, employees, and stakeholders and allows us to lead by example.
Implementing these values creates a more positive and supportive company culture, increasing employee satisfaction, retention, and productivity. We prioritize maintaining a welcoming workplace where everyone feels valued to ensure fairness in all aspects of our business operations, from hiring practices to pay scales. Embodying Dr. King's principles within a corporate setting creates an open environment where everyone feels welcomed and respected.
We strive to represent Dr. King's vision through initiatives that focus on his principles and take every opportunity to reflect on our impact on society as a company by asking ourselves, "Life's most persistent and urgent question is: What are you doing for others?" This ideal serves as a reminder that no matter how large or small our business is, we must always remain mindful of how our actions can positively or negatively impact others in our community.
"Everybody can be great because everybody can serve ."
- Washington National Cathedral, March 31, 1968.
Only Love Can Do That
We also keep in mind that diversity isn't just about race – it's about embracing different perspectives from people from diverse backgrounds, such as gender identity, age, religion, ethnicity, etc. Our goal is to foster an inclusive workplace where employees feel comfortable being themselves without fear of judgment or discrimination, as well as customers from all walks of life. To ensure this happens at Spiffy, we have created a company culture that celebrates inclusion and diversity in the office and how we conduct ourselves in the communities we serve.
Martin Luther King Jr was known for his unwavering optimism in the face of adversity, and anything was possible with enough hard work and dedication. He taught us that positivity can be contagious and that focusing on solutions rather than problems is best for forging a path toward progress.
In that spirit, we take customer satisfaction seriously. That's why we have dedicated teams, like our
Spiffy Customer Care and Fleet Account Management teams,
that actively listen to customer concerns and feedback, taking the time to understand their perspectives fully. They ensure that our customers are informed about the steps we take to address any issues they may have. In addition, our field technicians consistently deliver excellent service during every customer interaction.
We want our customers to feel confident and empowered after interacting with us, and we are committed to upholding the highest standards of excellence in everything we do.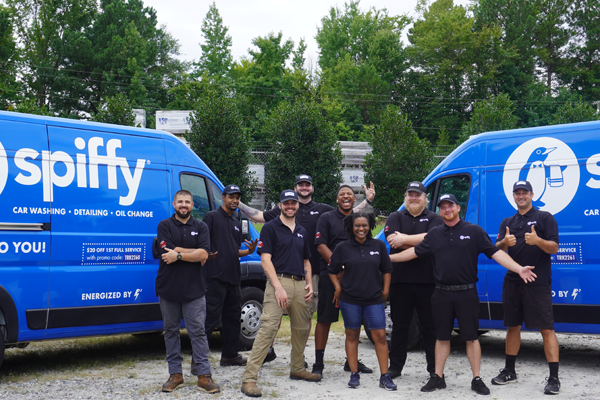 Justice For All
It is through Dr. King's courage, resilience, and commitment to justice that we find ourselves having this conversation today. His legacy lives on in those who believe that all people should be seen, valued, and respected without exception. We are committed to living by these values and building a workplace where diverse individuals can be successful while making meaningful contributions to our products and services.
We strive each day to honor Dr. King's memory through our words and actions to keep his message of equity for all alive for many generations. Anything is possible when everyone feels safe, respected, valued, included, heard, empowered, and seen!
If you're looking for an opportunity that shares the importance of diversity, equity, inclusion, justice, and equality - join the team! Visit our careers page today!