Charm City, Here We Come
The new
Spiffy location in Baltimore
is officially open for business! We're excited for the franchise to be received with open arms by the local community and for them to experience the convenient and high-quality car care services that Spiffy offers.
Ross Markajani, already an Amazon DSP owner, considered owning a franchise after seeing an ad for Spiffy on Facebook. From a DSP perspective, he looked for convenience more than anything else, and Spiffy ticked all their boxes.
We spoke with Ross about his strategy for managing a DSP and Spiffy franchise, the franchise onboarding process, recruiting, retention, and mobile maintenance challenges. This interview was conducted before Baltimore's launch on September 1, 2022, and has been edited for clarity.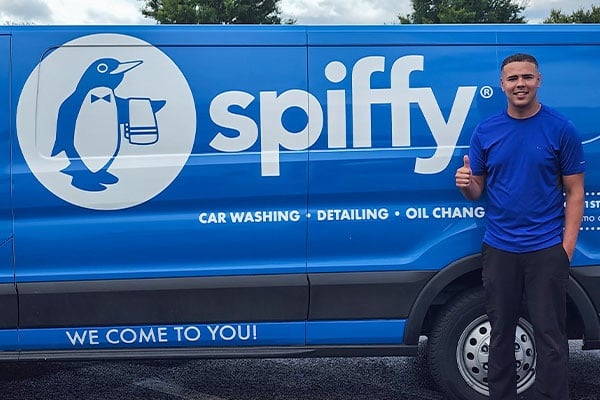 Tell us your story; what brought you to Spiffy?
Ross: We had a lot of issues with mobile maintenance for our Amazon DSP business. There aren't many technicians that can come to a facility to perform preventative maintenance. And then often, there was a lag from when you scheduled it, or when a PM was due, to when you would get it. So we explored different options and alternative ways to complete the PMs.
If you use a driver to go to your local dealer, maintenance shop, or anything like that, you have a time constraint because you're paying somebody to sit there and wait for an oil change to be complete. That can vary from shop to shop, or you can go to a dealer and wait hours to wait for an oil change to be complete. It's a waste of time; there are other things that we could be doing instead of having a driver or manager wait at a facility to get an oil change.
So we were using a different service, and, as I said, it's good when the tech is available, but you're constrained by when they can come out and complete the scheduled preventative maintenance. The other issue we were running into is the grounding of vehicles for them not being roadworthy or up to standard on the Amazon side. More often than not, it was changing a headlight bulb or a clearance light, something that should only take two or three minutes, but the process takes 15 or 20 after an Amazon Associate noticed it.
I looked at Spiffy after I saw some of their Facebook ads. I mostly just saw car washing and detailing, but when I drilled further down into the information, I learned they do mobile maintenance, specifically oil changes. From a DSP perspective, we're looking for convenience more than anything else, the value proposition is pretty much nonexistent because we don't pay for oil changes. So we don't care who we use just as long as the work gets done on time and I don't have to use managers or other staff to get it done. It could just be as simple as dropping the keys off and knowing the vehicle will be serviced overnight and ready to go on the road the following day.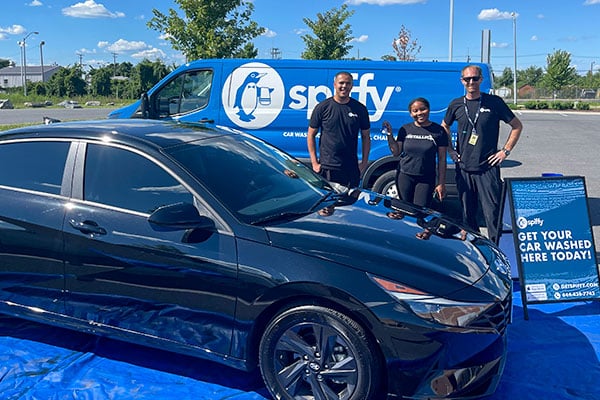 How long have you owned your Amazon DSP business?
Ross: We are in our third year. Started back in February 2020, a month or two before COID really became a constraint, with five vans, and now we're up to forty. We ended up growing rapidly to meet the demand from customers not being able to go to stores and visit different places to get their goods. It was rapid growth within the first three or four months before we moved stations. It's been pretty steady now. January to April is usually when things slow down, right after our peak season, but we're slowly starting to see a ramp up again.
How have you dealt with recruiting and retention during COVID and this latest "Great Reassessment" in the workforce?
Ross: I'd say we've got a pretty good handle of it now. It's all about anticipating your labor needs and projections based on some of the values Amazon provides regarding route commitments. But for the most part, when people work for MJ Logistics, they tend to stay longer than maybe some other DSPs, and I think that fundamentally has to do with that first week of orientation and training. You'll see some folks take what Amazon provides them as training at face value and just send a driver out on the road, even if that driver may have never driven a vehicle like a ProMaster, Sprinter, or Transit. It can be a little daunting at first, and especially if you're going out there having only been trained in the classroom and without any real field training to deliver packages.
We always ensure that they go out on their first day for a ride-along with another driver to give them the skinny on everything they need to track. Then, we continually monitor for the first two weeks and provide coaching opportunities at the end of the two weeks. We try to catch folks struggling to suggest, "Hey, let's send you out with another trainer to reinforce some of the things you learned on your first day so that you can get the job done in an efficient and timely manner."
What led you to consider owning a Spiffy franchise?
Ross: After seeing the franchise ads, I started drilling down into car wash and detailing. Then, the more I learned about the franchise opportunity itself, I felt that it perfectly aligned with my current business structure and would help support the current needs of my fleet. I could also see DSPs jumping on board like, "All right, there's another DSP that has this service, so they know the Amazon standards for roadworthy guidelines and vehicle preventative maintenance."
Do you anticipate DSP businesses as your primary customer base?
Ross: The larger goal would be to service the national accounts with which Spiffy has established relationships within the Baltimore area. We already have some relationships with certain fleets that we can lean on once our business officially launches. But beyond that, I do have a local DSP owner waiting for us to launch so we can service his fleet.
Since we're not doing a hard launch until August, I think we can cater to the needs of those DSP clients because we understand their logistics. At any given week, there are probably 20 to 30 vehicles that need to be serviced at any given warehouse, and there are about seven or eight warehouses within my service area. It's just a matter of coordinating with those DSP owners, letting them know what we offer, and then confirming whether or not fluid exchange can be handled at their site. If not, then we're developing contingencies and processes to ensure that it still meets that convenience-oriented approach.
What was the onboarding and training process like for you?
Ross: I've heard people say, "Spiffy is the Amazon of the car wash, detailing, and mobile maintenance business," and I would have to agree. There's a lot of technology, plus front and back-end support. It almost mirrors the Amazon or Business in a Box mentality when looking at how the DSP program started. It's like, "We'll give you the building blocks, tools, and resources to succeed. Your job is ensuring you meet those deadlines and milestones throughout your launch phase to get it done."
I had a lot of fun on Discovery Day and met many great folks passionate about what they do. That shows through the level of support I've received in the weeks afterward. As far as training is concerned, I had a great time at Spiffy HQ last week. We did some oil changes and learned the ropes of car wash and detailing. There were definitely a lot of acronyms, which makes sense given Karl's [Murphy, President & Co-Founder] Army background. Seeing the process and doing it yourself was an eye-opening experience that showed what to expect from the operations side of things. Performing those tasks was instrumental in getting that buy-in for my team and me.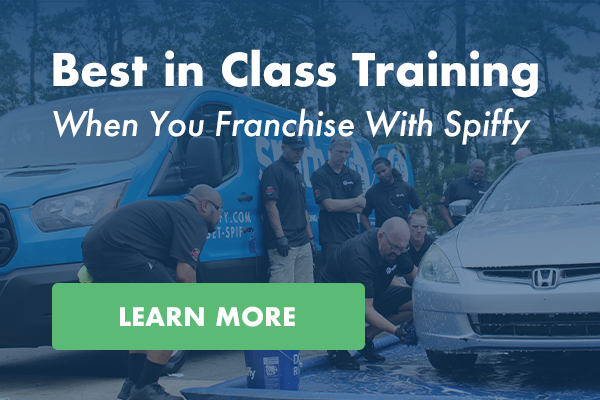 What's your strategy for managing both the DSP business and your Spiffy franchise?
Ross: We had the rare problem of extra staff after we hit our peak during the pandemic. In preparation for launching Spiffy, we trained up another Operations Manager so that I could promote our original Ops Manager to General Manager and run both businesses with me. So we have the people to do the work, it's just a matter of getting them trained. Some folks are planning on working both operations, which is a plus.
In the grand scheme of things, it will be less stressful than what we experienced during our peak on the Amazon side. Right now, we're running 23-24 routes, but we were running 50-60 during our peak. Adding two additional Spiffy routes, one of them being stationary at the Baltimore airport three minutes away, won't be hard to add to that. It definitely helps that our warehouse will be close by if there are any issues.
Aside from the convenience of mobile maintenance, is there anything else about mobile car care that appeals to DSP owners who may want to consider franchising with Spiffy?
Ross: As a DSP owner, you try to find vertical integration in your business. If I were opening a coffee shop for my second business, there wouldn't be much synergy between that and the Amazon business. We wouldn't be able to utilize our staff to fill gaps in either business. So you're trying to figure out ways to improve your current business that also makes sense for your workers.
Obviously, if you had an auto mechanic shop, that'd be a great fit. I know DSPs that run a Meineke or Maaco because they said, "We've got vehicle damages, and I'm paying Maako to do it, so I might as well open one up and start servicing all my vehicles."Being in the fleet business, it makes sense to have something like an in-house mobile car maintenance solution that can rapidly fix problems on the fly.
Is there anything else you would like to share?
Ross: As I've said, it's been really great. I'm excited to get launched, and so are my drivers. I think the fact that they're so excited is what makes Spiffy a great fit for DSP owners. Driver fatigue is a big factor, you know? Drivers may love working for you, but they don't want to do the same thing repeatedly. We've had guys ask, "What more can I be doing?" after six or seven months, and it makes sense. The work gets repetitive, and it's easy to burn out in summer if you deliver hundreds of packages daily. So having different opportunities that you can provide to a driver will pay dividends for the foreseeable future.
It also helps the drivers who might just struggle to do the delivery work in the allotted time. Folks who are clearly putting in the effort, but driving isn't for them, or they can't keep up with the Amazon standards. It's great to offer those employees a lateral transfer to the Spiffy franchise and keep good people you know in the company instead of just letting them go. It's definitely helped my company stand out when we do interviews with folks who aren't thinking about the struggles or burnout that might come a few months later because they're so focused on finding work, to begin with.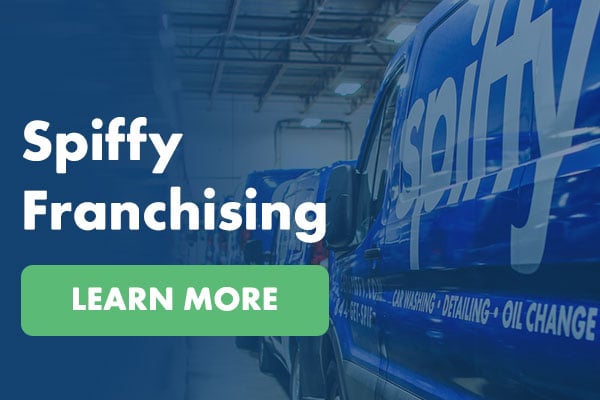 Posted in Business, Franchising