Whenever you're looking to bring a new vehicle into your growing fleet, it's essential to ensure that it's not only up to your standards, but the standards of your customers as well. Every vehicle, regardless of make and model, has a process for proper in-fleeting, which makes it important to have a flexible mobile or fixed-site solution that is customized to fit with your needs as a Branch Manager, Area Manager, or Regional Fleet Manager.
Pre-Delivery Inspection
Our pre-delivery inspections focus on the on-road performance and overall readiness for each vehicle joining your fleet. While every automaker has its checklist for new vehicles, the average inspection starts with a VIN/license plate scan. This is a time efficient process that provides a list of information about the vehicle, including features, specifications, and open recalls. Once that information is gathered and stored within your
custom fleet web app
, our technicians check tire pressures and fluid levels before heading out for a test drive as a final quality assessment.
If you're bringing in a used car, then the pre-delivery inspection serves as a prelude to the reconditioning step (more on that below). Spiffy technicians start by identifying any immediate exterior defects, such as dents and paint scratches, before shifting their attention to the vehicle's interior. From there, the vehicle's engine is inspected for any present leaks before fluids are topped off and heading out for the test drive.
Once our inspection is complete, we note any complex issues that are present with proper photo documentation and offer recommendations for the next steps to solve them.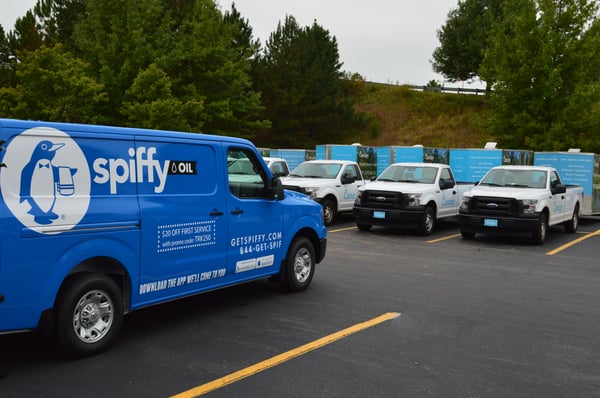 Fueling / Charging
The second part of in-fleeting revolves around fueling or charging the newest additions to your fleet. Due to
varying state regulations
regarding fuel delivery, this step is not available for every fleet client. We're eager to address the growing number of plug-in hybrid and all-electric vehicles among fleets on a case by case basis.
Reconditioning
The final step of in-fleeting new vehicles with Spiffy is reconditioning. Typically, it applies to used models that are new to your fleet, but it can also help to extend the life of existing vehicles in your inventory.
In both cases, the process includes a meticulous inspection that pinpoints any problems to determine which services are needed to bring it up to par. From the engine, mechanical and electrical systems to the smallest details inside and out of the vehicle, there isn't a shortage of areas to inspect and repair before it can officially join your fleet.
Whether you're looking to bring new or used vehicles into your fleet, or are interested in revitalizing a few that are already in your inventory, our Fleet Management as a Service model is designed to be your one-vendor solution for in-fleeting,
de-fleeting
, and
preventative maintenance
needs.
By carrying out a complete in-fleeting process with Spiffy, we're confident that your fleet's latest vehicles will be ready to perform for your employees and customers. Learn how FMaaS can work for your fleet's maintenance needs today!
Ready to Spiffy your fleet?
Posted in Fleet