With warmer temperatures and sunny days upon us, there's no better time to go off the beaten path on an adventure that leaves your car a little dirty. But what if you have a dog (or a fearless cat) as a companion?
Dogs and cats alike can leave plenty of hair behind. Not only does it get trapped in cloth seats, but it can leave behind dander that turns your cabin into an allergic reaction waiting to happen. So what's the best solution to effectively remove pet hair from your car?
Fortunately, our team at Spiffy is full of pet owners who have had to handle some hairy car interiors, and we've got some tips for staying on top of it.
How do I get dog hair out of my car?
If you're tired of seeing stubborn pet or dog hair accumulating in your car, then there are several ways that you can address it on your own. The most apparent method is thorough vacuuming, which can also pick up any sneaky crumbs or dust along the way.
However, not all pet hair is equal. Some types of dog hair are trickier to vacuum than others, which requires additional tools to handle pet hair that's become embedded in your seats. One highly underrated tool is a rubber glove, like what you may have for cleaning dishes. You can use a glove to wipe down the fabric throughout your car's interior before rinsing it off with water and continuing until complete.
Some other DIY tools for removing dog hair of all kinds include:
Duct tape
Wire brush
Pumice stone
Lint roller
Dryer sheets
Squeegee
For reference, USA Today put out a great list of products for removing pet hair. They range from strictly DIY-focused to higher-end options, making that list a perfect guide to find the best choice for your car's unique needs.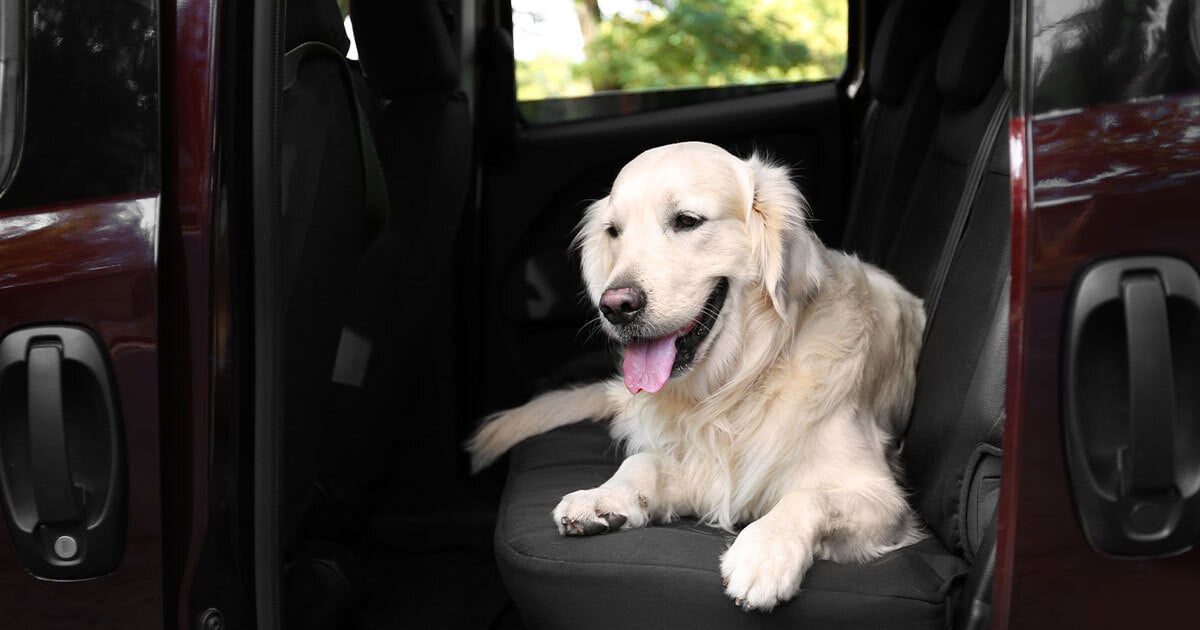 How do you keep pet allergens out of upholstery?
If you, someone you live with, or even someone you know battles with pet allergies, then it's likely that you know how important it is to reduce dander in shared spaces. And yes, that extends to your car's interior.

The critical thing to remember about dander is that it lasts for a long time. That means your car's cabin might not be the ideal carpooling vehicle for any allergic coworkers or colleagues. Even if you vacuum your seats and carpets routinely, there's always a chance of dander clinging to clothes on its way inside, where it can continue to wreak havoc on those battling pet allergies.

So, what can you do to fight back against dander and other allergens? One excellent DIY tool that you may be unfamiliar with is Allersearch ADMS Anti-Allergen Spray. As someone who lives in a house with two cats and a partner who is very much allergic to them, it's been a life-saving spray to use routinely before vacuuming. It's non-toxic, non-staining, and perfectly capable of neutralizing allergens upon contact.

How can I prevent excessive pet hair in my car?
Any long-time pet owner is likely to laugh at the concept of this million-dollar question. If there were a method to prevent any pet hair accumulation in your car, then it would be one of the most popular vehicle add-ons available. Despite the constant challenge of pet hair removal, there are a few steps you can take to minimize its impact on your car's interior.
First and foremost, be sure to brush your pet before taking them into the car. Not only does this address the looser hairs that are bound to get embedded or bunched up in your seats, but it's a good excuse to maintain a healthy practice for your pet. Better yet, keep a brush in your car for before and after your excursion. That way, you have a tool ready to go if you need to brush your pet for any reason other than keeping as much pet hair out of your car as possible.
If seeing pet hair in your car really drives you crazy, or if you want to preserve your car's seats, then a seat cover is likely your best bet. It's not a miracle worker; it merely keeps the pet hair off your seat. But by carefully removing the seat cover, you can easily trap dog or pet hair to minimize the time it takes to clean your car's interior. Plus, you can wash the seat cover before putting it back in your vehicle, which cuts down on lingering allergens.
Can car detailing remove dog hair?
There are plenty of benefits of car detailing to take advantage of, ranging from a gentle exterior hand wash to meticulous paint protection. That said, the interior is just as important as the exterior during a car detail service.
We have a series of steps that our technicians take before handing back your keys to a beautifully clean car in our detail services. Among them is an essential vacuuming with extra attachments as needed. For interiors with noticeable pet hair, we employ several additional tools. These range from heavy-duty rubber brushes to vacuum attachments that dig deep for embedded hair strands.
In the end, we like to let the results speak for themselves.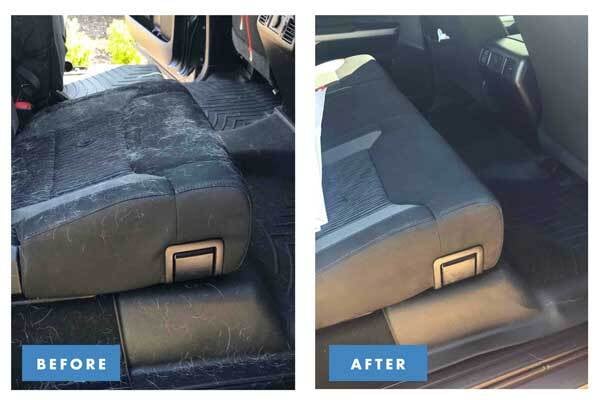 Keep your car clean from the inside out with Spiffy
Have you had enough of the pet hair that's accumulated in your car? Maybe you have some dirt, dust, or crumbs that have gathered in the hard-to-reach areas throughout the interior? Regardless of what inspires a complete cleaning for your car, be sure that you choose the right professionals for the task by booking with Spiffy.
Our car wash and detailing services are entirely mobile, which means that we can turn your driveway or parking space into a full-fledged car care destination. If you're interested in seeing what sets Spiffy apart from the traditional car cleaning services, don't hesitate to reach out and see what the big deal is. You can even take $20 off your first appointment by giving us a try!
We look forward to helping you keep your car clean, with pet hair at bay!
Posted in Car Care