Spiffy, the leading provider of on-demand car care and fleet management services, recently attended the Fleet Forward Conference in San Diego. The conference is designed to deliver fleet solutions for electrification, connected vehicles, autonomous technology, last-mile mobility, IoT, shared mobility, Fleet Management as a Service, next-generation telematics, and more. As a company that is always looking to innovate for our customers, we were eager to learn more about the future of fleet management, and we are excited to incorporate what we learned into our services to continue providing the best possible experience for our
fleet clients
.
Optimistically Electric
During our time at Fleet Forward, we learned that fleet managers are cautiously optimistic about EV fleeting, emphasizing that setting up
EV infrastructure
is expensive and the US grid needs
significant improvements
for the country to move towards majority electrification.
One speaker noted that
Europe is already moving
towards majority electrification and that the US could follow suit if the necessary changes are made. Another panelist stated that truck fleets are a particularly promising area for EV adoption, as they tend to have set routes and can take advantage of charging stations along the way. Overall, it was clear that there is a lot of excitement about the potential for EVs, but several challenges also need to be addressed.
"At this year's Fleet Forward, EVs were the proverbial Belle of the Ball. Over the last 5 years we've gone from a lot of strategy discussions and predictions to when EVs would be front of mind for fleet managers. Now, as an industry, we are talking about tactical items such as charging infrastructure, choosing from an exploding selection of models, maintenance, and the optimization of EV fleets." - Scot Wingo - Chief Executive Officer and Co-Founder
The upfront cost of EVs is high, but the total cost of
ownership is lowe
r. The challenge is getting customers to think long-term. As battery prices continue to drop, EVs will become more appealing to a broader range of consumers. Right now, it's primarily early adopters who are willing to pay a premium for the latest technology. Another challenge is building out the infrastructure needed to support a mass switch to EVs. It's a chicken and egg situation - people are hesitant to buy EVs because there aren't enough charging stations, but it's tough to justify
investing
in charging stations when there aren't enough EVs on the road. Then there's the issue of the
US grid
. It needs significant upgrades for the country to be able to handle a majority electrified fleet. These improvements will require time and money, but they are essential if we want to achieve our climate goals.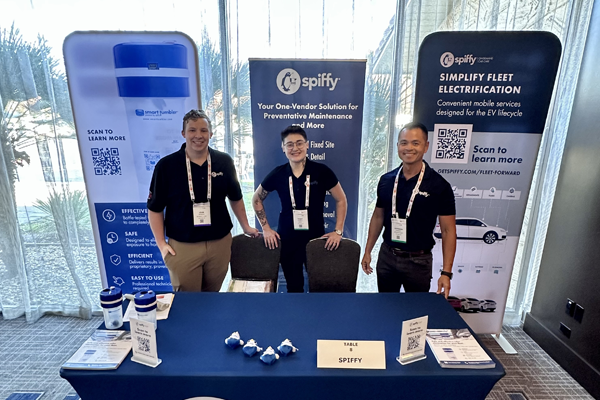 "Fleet Forward opened my eyes to the complexities behind reaching the goal of moving to an EV future, and how important fleet management as a service will be for companies looking to take the leap and become early EV adopters." - John Hession - Spiffy Integrated Marketing Coordinator
Short

Circuit
Fleet Forward highlighted that mobile charging solutions are a significant pain point for fleet managers due to the current state of
EV infrastructure
. Currently, EV fleet vehicles are mainly used in final mile scenarios due to the lack of range, even with the largest batteries available. Battery tech needs to improve to electrify fleets around the country entirely. To keep up with demand, we are investing in research and development and
partnerships
to create mobile charging solutions that are efficient and reliable. With the right technology in place, we can help fleets maintain their electric vehicles as they switch to cleaner, more sustainable transportation.
From a business perspective, we are looking to counter these
future challenges
fleet managers face by providing convenient mobile maintenance services designed for the EV lifecycle.
We aim to simplify fleet electrification as new obstacles emerge by combining our service offerings with
FMaaS
powered by proprietary technology; we are poised to tackle future fleet challenges. Our comprehensive approach to EV maintenance includes mobile services, charging, batteries,
tires
,
brakes
, safety inspections, camera maintenance, and regular
cleaning
services. In addition, we offer a wide range of value-adds that can help fleets save time and money. By investing in complete
EV maintenance
, we are committed to making fleet electrification more convenient and efficient for our clients.
"The fleet forward conference brought an enlightened view to the future of fleet management as a whole. The future is bright with the introduction of EV and Autonomous vehicles being added to fleets more and more each year, and from a Spiffy perspective, this opens doors for offering fleet management as a service for EV and connected fleets. My experience at this conference has changed my perspective on what we could offer in the future apart from PM and detail services. I think the road ahead is very exciting and the opportunities are limitless for fleet management services in a world of connected vehicles." - Casey Garrett - Spiffy Fleet Account Manager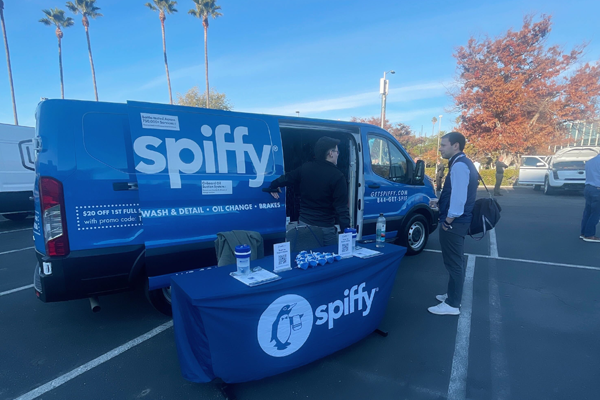 And Beyond…
As fleet managers increasingly transition to electric vehicles (EVs), many challenges must be addressed to achieve the goal of electrification at scale. One of the most critical issues is infrastructure, specifically the need to
increase the national grid's capacity
by more than 100% to reach the electrification goal set by the government. This will require
significant investment in lithium mining
and electricity generation, and it is still being determined how this will be funded. In addition, there are challenges posed by the need to service and replace EV batteries, which are much more complex than traditional gasoline-powered engines.
However, despite these challenges, the future of EV fleet management is still very bright. EVs offer many advantages over conventional vehicles, including lower emissions, operating costs, and performance. As more companies that commit to sustainability switch to EVs, the market for EV fleet management services will only continue to grow. Spiffy is proud to be at the forefront of this exciting industry and is committed to helping our customers transition to EVs smoothly and successfully.
Transitioning your fleet to EV or need a one vendor solution for EV preventive maintenance and mobile service?
Learn More!