2021 has taken Spiffy to new heights. From our Franchising program taking off in March to our Carbon Neutral certification, we've worked hard to ensure another year for our team to remember. Today, we're excited to announce another milestone with the acquisition of Pit Crew!
Pit Crew was founded in August 2018 by Harrison Collins, Adam Major, and Josh Tillery to provide mobile oil change and tire services in Knoxville. Since then, the company has expanded to individuals and fleet clients throughout Nashville and Memphis.
Like us, Pit Crew employs W-2 employees who are trained and certified before heading into the field to complete car care services. Their technicians are also 100% mobile, utilizing branded vans with all of the equipment needed to provide services completed at the customer's location.
Simply put, it's a great fit.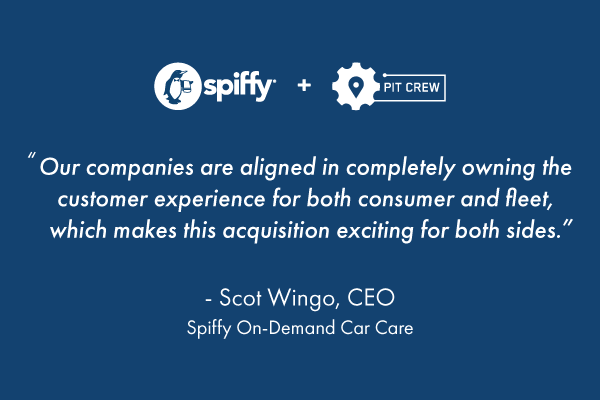 How will I book services in Knoxville, Nashville, or Memphis?
As a Pit Crew customer, you can continue to schedule the mobile services you know and love, the same way you always have. As we continue through the transition of bringing Pit Crew and their customers into our Spiffy ecosystem, we will send out updates about when to make the switch to Spiffy.
After we have communicated the completed switch to Spiffy, you will be able to book appointments via our "Spiffy On-Demand Car Care" app on iOS and Android devices. Once downloaded, you will be able to start the booking process for your first Spiffy appointment and finish creating your account after submitting your service request.

How does this impact me as a Spiffy customer?
For our existing customers, we're excited to bring some of the unique services that Pit Crew offered to our markets nationwide. These include battery replacement, wiper blade replacement, headlight/tail light replacement, and more. We don't have a definitive timetable for when these will roll out at the moment, so stay tuned to our social channels and blog for more information in the weeks and months to come.
There's a lot to love for both sides of this acquisition. We're excited to transition the entire Pit Crew family into ours at Spiffy over the next several months. Once the integration is completed, customers will be able to book services directly through our iOS and Android apps.
For more information on Pit Crew's transition into Spiffy, be sure to follow our blog and social media channels.