Last month, we were excited to share that we acquired Pit Crew in Tennessee. A fun part of the transition had the three Pit Crew co-founders - Harrison Collins, Adam Major, and Josh Tillery - come to visit us in Durham for a few days near the end of September.
Before they left, I was able to sit down with the trio and our President, Karl Murphy, for a spirited discussion about their company and joining Spiffy.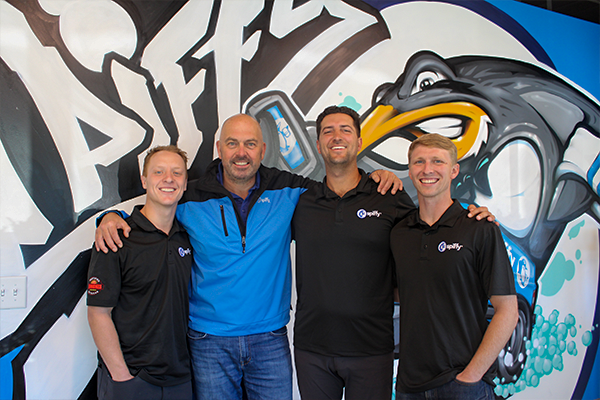 Pictured, from left to right: Josh Tillery, Karl Murphy, Harrison Collins, Adam Major
What was supposed to be a 30-minute interview nearly quadrupled in length. But from it, we got a great behind-the-scenes look at the acquisition process and how Collins, Major, and Tillery see themselves growing with Spiffy.
The road to acquisition
Pit Crew's road to entertaining acquisition with Spiffy began in early 2021. Collins made the first move by filling out one of our franchising forms. He met with Spiffy's VP of Strategy, Connor Finnegan, but that was more of a recon mission than anything else.
"It was a funny song and dance with both of us keeping a lot of things close to the chest and not giving anything away about why we're meeting," Collins says. "Ultimately, [Finnegan] was like, 'You're not interested in franchising, are you?' and I'm like, 'No, not at all.' [laughs] But I think we both knew that a potential acquisition was on the table that both parties could be interested in."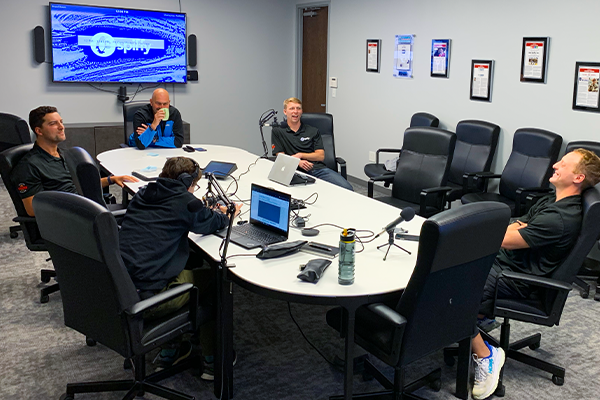 Spiffy's President and Co-founder, Karl Murphy, recalls, "Scot and I have been successful because we've always agreed on big decisions. In some cases, he's disagreed, and I have to convince him, and in others, he's had to convince me. This decision came down to how you three [Collins, Major, Tillery] and I could interact and work together."
The Pit Crew founders were all-in on joining Spiffy, despite some concerns that the deal wouldn't pan out. "Every time I got a phone call from Connor, or we had a Zoom meeting with Scot, I'd have a little bit of anxiety about whether that would be the moment where they decide they're not interested or that we realize this isn't going to be a good fit for us," Collins says.
After meeting with Murphy and realizing that an acquisition was mutual, Collins, Major, and Tillery found themselves ready to incorporate what they had built into the Spiffy brand. "Once we got that confirmed, an acquisition felt like putting our company in a time machine and going forward," Major says. "Is this a culture fit for our team? Does it give them the best opportunity to grow? As we're trying to figure out what that direction is, we kept coming back to Spiffy as what we imagined it looking like."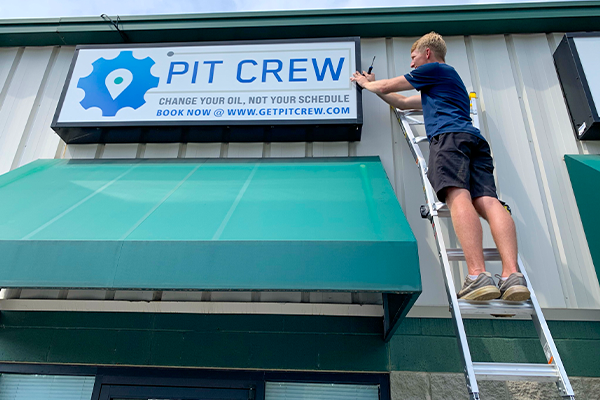 The drive that sealed the deal
The terms of a deal were agreed upon not long after Murphy's Nashville meeting, but closing that deal was another story. Murphy suggested bringing two of his Regional Managers along to tour the Pit Crew warehouses and operations. Their plan was simple:
Fly into Knoxville early in the morning.

See the original warehouse.

Drive to Nashville and Memphis to do the same.

Fly out from Memphis.
What Murphy hadn't considered before departing was the eight-hour drive down I-40 that laid ahead of them. "It slowly dawned on everybody that we were going to be in the car all day," Major says. "We were trying to figure out how long to spend in each city because it felt like we'd only have about 10 minutes to tour the facilities."
The busy day on the road was a success, feeling "like The Breakfast Club," as Collins puts it, by the end. All that was left was for the deal to close.
The final twist came when Finnegan called the week before closing on the 15th and said, "I see no reason why we can't close this week; let's do it." Collins accepted, then promptly elevated the timeframe to share the news with their employees.
"We were optimistic, but we felt like we had to shield our employees in case the deal fell through at the last minute. It was going to be an enormous opportunity, and we were so excited about this for our employees, but we didn't get their hopes up then not follow through." Collins adds.
And just like that, Pit Crew joined Spiffy on September 10th, and we officially announced the acquisition on September 15th.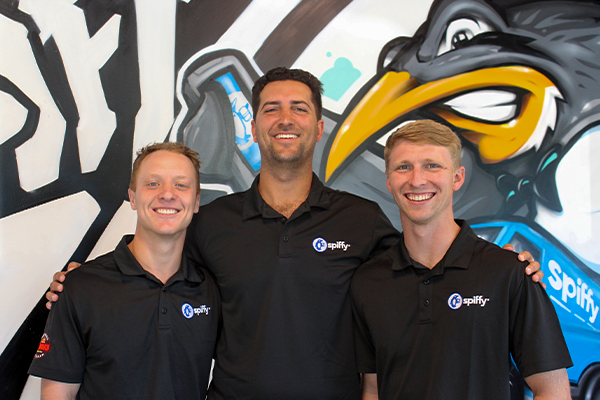 Looking ahead at Spiffy
With Collins, Major, and Tillery now members of the Spiffy team, they have a new challenge to tackle: what will they do next?
Collins feels confident it will be a smooth transition. "I look forward to having the ability to sell without also having to be flexible enough to jump in on random services. Plus, the scale that the Spiffy sales team has compared to what we had at Pit Crew is an exciting opportunity."
Major and Tillery will also transition to the Sales team, but with plenty of opportunities to settle into new positions that tap into their passions. "I've existed in management for my entire professional career. I enjoy creating systems at work and helping people to improve," Major says. "If I could be involved in something that helps grow the company, develop our people, and work towards our vision, that would be a big win for me."
For Tillery, there's an excitement to move into his second post-undergraduate job after jumping into Pit Crew right out of the gate: "I'm just excited to learn. I'm still fairly green in the professional world, and I've never really reported to anyone before. We're surrounded by a lot of impressive and smart people, so I'm ready to grow from working in this environment."
All three admit that the most challenging part of their transition will be going into more focused positions. However, Murphy sees his role as a coach for the Pit Crew founders, helping to steer them towards something personally valuable: "I think they'll be surprised by where they all are twelve months from now. There's a lot of potential for professional satisfaction, and I look forward to where they're headed."
---
We're thrilled to have Collins, Major, Tillery, and the whole Pit Crew team as a part of our Spiffy family, and we can't wait to see where we can go together!
Pit Crew customers can get $20 off their first appointment through Spiffy — learn more at www.getspiffy.com/pit-crew.
Posted in Business