No Brakes On Innovation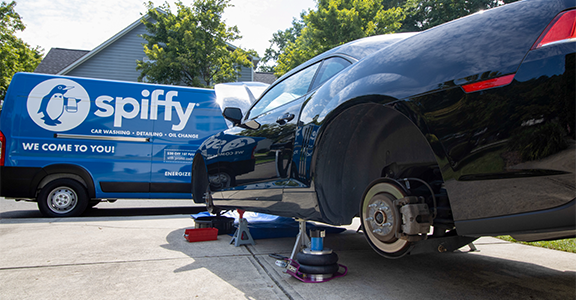 Last week, we were thrilled to announce the launch of our Mobile Brakes Service as part of our Complete Car Care vision to transform the automotive services industry from a traditional brick and mortar model to one that's genuinely convenient, trusted, and eco-friendly. Spiffy is now poised to provide Mobile Brake Services in 17 markets across the country.
For those who missed the exciting news, we've assembled a collection of articles from various press outlets for your reading pleasure!
"Our North Star is customers – we constantly survey and ask customers what they want next – in Q4 of 2021 we saw a huge surge in demand for brake services. It's one of those services that hits when you are typically out of warranty and with the 'chip shortage' [and] vehicle shortage, consumers are keeping their cars longer and hitting this service need."
"Every vehicle is a bit different in how their brakes operate, meaning Spiffy had to ensure technicians were prepared for any situation and had the correct parts. The company has fully trained about 50 technicians—about 10% of its total roster—across the 17 markets to enable this launch, and hopes to train 100% on the new services by the end of the year. It's all part of helping Spiffy position itself as the place to go—or more precisely, to have come to you—for all your car care."
"What we're trying to grow into is total car care," Wingo said. "We're hoping that when people think about the most convenient way to take care of their car, no matter what it is, they think it's Spiffy."
When brake problems arise, people want quality parts and professional service. Mobile service delivery elevates the experience by giving people back their time through the convenience of coming to them. Pre-service inspections, both visual and test drives, set Spiffy brake services apart from the mobile competition.
Professional Spiffy technicians, trained 100-plus hours across automotive services, complete a full visual inspection, complemented by a test drive, before replacing worn parts with premium aftermarket ceramic brake pads and rotors.
Spiffy is adding brakes service to its mobile vehicle service operation in 17 markets.
Be sure to stay tuned for more news and announcements as we push forward into Q4 and beyond! If you're interested in scheduling your first brake service, click below to get started!
Posted in News, Business, Lifestyle, Franchising